Instant Analysis: T-Mobile Adds New Binge On Video Streaming Partners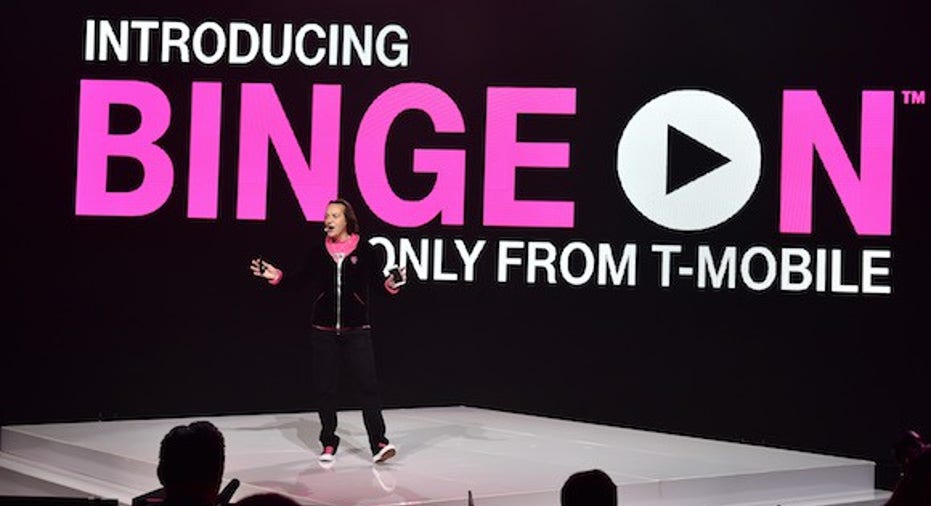 Image source: T-Mobile.
What happened?
This week, T-Mobile expanded its already large group of video content streaming partners for its Binge On feature. The wireless carrier added new providers like Dailymotion Games, Eyegroove, PBS, and PBS KIDS -- which brings its Binge On video streaming partner total to about 90.
T-Mobile CEO John Legere discussed Binge On in apress statement:
Binge On allows T-Mobile users to stream video content on their phones and tablets without eating into their monthly high-speed data allotment. The perk has proved popular with the company's customers, with more than 500 million hours of video streamed since its launch. And T-Mobile says customers are streaming twice as much video with Binge On than customers who are on limited data plans.
Does this matter for shareholders?
While Binge On itself is a major advantage for T-Mobile, this latest announcement won't do much to change the company's revenues. The bigger picture here is that T-Mobile is continually making an already great feature even better.
If there is an advantage, it's in the fact that T-Mobile has used Binge On and other freebies to surpass Sprint in the lower-priced cellular service market. T-Mobile overtook Sprint as the third-largest wireless carrier in the U.S. last summer, and it hasn't looked back since. Sprint has been fighting to regain its position, but T-Mobile's latest addition of 2.2 million customers in Q1is keeping the carrier comfortably ahead. Sprint still performs better in RootMetric's overall performance rating among the two carriers, so there's still plenty of room for T-Mobile to improve its network.
Still, T-Mobile investors should be pleased to see the carrier expanding an already popular feature, which could eventually bring more customers into the fold -- and as it does that, T-Mobile will be an even better position to take on Verizon and AT&T.
The article Instant Analysis: T-Mobile Adds New Binge On Video Streaming Partners originally appeared on Fool.com.
Chris Neiger has no position in any stocks mentioned. The Motley Fool owns shares of and recommends Verizon Communications. Try any of our Foolish newsletter services free for 30 days. We Fools may not all hold the same opinions, but we all believe that considering a diverse range of insights makes us better investors. The Motley Fool has a disclosure policy.
Copyright 1995 - 2016 The Motley Fool, LLC. All rights reserved. The Motley Fool has a disclosure policy.