Instant Analysis: People's United Financial Scoops Up Long Island Bank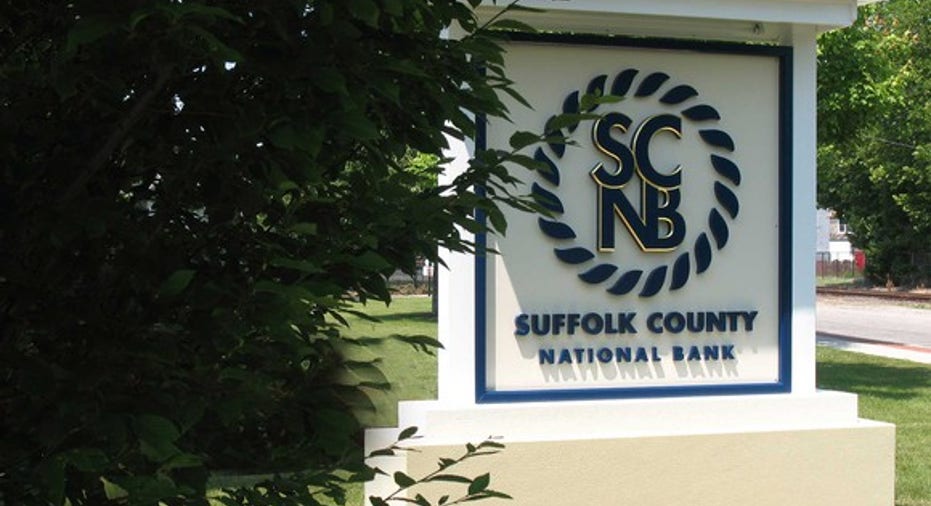 What happened?
Connecticut-based People's United Financial is reaching across Long Island Sound for an acquisition. The company said it has agreed to acquire Suffolk Bancorp , a lender named after, and headquartered in, the larger of Long Island's two counties.
People's United Financial is the holding company of People's United Bank; Suffolk Bancorp fills essentially the same role for Suffolk County National Bank.
Image source: Suffolk Bancorp.
Suffolk Bancorp stockholders are to receive 2.225 shares of People's United Financial for each share of Suffolk Bancorp they hold. This values the New York company at approximately $33.55 per share, which is 43% higher than the stock's closing price the trading day before the deal was announced. All told, the purchase is valued at around $402 million.
People's United Financial expects the acquisition to be accretive to earnings and to close in Q4 of this year.
Does it matter?
It matters greatly for Suffolk Bancorp but will likely be less impactful for People's United Financial. It almost goes without saying that the former's investors will benefit: A 40%-plus premium to the share price is nothing to sneeze at.
Even though Suffolk Bancorp does not have a huge footprint on the populous island, nor a massive asset base, its 27 branches nevertheless comprise a good add-on to the new owner's operations.
People's United Financial quoted its CEO Howard Bulver as saying that "[w]ith the 9th largest market share in Suffolk County, a solid relationship-banking approach and loyal, long-tenured customers, Suffolk County National Bank's strong Long Island presence complements our previous acquisitions and organic growth in the New York Metro area."
The $402 million or so that People's United Financial will pay in the deal -- while a hefty premium to Suffolk Bancorp's market price -- is well within the company's means. And since it's paying entirely in stock, the deal shouldn't batter the finances too much.
The article Instant Analysis: People's United Financial Scoops Up Long Island Bank originally appeared on Fool.com.
Eric Volkman has no position in any stocks mentioned, and neither does The Motley Fool. Try any of our Foolish newsletter services free for 30 days. We Fools may not all hold the same opinions, but we all believe that considering a diverse range of insights makes us better investors. The Motley Fool has a disclosure policy.
Copyright 1995 - 2016 The Motley Fool, LLC. All rights reserved. The Motley Fool has a disclosure policy.