Instant Analysis: Microsoft Is Bringing a Video Game Subscription Service to Xbox One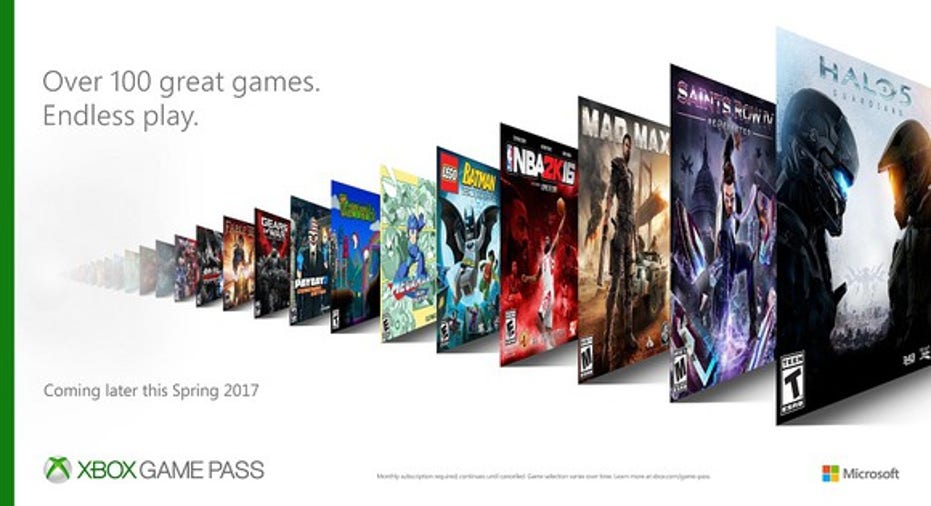 Microsoft(NASDAQ: MSFT)has announced that it will launch a Netflix-style video game subscription service for its Xbox One platform. Dubbed "Xbox Game Pass," the service will launch in 27 territories this spring, featuring more than 100 titles and support from third-party publishers includingTake-Two Interactive,Time Warner, Sega, andCapcom.Electronic Artsis absent from the list of developers and publishers on board with Xbox Game Pass, and it is likely avoiding the platform because it runs a competing service.
Xbox Game Pass will carry a $10 monthly subscription fee and allow users to access downloaded titles rather than streaming them -- a point that distinguishes it fromSony's(NYSE: SNE)competing PlayStation Now service. Xbox Games Pass will launch with a smaller library than PlayStation Now, which has more than 450 games;however, Microsoft's service will include current-generation titles while Sony's is limited to PlayStation 3 titles.
Microsoft's new video game subscription service was also initially announced for Windows 10 platforms, but updates to the announcement and FAQ pages now suggest it will only be available on the company's current-generation console platforms.
Image source: Microsoft.
Does it matter?
Xbox Game Pass probably won't have a big impact on the competition between Xbox One and PlayStation 4. Sales of Sony's current-generation consoles have surpassed 53 million units, while lifetime sales for Xbox One systems are somewhere north of 26 million units, and it's unlikely that Microsoft's new subscription service will shift hardware sales momentum in a meaningful way. While Xbox Games Pass is unlikely to change the state of the console market, it could still be an important product for Microsoft.
The service's lineup will likely consist of mostly older titles, and Microsoft should be able to run the service at a profit, but in the short term, Xbox Games Pass might have greater value for the company as a testing ground for subscription-based content models rather than an income stream. Xbox boss Phil Spencer has indicated that the company might explore a Netflix-style approach to exclusive episodic content on the service, and the extent to which these projects and the broader service are successful can be expected to have an influence on its next-generation gaming platforms and initiatives.
10 stocks we like better than MicrosoftWhen investing geniuses David and Tom Gardner have a stock tip, it can pay to listen. After all, the newsletter they have run for over a decade, Motley Fool Stock Advisor, has tripled the market.*
David and Tom just revealed what they believe are the 10 best stocks for investors to buy right now...and Microsoft wasn't one of them! That's right -- they think these 10 stocks are even better buys.
Click here to learn about these picks!
*Stock Advisor returns as of February 6, 2017.
Teresa Kersten is an employee of LinkedIn and is a member of The Motley Fool's board of directors. LinkedIn is owned by Microsoft. Keith Noonan has no position in any stocks mentioned. The Motley Fool has no position in any of the stocks mentioned. The Motley Fool has a disclosure policy.