Instant Analysis: Intel and Mobileye Are Bringing Driverless Cars to the Road by 2021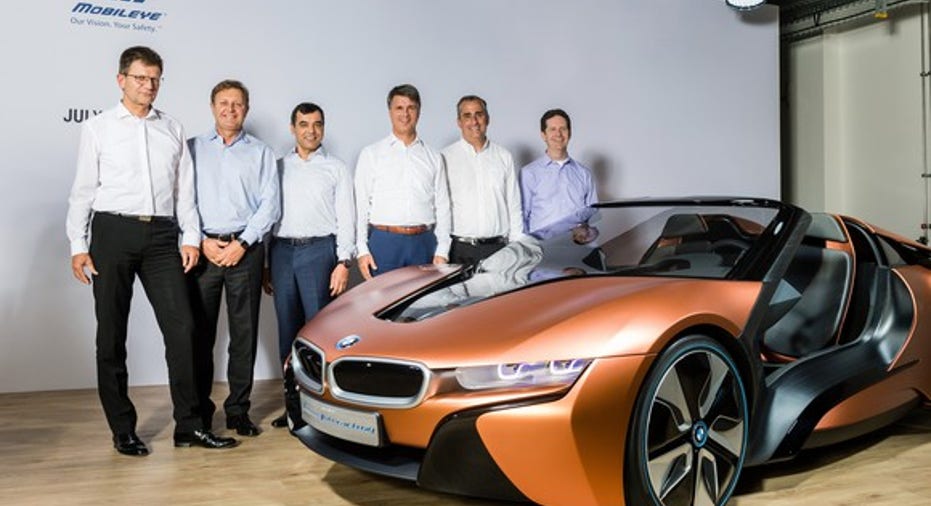 Image source: Intel.
What?
Intel and Mobileye have teamed up, along with BMW, to bring fully autonomous car technology to fleet vehicles in the next five years.
The companies are collaborating on an open driverless car platform that will be open for other companies to use, and will control everything from the door locks to the car's data center, according to a press release.
BMW will provide the vehicle from its recently debuted iNext concept, while Intel will use its Atom and Xeon processors to handle the complex data autonomous cars produce. Mobileye will use its sensing technology, through its EyeQ5 system-on-a-chip, algorithms, and REM real-time mapping technology, to give the vehicle sensing capabilities.
Intel said the platform will be available for testing by automakers and other companies next year, with the official launch coming in 2021. The platform will allow Level 3 automation (semi-autonomous) and eventually Level 4 (where the car is completely in control the entire time).
Does this matter to shareholders?
This is a significant move for both Intel and Mobileye. Intel is still moving away from its PC dependence, and the company recently laid off 12,000 employees in an effort to reposition itself toward more profitable business. That includes the Internet of Things and, more specifically, driverless cars.
Intel made $651 million from its IoT business in Q1 (up 22% year over year). Adding a partnership like this should help the company become a more serious autonomous car player and increase the company's IoT revenue. Intel is looking to sell more of its chips to automakers as driverless cars become more prevalent. By 2020, about 10 million driverless cars will be on the road.
For Mobileye, the new partnership is an expansion of what the company is already doing. You may recall that Tesla'sAutopilot system uses Mobileye tech, along with 90% of automakers.
The company's core business is providing technology for semi-autonomous -- and soon fully autonomous -- cars, and the partnership with Intel and BMW should help solidify the company's position in the space even more.
Investors should keep a close eye on how well the companies progress with this 2021 timeline. There's plenty of growing driverless car competition from NVIDIA, NXP Semiconductors, and others, and any failure to deliver the platform in the set time frame could put Intel and Mobileye behind their competitors.
The article Instant Analysis: Intel and Mobileye Are Bringing Driverless Cars to the Road by 2021 originally appeared on Fool.com.
Chris Neiger has no position in any stocks mentioned. The Motley Fool owns shares of and recommends Nvidia, NXP Semiconductors, and Tesla Motors. The Motley Fool recommends BMW and Intel. Try any of our Foolish newsletter services free for 30 days. We Fools may not all hold the same opinions, but we all believe that considering a diverse range of insights makes us better investors. The Motley Fool has a disclosure policy.
Copyright 1995 - 2016 The Motley Fool, LLC. All rights reserved. The Motley Fool has a disclosure policy.