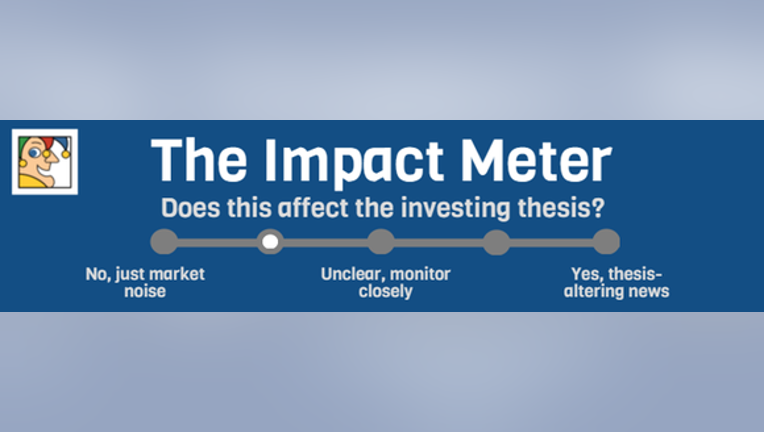 What happened?
This morning, Eli Lilly (NYSE: LLY) dropped a data-bomb that's going to spoil the Alzheimer's community's Thanksgiving appetite. Long-awaited results from a late-stage study showed patients with mild Alzheimer's Disease-related dementia didn't experience a significant benefit when treated with solanezumab versus a placebo. The drug candidate was supposed to slow the rate of cognitive decline by reducing amyloid beta, which are protein fragments that clump together into plaques considered by many to be the root cause of the disease.
Aducanumab from Biogen (NASDAQ: BIIB) works along the same lines and is in the middle of a big, expensive late-stage study with data expected in 2020.The big biotech's candidate was arguably more promising in smaller studies, but its stock is falling in tandem with Lilly's.
Lilly expects to record a one-time charge of about $150 million before the end of the year, which works out to about $0.09 per share. The company's market cap, on the other hand, has fallen by nearly $10 billion since announcing the results ahead of this morning's opening bell.
Does it matter?
This year, the cost of treating Alzheimer's and other dementias is expected to total about $236 billion, and this figure should head much higher as millions of baby-boomers reach their golden years. There aren't any drugs that effectively slow the disease's progression, just ones that treat its symptoms. Given the pent up demand, the first effective therapy to earn approval will mean a ton to the AD community, and such a therapy is widely expected to become one of the best selling drugs of its time. Total revenue at Eli Lilly's hasn't grown in years, and it could really use the boost.
Given the 0% success rate for drugs that aim to slow the rate of cognitive decline among Alzheimer's disease sufferers, though, investors really shouldn't have had such high hopes for solanezumab in the first place. Factor in the candidate's failure to beat a placebo in two previous late-stage studies with patients in slightly more advanced stages of the disease, and it's a wonder investors placed any value on the program at all.
On the whole, it looks like today's market beat-down is an overreaction. Lilly doesn't have the strongest product lineup, but at the time of writing its shares were trading at around 18.9 times this year's earnings estimates. With a relatively stable dividend offering a yield of about 3%, the stock might an early Black Friday bargain.
10 stocks we like better than Eli Lilly and Co. When investing geniuses David and Tom Gardner have a stock tip, it can pay to listen. After all, the newsletter they have run for over a decade, Motley Fool Stock Advisor, has tripled the market.*
David and Tom just revealed what they believe are the 10 best stocks for investors to buy right now... and Eli Lilly and Co. wasn't one of them! That's right -- they think these 10 stocks are even better buys.
Click here to learn about these picks!
*Stock Advisor returns as of November 7, 2016
Cory Renauer has no position in any stocks mentioned. You can follow Cory on Twitter @TMFang4apples or LinkedIn for more healthcare industry insight.
The Motley Fool owns shares of and recommends Biogen. Try any of our Foolish newsletter services free for 30 days. We Fools may not all hold the same opinions, but we all believe that considering a diverse range of insights makes us better investors. The Motley Fool has a disclosure policy.