Instant Analysis: Disney's "Moana" Is the Latest Hit in the Company's Incredible 2016 Box-Office Run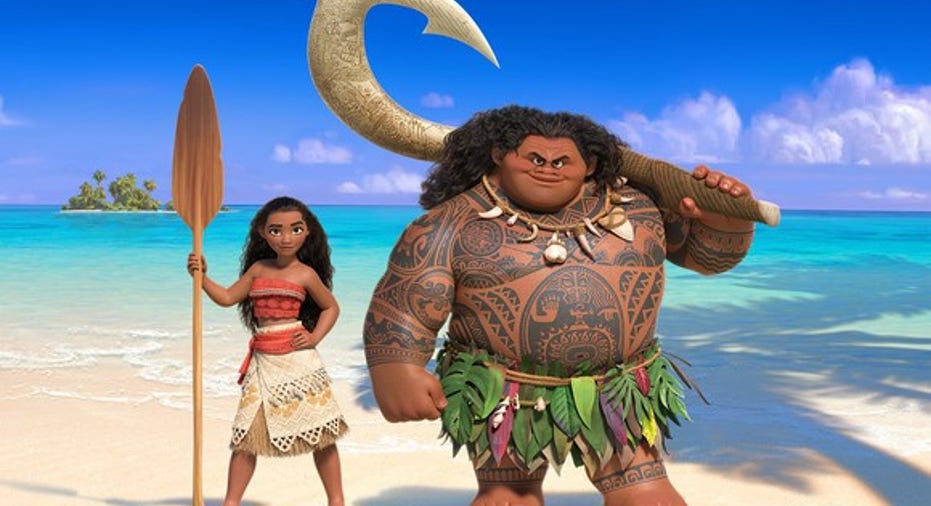 Image source: Disney.
Disney's (NYSE: DIS) new release Moana set a ticket-sales record for a Tuesday night debut, and went on to deliver an impressive five-day Thanksgiving weekend gross of $82.1 million at domestic theaters. The latest picture from Walt Disney Animation Studios landed as the top-performing film over the stretch, beating out Time Warner's Fantastic Beasts and Where to Find Them -- which was in its second week and took in $65.8 million over the same stretch. The Disney animation effort has already crossed the $100 million mark worldwide, with China the only large overseas market where it has debuted, and it looks primed for strong global performance.
Moana stands as one of the best-reviewed films of the year. The picture currently has a favorable review score from 98% of critics on Rotten Tomatoes, and word of mouth and the absence of high-profile competition in the animated film category point to solid performance down the holiday stretch.
Does it matter?
Moana isn't hugely significant from an investing standpoint, but the picture's success does play into broader trends that are having an impact on Disney. Following up blockbusters Frozen and Zootopia, the recent release further solidifies Disney Animation Studios' status as a critical and commercial hit factory. The picture also adds new characters to Disney's sizable cast that have the potential to be both consumer-products assets and draws at its theme parks and resorts, keeping the company's film division on pace for record sales.
Strong performance for Moana has Disney on track to deliver the best year in box-office history -- and by a large margin. The film's weekend ticket sales and strong ongoing performance from Marvel Cinematic Universe entry Doctor Strange have brought the company's 2016 ticket sales total to roughly $6.6 billion -- just shy of the $6.89 billion record that Comcast set last year. With Moana looking like it could pass $500 million at the box office, and Rogue One: A Star Wars Story likely to be a massive hit when it releases on Dec. 16, Disney's 2016 ticket sales could surpass $8 billion. If that type of performance is sustainable, it would do a lot to alleviate concerns about turbulence in the company's media networks segment.
Find out why Walt Disney is one of the 10 best stocks to buy now
Motley Fool co-founders Tom and David Gardner have spent more than a decade beating the market. (In fact, the newsletter they run, Motley Fool Stock Advisor, has tripled the market!*)
Tom and David just revealed their ten top stock picks for investors to buy right now. Walt Disney is on the list -- but there are nine others you may be overlooking.
Click here to get access to the full list!
*Stock Advisor returns as of November 7, 2016
Keith Noonan has no position in any stocks mentioned. The Motley Fool owns shares of and recommends Walt Disney. The Motley Fool recommends Time Warner. Try any of our Foolish newsletter services free for 30 days. We Fools may not all hold the same opinions, but we all believe that considering a diverse range of insights makes us better investors. The Motley Fool has a disclosure policy.