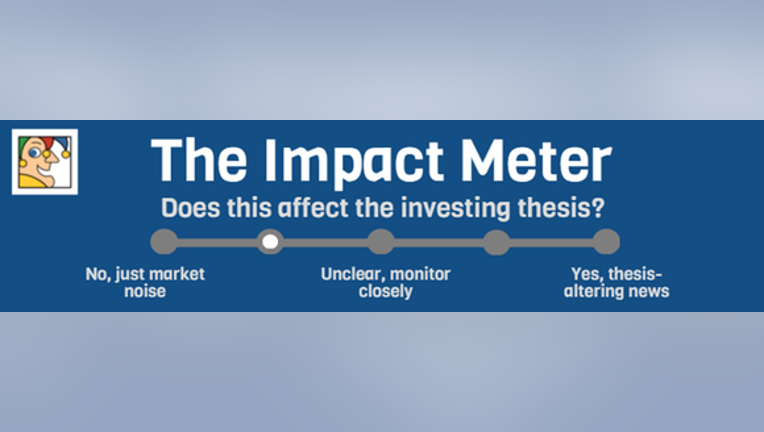 Image source: Getty Images.
What happened?
Biotech giantAmgen announced yesterday that the FDA has approved the RepathaPushtronexsystem. This new system is a pre-filled, on-body medical device that allows for monthly, single-dose administration of Amgen's cholesterol-lowering drug, Repatha.
Dr. Sean Harper, Amgen's EVP of research and development, had this to say about the company's latest approval:
The device was created incollaboration withWest Pharmaceutical Services, and Amgen has stated that patients who use the device will be able to perform some moderate physical activities while the dose is being delivered.
Amgen expects the RepathaPushtronexsystemwill be available in early August.
Does it matter?
This approval could help give Amgen's Repatha a clinical leg up over its primary PSCK9 inhibitor competitor, Praluent, which is marketed byRegeneron Pharmaceuticals and Sanofi . Praluent is currently approved to be administered by injection once every two weeks, so offering patients a more convenient dosing option could help give Amgen an edge.
This latest innovation shows once again just how serious Amgen is about becoming the top dog in the PCSK9 inhibitor space. Earlier this year, Amgen won an important lawsuitagainst Sanofi and Regeneron, where Amgen claimed Praluent infringed on two of the company's patents.Damages have not yet be announced, but Amgen is going for the throat and wants Praluent to be removed from the market completely.It's hard to handicap the company's chances of success in doing so, but it does show that Amgen really isn't playing around.
Image source: Amgen.
That aggression makes a lot of sense when you look at the numbers. About 73 million Americans have high LDL-C levels, and only one out of every three has the condition under control. Given that Repatha and Praluent have list prices of over $14,000, this market could grow to be worth tens of billions in annual sales over time.
However,sales of both Repatha and Praluent have been quite slow out of the gate. Last quarter, Amgen only managed to sell $16 million worth of Repatha worldwide, while Regeneron and Sanofi's Praluent only sold about $13 million. That's largely because physicians are waiting for cardiovascular outcomes studies on each drug to be completed, which could show that using a PCSK9 inhibitor will lower the risk of having a heart attack or stroke. Investors should have data in hand before the end of the year.
Until we have that data in hand, it's likely that sales of both Repatha and Praluent will remain depressed. That means the approval of theRepathaPushtronexsystem could be a big deal in the future, but right now, this is far from thesis-altering news.
The article Instant Analysis: Amgen's Latest Approval Raises the Bar Yet Again on Regeneron Pharmaceuticals Inc and Sanofi SA (ADR) originally appeared on Fool.com.
Brian Feroldi has no position in any stocks mentioned.Like this article? Follow him onTwitter where he goes by the handle@Longtermmindsetor connect with him on LinkedIn to see more articles like this.The Motley Fool owns shares of Regeneron Pharmaceuticals. Try any of our Foolish newsletter services free for 30 days. We Fools may not all hold the same opinions, but we all believe that considering a diverse range of insights makes us better investors. The Motley Fool has a disclosure policy.
Copyright 1995 - 2016 The Motley Fool, LLC. All rights reserved. The Motley Fool has a disclosure policy.