Instagram's Advertiser Base Tops 1 Million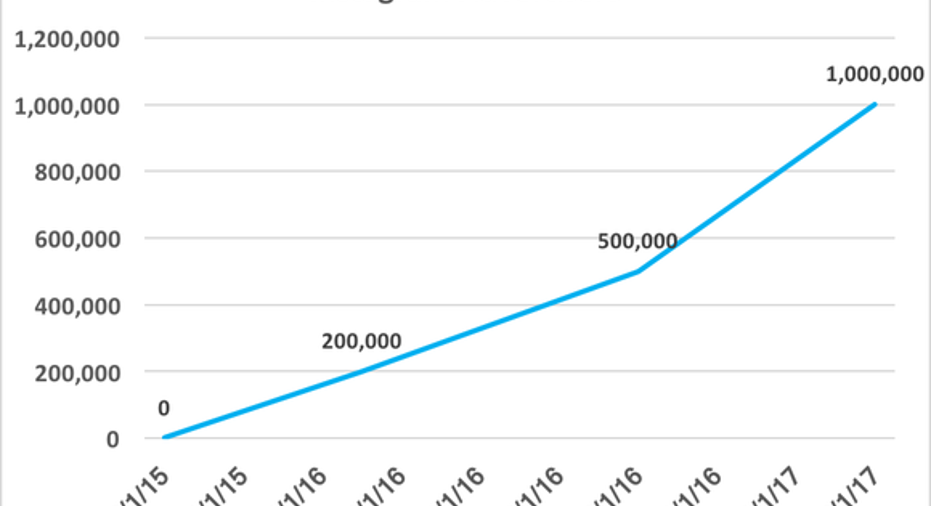 Facebook's (NASDAQ: FB) Instagram may be young as a business, but it's taking off in a big way. The company only opened up the platform to advertising back in September 2015, which was the first time that Facebook began monetizing the popular photo-sharing service. That came about three years after Facebook closed the acquisition in September 2012.
Instagram announced today that it has reached 1 million monthly active advertisers, less than 18 months after launching the ad platform. Well done, Mark Zuckerberg. Well done.
Image source: Instagram.
1 million and counting
The service's progress with growing its advertiser base is nothing short of astounding. Instagram provides updates on its advertiser base every few months: 200,000 in February 2016, 500,000 in September 2016, and 1 million today.
Data source: Instagram. Chart by author.
Instagram says that it experienced more change over the past year than it had in the previous five. The Facebook subsidiary says its global community now exceeds 600 million, which presumably refers to monthly active users (MAUs), but it's not clear. Of those, 120 million users engaged directly with a business that they follow on the platform, underscoring the opportunity for brands to reach their customers.
Speaking of businesses, there are now 8 million business profiles, and Instagram says its seeing the most interest in the U.S., Brazil, Indonesia, Russia, and the U.K. A whopping 80% of all Instagrammers follow at least one business that they're interested in.
Facebook drew a lot of criticism when it initially bought Instagram, which had about a dozen employees at the time. The $1 billion price tag seemed awfully rich back then (the closing price ended up being closer to $715 million due to stock volatility), but the deal will go down in the history books as a huge win for His Zuckness.
I don't know much, but I know Instagram has a lot more advertisers than Twitter
For reference, Twitter (NYSE: TWTR) has a much smaller advertiser base, although the company has not provided a specific update in over a year. Twitter's Q4 2015 shareholder letter that was released in February 2016 said active advertisers had jumped 90% year over year to 130,000. Instagram's 200,000 advertiser count in that same month had already surpassed Twitter's, despite Twitter being a much older platform; Instagram's user base overtook Twitter's back in 2014.
In the subsequent two shareholder letters, Q1 2016 and Q2 2016, Twitter was coy and kept it vague.
Q1 2016: "Total active advertisers were up significantly year-over-year in Q1."
Q2 2016: "By channel, [small and medium-sized business] was again our fastest growing channel on a year-over-year basis and we continue to grow the number of active advertisers we serve."
Twitter has since stopped referencing this metric altogether in its shareholder letters, nor is this information disclosed in other SEC filings. Combined with the recent change in reporting, where Twitter also no longer discloses daily active users, among other metrics, it doesn't give investors much confidence in the business.
With Instagram becoming increasingly important to Facebook's financials, hopefully the social network will start regularly reporting operating metrics and financial results for the subsidiary.
10 stocks we like better than FacebookWhen investing geniuses David and Tom Gardner have a stock tip, it can pay to listen. After all, the newsletter they have run for over a decade, Motley Fool Stock Advisor, has tripled the market.*
David and Tom just revealed what they believe are the 10 best stocks for investors to buy right now... and Facebook wasn't one of them! That's right -- they think these 10 stocks are even better buys.
Click here to learn about these picks!
*Stock Advisor returns as of February 6, 2017
Evan Niu, CFA owns shares of Facebook. Evan Niu, CFA has the following options: long January 2018 $120 calls on Facebook. The Motley Fool owns shares of and recommends Facebook and Twitter. The Motley Fool has a disclosure policy.