Inovio Pharmaceuticals, Inc.'s Biggest Win in 2016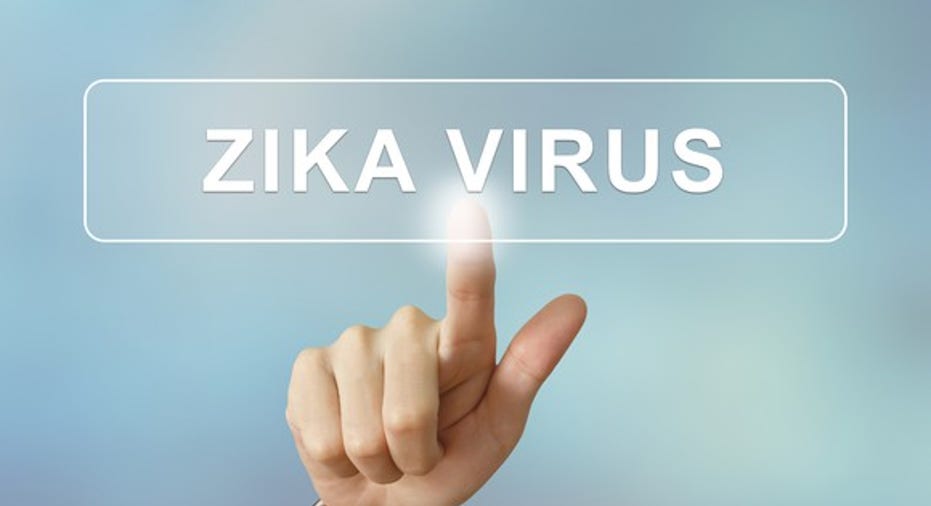 If 2016 had stopped in June, it would have been a fantastic year for Inovio Pharmaceuticals (NASDAQ: INO). The biotech's stock shot up around 70% by mid-way through the year. Since then, though, most of those gains have evaporated. Still, Inovio enjoyed several successes in 2016. Here's the biggest win of all.
Image source: Getty Images.
Leading the way
Worries about the Zika virus intensified earlier this year as country after country reported people becoming infected. Several companies, big and small, announced that they would move aggressively to develop a vaccine for the virus.
Sanofi (NYSE: SNY) jumped into the race to create a Zika vaccine in early February. The French drugmaker already held a lead position in the vaccine market for similar viruses, including yellow fever, Japanese encephalitis, and dengue.
Newlink Genetics (NASDAQ: NLNK) announced its intent to develop a Zika vaccine on the same day as Sanofi. Although the small biotech didn't have an approved vaccine on the market, NewLink thought its expertise in developing an experimental vaccine for the Ebola virus would position it well in its Zika vaccine program.
However, neither Sanofi nor Newlink Genetics had the honor of being the first company to win approval for clinical testing of a potential Zika vaccine in humans. Inovio, along with partner GeneOne Life Science, received the green light from the U.S. Food and Drug Administration (FDA) on June 20 to move forward with an early-stage clinical study in humans for experimental Zika vaccine GLS-5700.
For the moment, at least, Inovio was leading the way in Zika vaccine development. Since then, two other phase 1 studies of experimental Zika vaccines have begun, including one in which Sanofi is a key player. Inovio was still the first, though, and that makes the initiation of its early-stage clinical study for GLS-5700 the biggest win of 2017 for the small biotech.
Honorable mentions
There were several other important positive developments for Inovio this year. Positive results in pre-clinical studies of GLS-5700 in mice and in monkeys were announced earlier in 2016. Those studies paved the way for Inovio's subsequent approval to advance to clinical testing.
In September, Inovio's experimental Zika vaccine was named a "2016 Technology Breakthrough" by Popular Mechanics magazine. That honor stemmed from Inovio's approval to begin its phase 1 study. The magazine stated that Inovio "shocked the medical world" with the FDA approval for clinical trials"just nine months after the race to prevent Zika began."
Inovio announced in December that it had been awarded a $6.1 million grant to developaDNA-based monoclonal antibody to treat Zika infection. This effort is different from the biotech's Zika vaccine program. Monoclonal antibody-based therapies would provide only immediate protection instead oflong-term immunization.
The company also had successes outside of its Zika-related development. In November, Inovio reported positive early results from a phase 1/2a study of immunotherapy INO-3112 in treatinghead and neck cancer associated with human papillomavirus (HPV).
What's next?
This good news for Inovio in 2016 was partly overshadowed by a big setback for the company. In October, Inovio announced that the FDA had placed a clinical hold on a planned late-stage study ofexperimental cervical dysplasia vaccine VGX-3100.
One of the most important next steps for Inovio is to address the FDA's concerns. The issue is related tothe shelf-life of parts of Inovio's Cellectra 5PSP immunotherapy delivery device rather than VGX-3100 itself. Inovio said it planned to provide the requested information to the FDA by the end of 2016.
Inovio's fortunes in the new year will hinge largely on two things: moving forward with the late-stage study of VGX-3100 and getting positive results from the early-stage testing of its Zika vaccine. My prediction is that one of these two will be Inovio's biggest win of 2017.
10 stocks we like better than Inovio Pharmaceuticals When investing geniuses David and Tom Gardner have a stock tip, it can pay to listen. After all, the newsletter they have run for over a decade, Motley Fool Stock Advisor, has tripled the market.*
David and Tom just revealed what they believe are the 10 best stocks for investors to buy right now...and Inovio Pharmaceuticals wasn't one of them! That's right -- they think these 10 stocks are even better buys.
Click here to learn about these picks!
*Stock Advisor returns as of Nov. 7, 2016.
Keith Speights has no position in any stocks mentioned. The Motley Fool has no position in any of the stocks mentioned. Try any of our Foolish newsletter services free for 30 days. We Fools may not all hold the same opinions, but we all believe that considering a diverse range of insights makes us better investors. The Motley Fool has a disclosure policy.