Indonesia forest threatened by development despite new rules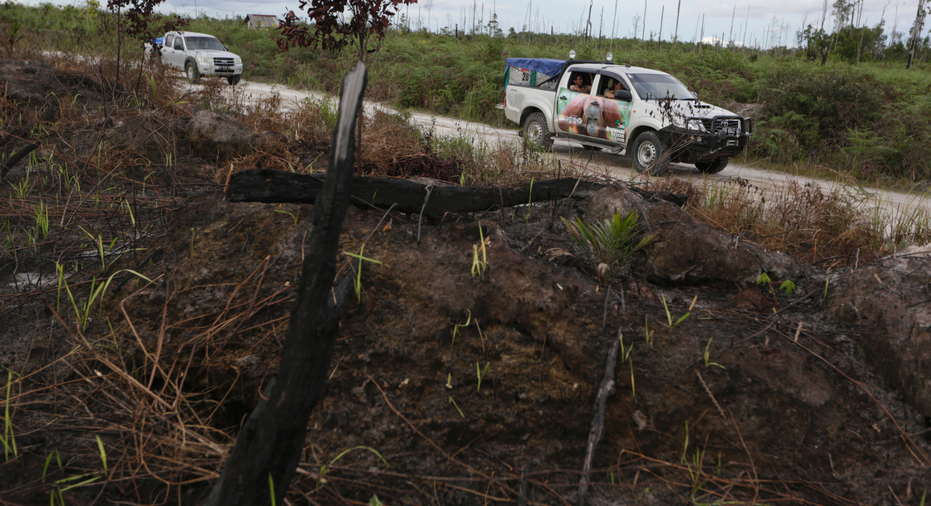 In a remote corner of Borneo, an Indonesian company and its Chinese partner are pushing ahead with an industrial wood plantation in a tropical forest and orangutan habitat, apparently flouting government regulations intended to prevent a repeat of disastrous fires in 2015.
Photos and drone footage taken by activists in late July show an extensive drainage canal full of water, heavy earth-moving equipment on the land and planting of seedlings despite an order in March from the Environment and Forestry Minister Siti Nurbaya to cease operations.
The exploitation of the 57,000-hectare (140,847-acre) Sungai Putri forest, which is home to as many as 1,200 critically endangered orangutans, and Chinese investment in a related wood-processing plant is supported by provincial and district officials in West Kalimantan on the giant island of Borneo. But it is in conflict with the central government's unevenly enforced moratorium on the drainage and exploitation of Indonesia's extensive peatlands, which was instituted after massive dry season fires in 2015.
The fires, which spread across 2.6 million hectares (6.4 million acres) and blanketed parts of Indonesia, Singapore, Malaysia and southern Thailand in a health-damaging haze, were worsened by El Nino dry conditions but also underlined the huge risks that pulp wood and palm oil companies have taken in draining swampy peatlands for industrial plantations, making the peatlands highly combustible. The World Bank estimated the fires caused losses of $16 billion.
A representative of local communities in Sungai Putri said villagers didn't know about the government freeze on peatland drainage when the Indonesian company, Mohairson Pawan Khatulistiwa, sought their agreement for what it called a trial plantation and digging of a canal to transport wood to a factory.
They now want the agreement, which involved $300 of compensation for each hectare of land taken by the canal, canceled.
"At that time we did not know that canals should not be created on peatlands," said Abram, who uses one name. "So, frankly speaking, we felt lied to."
The Indonesian company is working with a Chinese wood-processing business Benshang Advanced Materials Co. which according to the website of the Ketapang district government in West Kalimantan is investing 4 trillion rupiah ($300 million) in the area, including a factory. Employees reached by telephone at a Ketapang office shared by the two companies declined to comment.
The government's commitment to protecting and restoring peatlands has become muddied following pressure from industry and provincial governments. An April 25 letter from the governor of West Kalimantan province to President Joko "Jokowi" Widodo asserts that restricting use of peatlands will threaten nearly 90,000 jobs and jeopardize billions of dollars of exports.
Jokowi in July said that ministries should not issue new regulations that scare away investors, which local media reported as a rebuke to the Forestry and Environment Ministry.
Nurbaya, the forestry minister, did not respond to phone calls or questions sent by WhatsApp. In March, a statement from Nurbaya published on the ForestHints website, a semi-official mouthpiece for Forestry and Environment Ministry officials, said new canals and development of peatland is "strictly prohibited" and there would be "no compromise."
Abram said the companies have continued to work on the plantation. Earlier this month the Indonesian side visited villagers and told them not to make a fuss and also asked for a letter from the community approving of the canal, which was rejected, he said.
The chief of Ketapang district, Martin Ratan, said he welcomes investment in the region and the bankrolling of the plantation by the Chinese company will provide 2,000 jobs.
He said communities should not cancel their agreements because they will lose out on economic opportunities.
He insisted that work on the canal, which was envisaged as 60 kilometers (37 miles) long, had stopped and the company was only planting.
"Drainage canals will not continue in the peatlands, and they plan to carry out their products with lorries, they plan to build a road for their lorries but that has not yet begun," he said.
Greenpeace has warned that drainage of the Sungai Putri peatlands will create a significant fire risk that threatens communities and the orangutan population. Palm oil plantations around Sungai Putri burned extensively in the 2015 fires, it says.
Indonesia's disaster mitigation agency said Tuesday that one third of the more than 500 fires now burning across Indonesian in the current dry season are in West Kalimantan.
"This company appears to be not only ignoring government instructions but also restarting its operations," said Greenpeace forests campaigner Ratri Kusumohartono. "If the government is serious about stopping fires it must stop this company from developing on peatland and protect this critical peatland forest."