Indonesia faces challenge to seizure of yacht wanted by US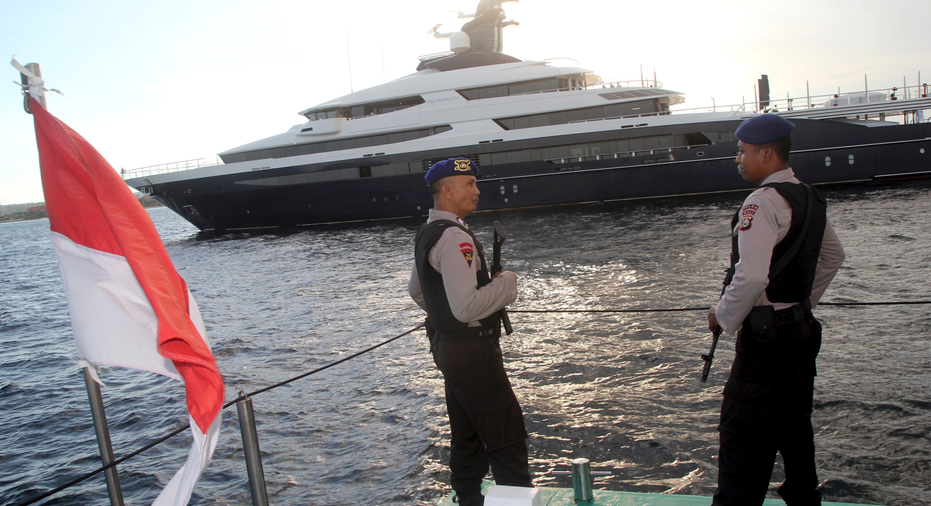 Indonesia's seizure of a luxury yacht wanted as part of a U.S. probe into the alleged multibillion-dollar theft of funds from a Malaysian state investment company is being challenged by the vessel's owner, police said Monday.
National police deputy director of economic crimes Daniel Silitonga said police haven't handed the yacht over to the U.S. since its Feb. 28 seizure because they're waiting for a court hearing after lawyers for the owner of the Cayman Islands-registered Equanimity began a legal challenge.
"Until now we are still awaiting the summons for a hearing," he said. "We are facing some legal issues that have to be resolved first."
The Equanimity, worth $250 million, is among assets the U.S. Department of Justice alleges were bought by Malaysian national Jho Low using money stolen from 1MBD, the Malaysian fund, and laundered through Singapore, Switzerland, Luxembourg and the U.S.
Indonesian police seized the 92-meter (300-foot) yacht off Bali in a joint operation with the FBI.
Silitonga said he didn't yet know the basis of the lawsuit.
A spokesman for Low told Malaysian media in early March that "rather than reflecting on the deeply flawed and politically-motivated allegations, the DoJ is continuing with its pattern of global overreach — all based on entirely unsupported claims of wrongdoing."
The Department of Justic filed a civil case in June seeking recovery of assets worth several hundred million dollars. Overall, it says more than $4.5 billion was stolen between 2009 and 2014 from 1MBD, which was set up by Malaysian Prime Minister Najib Razak to promote economic development.
Low, an associate of Najib, had no formal role at the fund but considerable influence over it, according to the U.S. court documents.
Equanimity's lavish amenities include a helicopter landing pad, plunge pool, gymnasium and a cinema. It was built in 2014 by Netherlands yacht manufacturer Oceano, which received detailed instructions from Low about its outfitting, according to the civil case documents.
Najib was embroiled in the scandal when it emerged that some $700 million had passed through his personal bank accounts. He denied any wrongdoing and said the money was a political donation from the Saudi royal family, which was later returned.