Incyte Corporation at the Cowen Healthcare Conference: 4 Things You'll Want to Know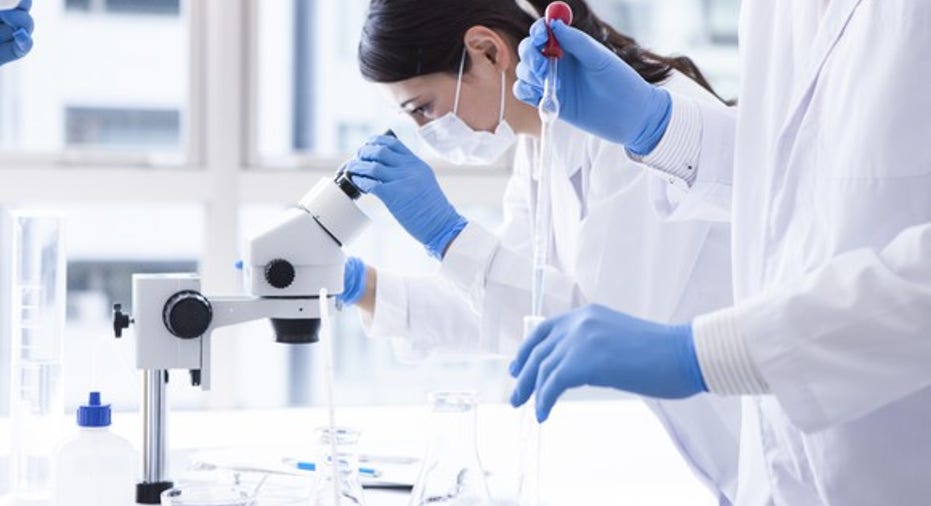 Few biotechs have enjoyed as fun a ride as Incyte Corporation (NASDAQ: INCY) in recent years. The stock has soared more than 700% since early 2012 thanks primarily to tremendous success for cancer drug Jakafi.
Incyte's chief medical officer, Steven Stein, and chief financial officer, David Gryska, sat down at the Cowen healthcare conference in Boston this week to discuss what's going on with the company. Here are the highlights of what they said.
Image source: Getty Images.
1. What's going on with epacadostat?
Epacadostat holds the potential to be Incyte's next great cancer drug after Jakafi. Wall Street analysts think that epacadostat could generate peak annual sales of $1.6 billion if approved.
Stein said that Incyte spent much of 2016 enrolling patients in studies for the experimental drug. The most heavily anticipated of these studies is a late-stage clinical trial featuring epacadostat in combination with Merck's (NYSE: MRK) Keytruda in treating melanoma.Merck was so pleased with earlier results of the Keytruda/epacadostat combo that the big drugmaker opted to move forward with more clinical studies targeting other nine other tumors, including renal cancer, head and neck cancer, and lung cancer.
While the late-stage melanoma study with Keytruda is at the forefront for Incyte, Incyte isn't limiting its collaboration possibilities to just Merck. Clinical trials are also in progress withepacadostat in combination with AstraZeneca's durvalumab andBristol-Myers Squibb's Opdivo.
Stein said that Incyte remains open to working with other companies on melanoma as well. He explained that the biotech's deal with Merck prevents Incyte from conducting studies with another drugmaker for a two-year period, but that period ends in October 2017.
2. Are there any threats on the horizon for Jakafi?
When asked about potential challengers for Jakafi, Gryskasaid, "At this point, we don't see a threat."
Gryska noted that Incyte recently raised its outlook for peak sales of Jakafi to $2 billion. He said that the biotech expects strong volume growth and profit margins for the red-hot cancer drug. Stein added the company also thinks Jakafi has potential in treating essential thrombocythemia (ET) and is initiating a pivotal study for the indication.
3. Could a merger or acquisition be in the cards for Incyte?
Gryska quickly responded with a "no comment" on the topic of potential mergers or acquisitions. Many have speculated that Incyte could be a buyout target for a larger organization. The company's executives deliberately refused to pour fuel on the flames of this speculation.
Incyte is focused on "running [its] business to create shareholder value," according to Gryska. He said that there's "a lot of more greatness" to come over the next few years, with strong candidates in the biotech's pipeline.
4. Any news on baricitinib?
Stein also basically punted on a question about U.S. approval for autoimmune disease drug baricitinib. He said that the drug is partner Eli Lilly's (NYSE: LLY) "ship to run." The U.S. Food and Drug Administration (FDA) extended its review date for baricitinib in treatingrheumatoid arthritis earlier this year.Stein said that Lilly is working with the FDA and a decision should be reached in the second quarter.
Incyte has opted in for co-development of baricitinib in the psoriatic arthritis,axial spondyloarthritis, and atopic dermatitis indications with Lilly. Stein said that data will read out from a study of the drug in treating lupus next year. He indicated that Incyte could be interested in opting in for this indication as well, depending on the results.
Looking ahead
Incyte has the wind at its back going into the rest of 2017. Jakafi is booming. And, like Gryska said, there really aren't any significant threats to the drug. Baricitinib has already won European approval and seems to have a good shot at gaining U.S. approval as well.Epacadostat has tremendous potential in multiple combination therapies.
The big question is the one that company executives don't want to answer: Is an acquisition on the way? One very well could be -- although it wouldn't be surprising to me if nothing happened this year. However, should corporate tax reform become a reality, with big drugmakers having a lot of extra cash on their hands, I don't think Incyte would remain "single" for too long.
Regardless of what happens on the merger and acquisition scene, I suspect that Gryska's sentiment is on target: There's a lot more greatness to come for Incyte.
10 stocks we like better than IncyteWhen investing geniuses David and Tom Gardner have a stock tip, it can pay to listen. After all, the newsletter they have run for over a decade, Motley Fool Stock Advisor, has tripled the market.*
David and Tom just revealed what they believe are the 10 best stocks for investors to buy right now... and Incyte wasn't one of them! That's right -- they think these 10 stocks are even better buys.
Click here to learn about these picks!
*Stock Advisor returns as of February 6, 2017
Keith Speights has no position in any stocks mentioned. The Motley Fool has no position in any of the stocks mentioned. The Motley Fool has a disclosure policy.