Incomplete: Missouri job growth at half of incentive pledge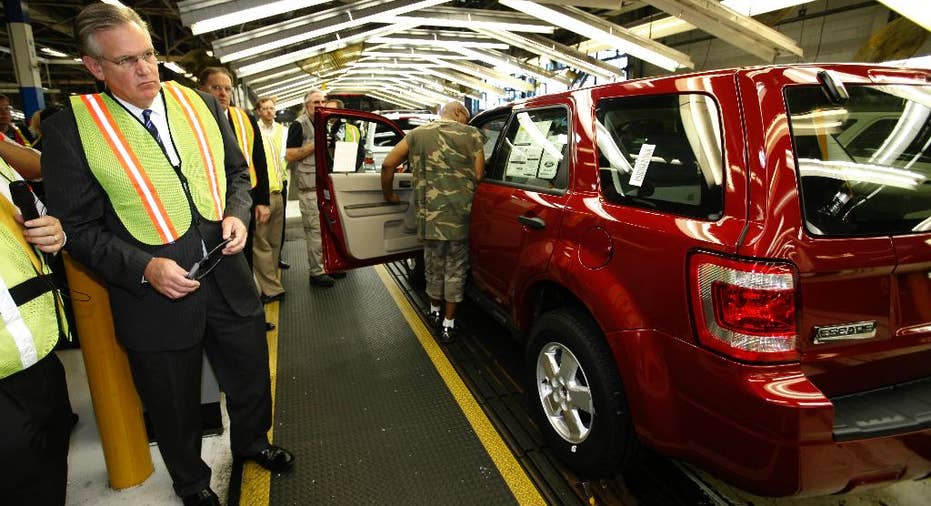 Jobs were vanishing by the thousands when Missouri Gov. Jay Nixon took office in the midst of the greatest recession in decades.
So when an agricultural company decided to build a soybean processing facility in southeast Missouri, Nixon pounced on the potential of 50 new jobs, proclaiming that it was "precisely the kind of next-generation growth that will help Missouri lead the country's economic recovery."
Nixon's March 4, 2010, press release praising DuPont Pioneer Hi-Bred marked the first of what would become about 200 gubernatorial announcements or ceremonies touting business deals projected to cumulatively create about 48,000 jobs in exchange for up to $2 billion of state incentives. As the Democratic governor prepares to leave office Jan. 9, those businesses have reported hiring a little over 21,400 employees while the state so far has distributed about $166 million of incentives to them, according to an Associated Press analysis of data compiled by the state Department of Economic Development.
While the report card is incomplete — Nixon's deals will likely lead to more jobs and incentives paid out even after he's left office — Missouri's experience highlights the extent to which states are willing to use targeted tax breaks to attract jobs, and the difficulty in determining whether the incentivized promises ultimately pan out.
"When firms apply for incentives, they tend to propose more jobs than are actually created," said Dagney Faulk, research director at the Center for Business and Economic Research at Ball State University in Indiana.
State and national unemployment rates have fallen by half from their high in 2009, and the economy is growing modestly as measured by the gross domestic product. But plenty of economic angst remains, as evidenced by President-elect Donald Trump's appeal to working-class households with a pledge to boost American jobs.
"The bottom line is the economy's in a lot better place," Nixon said in an interview.
The AP's analysis didn't include projects that Nixon didn't publicize. But figures provided by the state show that even with those projects, fewer than half of the promised jobs have been created so far.
Missouri provides income tax credits and lets companies keep a portion of employee withholding taxes for new jobs. The state also provides job-training funds to businesses and community development grants to build infrastructure needed by companies.
The Pioneer Hi-Bred facility in New Madrid County is among the successes, with a current payroll of about 70 full-time employees.
Some of the biggest gains have come in the automotive industry. Nixon called a special legislative session in 2010 to enact incentives to save Ford Motor Co.'s plant in Claycomo, near Kansas City. That plant now is Ford's highest-volume facility worldwide — producing more than 400,000 trucks and vans in 2015 — and has doubled its payroll to more than 7,400 workers.
Ford has received about $29 million of its roughly $100 million of potential incentives, according to state figures. General Motors has received about $31 million for a St. Louis-area assembly plant. Numerous auto parts suppliers also have gotten state aid.
Nixon said the resurgence of Missouri's automobile industry would not have happened without state incentives.
"If people think that Ford plant in Claycomo would still be open ... they don't understand the world that you live in as governor," Nixon said.
The largest incentives deal in Missouri history — up to $1.3 billion for a pledge of 16,000 jobs over a decade — is scheduled to produce its first fruits in February when health care technology firm Cerner Corp. opens the initial phase of a Kansas City office complex with 3,000 employees.
Department of Economic Development Director Mike Downing said Nixon "has met with a lot more companies" than any of the six other Missouri governors he's worked for since joining the agency in 1982.
Sometimes that's led to embarrassment — none more glaring than when Nixon announced in July 2010 that a little-known Chinese-owned firm called Mamtek would employ more than 600 people at a new Moberly facility making artificial sweetener. A little over a year later, the partially completed facility was abandoned and the city defaulted on $39 million of bonds issued for the project. Mamtek CEO Bruce Cole later pleaded guilty to securities fraud and theft.
The former Mamtek site has since been developed by MFA Oil Co., which bought it at a bargain price. But Moberly was slighted again in 2015 when GAF backed out of a deal to build a shingles manufacturing plant that would have employed 125 people.
The two Moberly failures are among about two dozen Nixon-announced projects listed by the Department of Economic Development as closed with no benefits. Some simply never occurred while others fell short of job targets or didn't follow through on requests for aid.
Among those is 3G Processing, a Mountain Grove facility announced by Nixon in 2010 that converted food scraps into oil for biodiesel and feed products for poultry and hogs. 3G Processing failed to submit an annual report and was disqualified from getting more than $300,000 in state aid, according to department records.
"Once we got the notice we filled it out, but when it got in there they said it was late," said owner Lexie Grisham. "Anytime that you expect stuff, sometimes it just don't work right."
3G Processing shut down in November 2015 amid declining oil prices and laid off most of its roughly 100 employees, Grisham said.
About three dozen additional business projects remain open but have reported no jobs to the state — either because they haven't hired enough people to trigger incentives or haven't reached their reporting deadline.
Among those is data analytics firm mySidewalk, which Nixon announced in April 2014 would be moving from Omaha, Nebraska, to Kansas City and creating 80 jobs in exchange for up to $1.6 million in tax breaks. The firm, originally called MindMixer, temporarily reached that employment mark, then had widespread layoffs. It's now on an incentive plan for keeping at least 29 jobs, said new CEO Stephen Hardy.
"We took a shot at something and we didn't pull it off," Hardy said. "But the taxpayers aren't left holding the bag on that one, because we didn't apply for or qualify for the larger tax incentive."
___
Follow David A. Lieb at: http://twitter.com/DavidALieb