In the Wake of a Hot Streak, Do Gaming Stocks Have Room to Grow?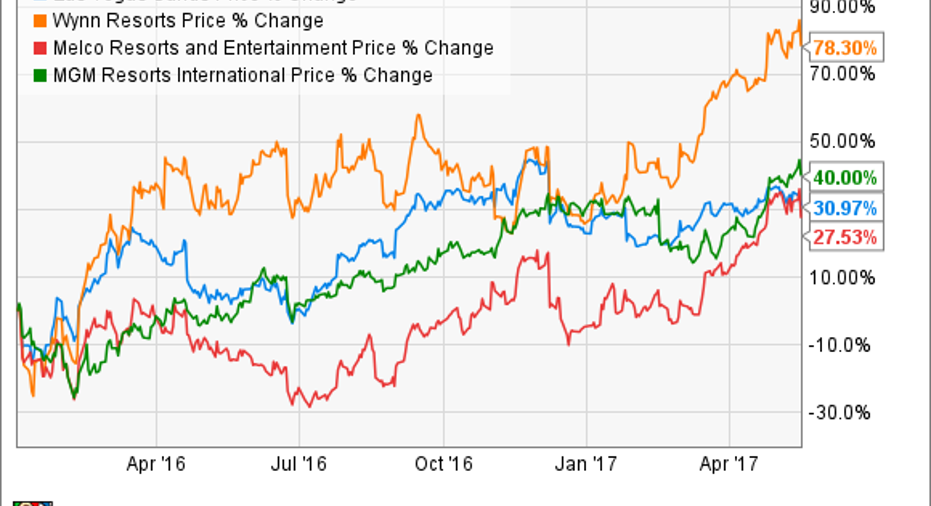 The last year and a half has been great for gaming industry stocks. Las Vegas Sand (NYSE: LVS), Wynn Resorts (NASDAQ: WYNN), Melco Resorts (NASDAQ: MLCO), and MGM Resorts (NYSE: MGM) have all surged in trading, and there seems to be no shortage of good news from them.
The recovery in Macau has been the industry's biggest story, with gaming revenue up 13.8% in the first four months of the year. But there may be even more tailwinds behind gaming stocks, so investors shouldn't yet take their gains and run.
Macau's run is just beginning
For the last 12 months, Macau's gaming revenue was $29.2 billion, up slightly from $27.6 billion in the previous 12 months. That return to growth followed a two-year period when investors weathered declining revenues in the region, and the uptick in results has helped drive gaming stocks higher.
But the Chinese territory is far from performing at its peak potential. Its gaming revenue in2013 was $45.2 billion, and in the years since then, new resorts have been built, and new infrastructure is under construction, including a ferry terminal and a light rail system. And more resorts are scheduled to open this year. Macau has gone from a place that people would visit for a quick day trip to a place where it's conceivable to see vacationers spending multiple nights, just like they do in Las Vegas.
The evolution of Macau could lead to more gaming revenue, but long term, I'm keeping my eye on what's happening off the gaming floor. The resorts that Las Vegas Sands, Wynn, Melco, and MGM have built on theCotai Strip all include large hotels, shopping zones, fine dining, and entertainment options that were once rare in Macau. These attractions could drive revenue and profits higher in Macau, even if gaming revenue fluctuates.
Image source: Getty Images.
Las Vegas is a rock
Las Vegas isn't exactly a huge growth market for gaming companies, but gaming revenue there has been steady since 2013, and visitors keep spending more and more on non-gaming items like hotel rooms and nightclubs. And this is all without these companies having to spend billions of dollars to build new Nevada resorts.
The Vegas Strip doesn't need to be a growth driver for the industry; it just needs to avoid declines, and to keep spitting out cash that can be used fund growth elsewhere -- or to pay dividends to investors. And right now, Las Vegas is a rock these companies can rely on to do just that.
There's still some value in gaming stocks
The chart below shows the enterprise value/EBITDA of gaming stocks over the last three months, and you can see the ratios range from 11.0 to 17.3. But Wynn's high ratio is because Wynn Palace hasn't had a full year of operations, and Melco and Las Vegas Sands are expecting bigger contributions from their new Macau resorts as well.
Long term, these ratios are reasonable given the growth we've seen in Macau of late, and the relatively strong balance sheets in the industry. As long as Macau doesn't go through another downturn, gaming stocks still have room to run higher. So it's not time to cash out your winnings from these casino giants just yet.
10 stocks we like better thanWal-MartWhen investing geniuses David and TomGardner have a stock tip, it can pay to listen. After all, the newsletter theyhave run for over a decade, the Motley Fool Stock Advisor, has tripled the market.*
David and Tomjust revealed what they believe are theten best stocksfor investors to buy right now... and Wal-Mart wasn't one of them! That's right -- theythink these 10 stocks are even better buys.
Click hereto learn about these picks!
*StockAdvisor returns as of May 1, 2017The author(s) may have a position in any stocks mentioned.
Travis Hoium owns shares of Wynn Resorts. The Motley Fool has no position in any of the stocks mentioned. The Motley Fool has a disclosure policy.