In hometown of Armenia's new leader, people hope for change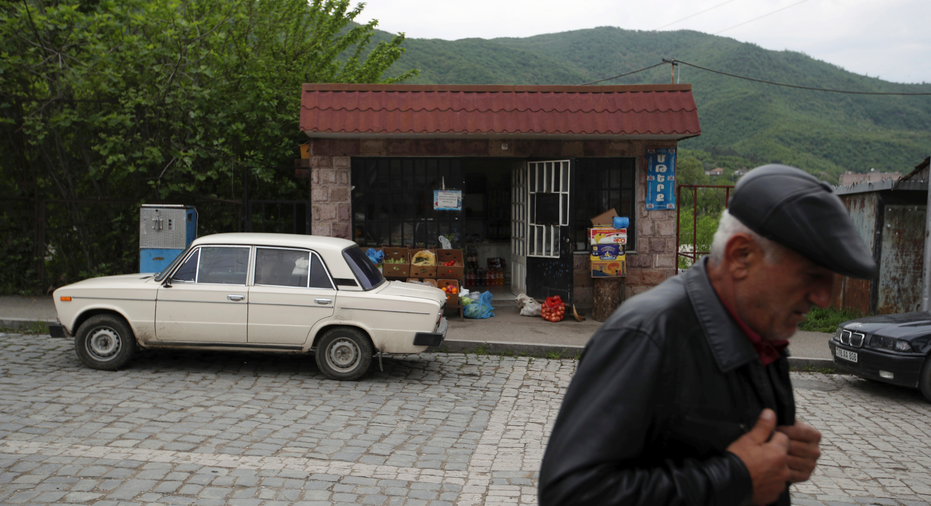 Hope has bloomed in the hometown of Armenia's newly-named prime minister, for people see him as a man who was able to articulate their long-simmering anger and will now focus on their needs.
Nikol Pashinian spearheaded weeks of anti-government protests that rejected a move by the Caucasus nation's long-serving leader to avoid term limits and stay in power. Serzh Sargsyan was forced out of office and Pashinian, 42, was named prime minister May 8.
Sarmen Amirian, who went to school with Pashinian in the town of Idjevan, said the opposition leader was able to express public demands to end the widespread poverty, high unemployment and rampant corruption that flourished under the old government.
"The opposition made the diagnosis and named our illnesses. We now need to cure them, find the right medicine," he said.
"It's not just me but the whole nation" who is proud of Nikol, said his 78-year-old father, Vova Pashinian. "And he is even ready to give his life for his people."
Still, Pashinian faces a plethora of daunting challenges in Armenia, an impoverished ex-Soviet nation weakened by the economic blockade stemming from the conflict over the disputed region of Nagorno-Karabakh. Pashinian is forming a new government out of a diverse crew of political allies, but must work with a parliament dominated by the party he denounced as corrupt and cope with the Nagorno-Karabakh deadlock.
The protests in Armenia began last month when Sargsyan, who was Armenia's president for a decade, tried to hold onto power by shifting into the prime minister's position. Sargsyan had initiated constitutional changes that gave the prime minister more power than the president. When he stepped down because of term limits, his party quickly named him the prime minister.
The move outraged many Armenians. Facing massive daily protests that engulfed the Armenian capital and other cities, Sargsyan stepped down and his party grudgingly agreed to allow Pashinian to lead the country.
"People went out against the corrupt government that completely lost shame," said Armen Makinyan, a 23-year-old teacher who joined the protests in Idjevan.
Pashinian always has been a rebel. He was expelled from Yerevan State University where he was studying journalism for his criticism of authorities. In 2010, he was convicted of organizing mass riots and sentenced to seven years in prison, but was freed the following year under an amnesty.
His father recalled that his son once told him: "'If I don't fight, how will our people live? In poverty? Unemployment?'"
Like the rest of the country, Idjevan, a city of 20,000 that sits on a key highway linking Armenia with Georgia, has been plagued by unemployment and grinding poverty after a plant processing bentonite clay and other factories closed years ago.
"People supported the opposition because Pashinian saw our main problems," said Meline Madatian, a 28-year-old university graduate who was trained in psychology but now works as a sales clerk for $60 a month.
Both Azerbaijan and Turkey have closed their borders with Armenia over the Nagorno-Karabakh conflict, cutting trade and leaving Armenia in semi-isolation. The country has direct land access only to Georgia and Iran.
The Nagorno-Karabakh region in Azerbaijan has been under the control of ethnic Armenian forces backed by Armenia since the end of a six-year separatist war in 1994. Shooting frequently breaks out across a buffer zone. Scores were killed in four days of fighting in 2016.
Pashinian visited Nagorno-Karabakh a day after he was appointed prime minister to reassert Armenia's unwavering commitment to the region.
Russia is Armenia's most important ally, providing loans and serving as the main source of imports and the top export market. Russia sees relations with Armenia as strategically important and has a military base in the country.
Pashinian has pledged to further expand ties with Moscow and will meet with Russian President Vladimir Putin on Monday.
About one-third of the population in Armenia, a country of 3 million, have moved to live and work abroad, and their remittances make up about 14 percent of the country's gross domestic product. Even Pashinian's older brother, 51-year-old Armen, moved to Russia, where he eventually opened his own business.
"People have been leaving and the country has been growing increasingly empty and poor," Armen Pashinian said. "Someone had to stop that creeping catastrophe."
He said he's certain that his brother will be able to find solutions to Armenia's numerous problems.
"He is hard-working, and he can say the right words to the people and the people understand him," Armen Pashinian said.