In Case You Missed It, This Hasn't Happened in the Solar Industry in 16 Years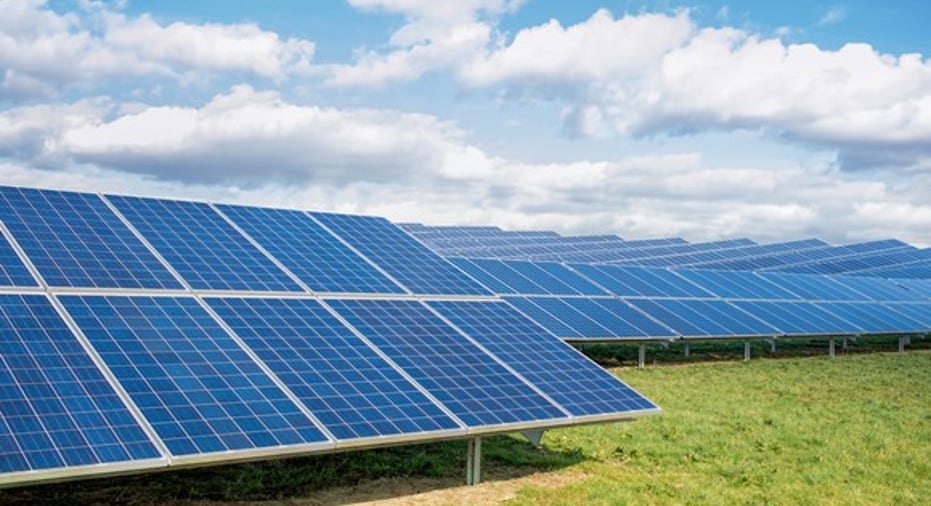 The solar industry has been on a growth streak for the past 16 years and is now a formidable force in energy. But this year may finally see the growth streak come to an end.
According to GTM Research, 2017 is expected to see a 7% decline in installations from 74 GW to 69 GW. This would be a significant downturn after years of growth, but it's not all that surprising to industry observers. First Solar (NASDAQ: FSLR), SunPower (NASDAQ: SPWR), Canadian Solar (NASDAQ: CSIQ), and even shares ofTesla (NASDAQ: TSLA) in SolarCity were all hammered by this decline before the calendar turned to 2017.
While this year may be bad for solar energy, it may be the calm before a wave of installations hits starting in 2018. And if you look out on the horizon the solar future looks to be getting brighter everyday.
Solar installations like this one have become more and more common around the world in the past decade. Image source: Getty Images.
A series of unfortunate events
The decline in installations in 2017 will be driven by a number of negative events all hitting at once. There was an urgency that drove a boom in installations in 2016 when the investment tax credit (ITC) in the U.S. was set to expire, but the extension in late 2015 took away any urgency for utilities to sign solar contracts for 2017. Long-term, the extension will lead to more solar installations, but not until the 2018-2021 timeframe.
China will also be a drag after installing a record 34.2 GW of solar (enough to power 5.6 million U.S. homes) in 2016 according to the Chinese National Energy Administration. No one quite knows how much solar will be installed in China in 2017, but the NEA only plans to average 27.5 GW of installations over the next four years so it's safe to say installations will be down.
Japan is another country where the solar industry is in for a rough year. According to GTM Research, an estimated 10.2 GW of solar was installed in Japan in 2016, but that will drop to 8.8 GW in 2017 as feed-in tariff reductions hit. Japan is a high potential solar market, but public policy hasn't kept up with potential and that will keep a cap on growth short-term.
Why growth is on the horizon
While these factors in the U.S., China, and Japan will drive a decline in solar installations in 2017, that doesn't mean the industry is heading into a dark chapter. Solar energy has never been cheaper and bids for new power plants are coming in under 4 cents per kWh in some locations, a price that would beat any new fossil fuel or nuclear plant on a cost basis.
Image source: SunPower.
Emerging markets like Chile, Mexico, Argentina, India, and the Middle East are starting to see the potential of solar as well. Mexico's recent auction resulted in clean energy contracts with an average price of 3.3 cents per kWh and given the low cost many countries are following with their own reverse auctions in 2017. Nearly four dozen countries could have energy auctions this year and that would lead to a boom in demand in 2018 and beyond.
Solar energy is cost effective today, but energy projects have this lag between when people decide to go solar and when projects are in the ground. That's the lull the market is in today. Leading developers like First Solar, SunPower, and Canadian Solar could will their backlog in 2018 and 2019, despite having a down year in 2017.
Solar energy is still the future of energy
Over the past decade alone, solar energy has grown from a 2 GW industry that could install enough power generation to power 368,000 homes per year to an industry giant that installed 74 GW, or enough to power 12.1 million homes, in the last year alone. And growth was driven by a whopping 90% drop in solar panel costs as technology improves across the industry.
2017 may be a down year for the solar industry for a variety of reasons, but it doesn't fundamentally change the fact that solar energy is the most abundant energy source in the world and the cost to generate solar power is now lower than fossil fuels in most of the world.
Like it or not, the solar boom is really just beginning and 2017 will be a calm before what could be another 16 years of consecutive growth for solar energy.
10 stocks we like better thanWal-MartWhen investing geniuses David and TomGardner have a stock tip, it can pay to listen. After all, the newsletter theyhave run for over a decade, the Motley Fool Stock Advisor, has tripled the market.*
David and Tomjust revealed what they believe are theten best stocksfor investors to buy right now... and Wal-Mart wasn't one of them! That's right -- theythink these 10 stocks are even better buys.
Click hereto learn about these picks!
*StockAdvisor returns as of December 12, 2016The author(s) may have a position in any stocks mentioned.
Travis Hoium owns shares of First Solar and SunPower. The Motley Fool owns shares of and recommends Tesla. The Motley Fool has a disclosure policy.