Improving Construction Sales Boost United States Lime & Minerals Inc.'s Earnings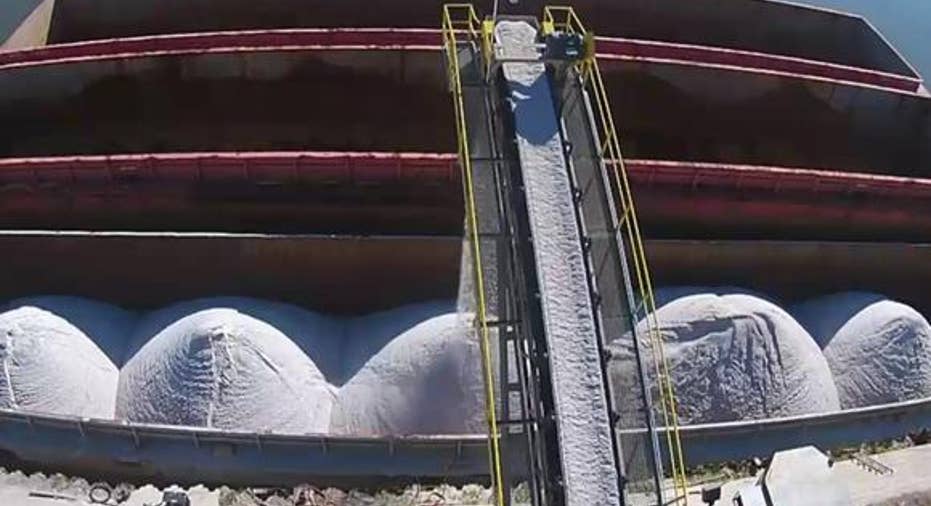 Image source: Eagle Materials.
An improving construction market, due in part to better weather conditions, provided a big boost to U.S. Lime & Minerals first-quarter results. It also helped to more than offset the continued weakness in the oil and gas market, which has not only been impacting the company's lime and limestone sales to that market, but also the revenue the company gets from its own natural gas production.
U.S. Lime results: The raw numbers
| | Q1 2016 Actuals | Q1 2015 Actuals | Growth (YOY) |
| --- | --- | --- | --- |
| Revenue | $33.6 million | $30.0 million | 11.7% |
| Net income | $4.1 million | $2.4 million | 71.9% |
| EPS | $0.73 | $0.42 | 73.8% |
Data source: U.S. Lime & Minerals.
What happened with U.S. Lime this quarter?U.S. Lime reported a much improved quarter.
The company's core lime and limestone operations enjoyed a strong quarter, with revenue up 12.9% to $33.2 million. That was due to increased sales volumes thanks to higher demand from construction and industrial customers as well as a slight year-over-year increase in prices. The higher demand from construction customers was partially due to the fact that demand last year was very weak because of poor weather conditions.
Revenue from the company's natural gas interests continued to fall due to the weak natural gas market, slumping 38.5% to just $432,000. Not only was production weak, with volumes dropping from 187,000 MFC to 160,000 MCF, but prices fell from $3.75 per MCF to $2.69 per MCF.
The higher revenue in the company's lime and limestone operations fell directly to the company's bottom line, pushing net income up by more than 70%. Meanwhile, net income on a per share basis was even stronger due to a lower share count after the company's stock buyback program reduced its outstanding share count by roughly half a percent.
What management had to sayIn commenting on the quarter, CEO Timothy Byrne said:
So far 2016 is shaping up to be a better year for the construction industry, which is good news for materials suppliers U.S. Lime, Eagle Materials , and Martin Marietta Materials . That's what the sector had been banking on after last year's tough showing with Eagle Materials seeing heavy rain impacting its cement business in Texas and Oklahoma while U.S. Lime's customers were affected by similar weather problems. That wash-out last year, however, has actually unleashed stronger demand this year, which is in-line with what Martin Marietta Materials CEO Ward Nye said his company expected to see this year. He noted last quarter that the company's "[...] outlook for 2016 reflects growing underlying demand and strong pricing across our entire geographic footprint ... in addition to substantial contractor backlogs resulting from historic rainfall in 2015, should fuel growth and further recovery of the U.S. construction industry."
That outlook is clearly being played out in U.S. Lime's results, with it seeing a rebound in demand from the construction segment so far this year.
Looking forwardAs long as the weather cooperates, sales to construction customers should continue to improve this year and boost U.S. Lime's results. That said, what remains to be seen if the energy market, which has been weighing on the results of both U.S. Lime and Eagle Materials, will also recover. If that market starts to recover in the second half of the year as some market participants expect, it could fuel further improvements in U.S. Lime's results this year.
The article Improving Construction Sales Boost United States Lime & Minerals Inc.'s Earnings originally appeared on Fool.com.
Matt DiLallo has no position in any stocks mentioned. The Motley Fool recommends U.S. Lime and Minerals. Try any of our Foolish newsletter services free for 30 days. We Fools may not all hold the same opinions, but we all believe that considering a diverse range of insights makes us better investors. The Motley Fool has a disclosure policy.
Copyright 1995 - 2016 The Motley Fool, LLC. All rights reserved. The Motley Fool has a disclosure policy.