Impact from China's currency devaluation and slowing economy being felt around the globe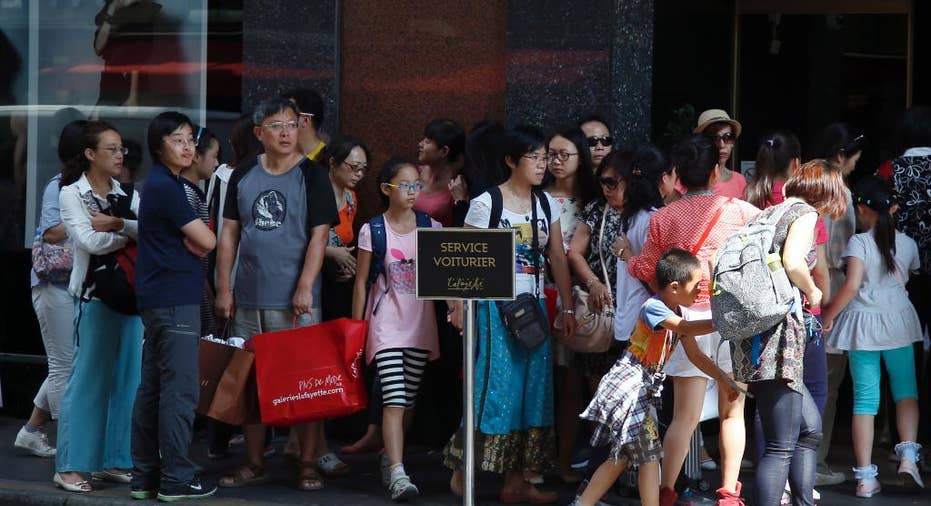 A free-falling Chinese currency could make China's goods cheaper for foreigners, squeeze Western companies, discourage Chinese tourism, increase China's exports and complicate the Federal Reserve's decision on whether to raise American interest rates.
If the yuan keeps falling, that is.
The Chinese currency sank again Wednesday, a day after Beijing engineered the biggest one-day decline in the yuan in a decade.
Behind the yuan's fall is a worrisome backdrop: The Chinese economy is decelerating. Growth for 2015 is expected to be the slowest since 1990. Fearful Chinese investors are moving money abroad, thereby depressing the yuan. By devaluing its currency, Beijing was in some ways merely catching up with the market's sentiment.
Though some economists fear Beijing's move may trigger an uncontrollable fall in the yuan — one that could destabilize the global economy — others see little need to worry: They note that Beijing could tap nearly $3.7 trillion in foreign reserves to stop a free-fall if it felt the need to do so. Few doubt that China would intervene if necessary.
Still, the drop in the yuan — along with growing evidence that China's economy is weakening — is shaking up global markets. What happens in China, the world's second-largest economy, inevitably reverberates around the world:
WESTERN COMPANIES
Stock investors have been punishing the shares of companies that do big business in China. A cheaper yuan, after all, drives up the price of foreign goods in China. It hurts earnings, too: The revenue that foreign companies collect in yuan from China sales are worth less when converted back into their home currencies.
Shares in Yum! Brands Inc., for instance, have sunk nearly 9 percent the past two days, The parent company of KFC and Pizza Hut, it has 6,800 restaurants in China and plans least 700 more this year.
Still, investors may be overreacting to a short-term currency move. Or they may be worried about something deeper: That the sudden devaluation reveals how frightened Chinese officials are about the health of their economy.
"It's not about a minor devaluation," says Greg McBride, chief financial analyst at Bankrate.com. Instead, "It's all about yet another move of desperation to juice the Chinese economy."
In Germany, economists are mainly shrugging off the likely impact on local exporters. That country's makers of autos and industrial machinery, which depend on Chin's market, are unlikely to be hurt much by the yuan's drop.
A bigger threat is the fundamental fact that China's economy is weakening. That's why Daimler, BMW and Volkswagen have seen profits in China slip. They have partly established their production in China, which makes the currency swings less relevant.
Smaller German makers of industrial machinery tend to focus on more sophisticated goods and so don't compete head to head with Chinese manufacturers at the lower end of the market.
LUXURY GOODS
Newly wealthy Chinese shoppers have been enthusiastic buyers of luxury goods — designer bags, jewelry, clothing. But the economic slowdown is taking a toll.
Even before China devalued its currency, the Chinese luxury market was retreating. The Bain & Co. consultancy predicted this spring that China's luxury sales would drop 4 percent this year.
"The devaluation of the yuan is even more startling," said Faith Hope Consolo, chairman of the retail group at Douglas Elliman Real Estate, which works with luxury retailers. "I think all the luxury brands will feel the effect but especially Coach, for which China was a critical market."
Higher-end luxury retailers, such as Chanel and Louis Vuitton, may prove more resilient, Consolo says.
Luxury sales have already been hurt by China's anti-corruption campaign. The drive against corruption has made Chinese less likely to buy expensive gifts for influential officials or draw attention to themselves by splurging on luxuries.
TOURISM
China's economic rise has lifted global tourism. Chinese tourists spend more than travelers from anywhere else — $129 billion in 2013 alone, according to the United Nations. And they zero in on high-end shops, spending three times as much on luxury goods outside China than they do at home, Bain reports.
The yuan's drop makes it costlier for Chinese to go abroad. It's unclear whether the currency's fall will crimp their spending, says François Navarro of the Paris Region Tourist Board. Still, he worries that "when the yuan is weak, it's a bad thing for tourist professionals like (retailers), restaurants or hotels."
Luca Solca, lead luxury goods analyst at BNP Paribas, says Chinese consumers will now have less incentive to travel to Europe on luxury goods shopping sprees.
THE FEDERAL RESERVE
The Federal Reserve has been weighing whether to raise record-low short-term U.S. interest rates as the American economy strengthens. But a cheaper yen potentially restrains U.S. growth by pinching exports and depressing U.S. inflation, which is already running below the Fed's 2 percent target. Most economists expect the Fed to raise the short-term rate it controls — stuck near zero since 2008 — at its September meeting. Will the yuan's drop cause Fed policymakers to reconsider?
Probably not, economists say.
The U.S. economy grew at a steady 2.3 percent annual rate from April through June, and U.S. unemployment has reached a seven-year low 5.3 percent. The yuan's tumble is "not a game changer for the Fed," said Sara Johnson, IHS Economics' senior research director for global economics. "We expect they will proceed with a rate increase at the September meeting."
___
AP Writers Anne D'Innocenzio in New York, David McHugh in Frankfurt, Greg Keller in Paris and Colleen Barry in Milan contributed to this report.