IMAX Starts 2016 Strong, But Can It Keep Up the Pace?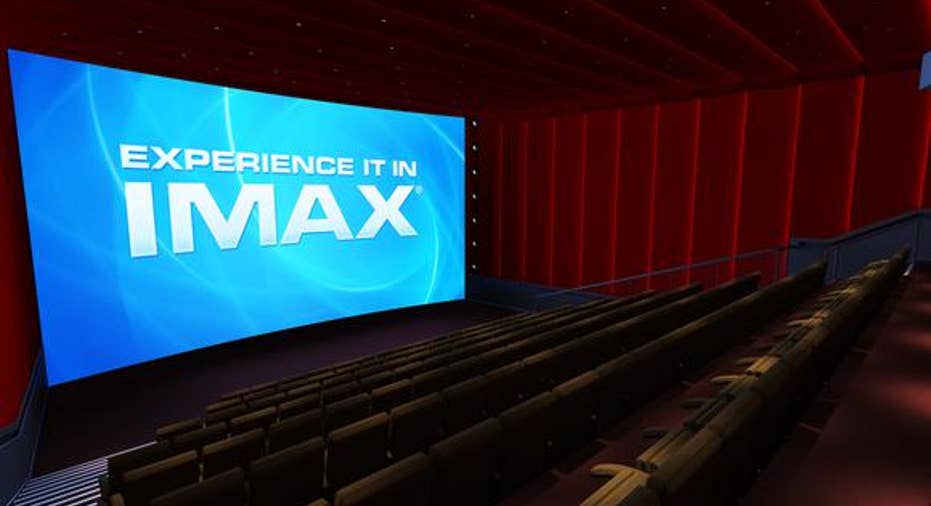 Image: IMAX.
When Hollywood makes movies that people want to see, theater companies reap the rewards. That has always been true for big-screen specialist IMAX , and coming into Thursday's first-quarter financial report, IMAX investors were fully expecting the company to tap into the success of features like the new release in the Star Wars franchise. Yet even though IMAX did indeed successfully join the ranks of those riding on the coattails of Disney's latest blockbuster, some investors are starting to worry whether times will remain this strong for IMAX going forward. Let's take a closer look at IMAX's latest results and see what they can say about its prospects going forward.
IMAX bounces back IMAX's first-quarter results restored confidence in the theater company. Revenue soared 48% to $92.1 million, crushing the $84 million consensus forecast among investors following the stock. That success had an even bigger impact on IMAX's bottom line, where net income climbed to $9.5 million. After modifying results for extraordinary items, adjusted earnings more than tripled to $0.22 per share, easily topping the $0.15 per share that most investors had expected to see.
A closer look at IMAX's numbers shows the depth of the improvement from year-ago levels. Revenue from sales and sales-type leases more than doubled to $18 million, with the company putting in five full new theater systems and installing nine digital system upgrades in existing locations during the quarter. Revenue from joint revenue-sharing arrangements climbed by nearly half to $23.4 million, and the company enjoyed a huge 10-point improvement in gross margins from the segment. IMAX installed five new theaters under such arrangements. Production and digital remastering revenue picked up by more than two-thirds to $29.8 million.
Helping to drive much of IMAX's gains was the rise in overall movie success in the industry. IMAX's global box office from its digitally remastered titles climbed by more than $100 million from the previous year's quarter to $272 million. That sent the average box office per screen up more than 40% to $284,400.
IMAX CEO Richard Gelfond celebrated success on multiple fronts. "2016 is off to an exceptional start for IMAX," the CEO said, and "the pace of IMAX theater signings, installations, and box-office growth both domestically and globally continues to drive real momentum in the business."
Can IMAX keep climbing?For its part, IMAX believes that its positive momentum will continue. As Gelfond put it, "We believe significant opportunity lies ahead as we continue the year with a robust pipeline of films featuring major blockbuster titles, including a strong start to the second quarter." The CEO cited Disney's upcoming Jungle Book and Captain America movies, as well as the new Star Trek release and the Rogue One film in the Star Wars universe.
Moreover, IMAX is extending its reach across the globe. The company has seen much of its growth come from key geographical areas in the Asia-Pacific region, including China, India, and Japan. IMAX reported 1,066 systems in its theater network at the end of the quarter, and 388 theaters in backlog would bring the anticipated total above the 1,500 mark.
IMAX is also supporting its stock price through repurchases. The company bought back more than 1.6 million shares during the quarter, spending about $50 million in doing so. IMAX just boosted its buyback authorization by $50 million, giving it more firepower when it sees opportunities to repurchase stock at attractive levels.
Yet IMAX shareholders had mixed reactions to the news. Initially, the stock soared 6% following the announcement, but by the end of the day, it had given up all of those gains. Some pointed out that the first quarter hasn't traditionally had such blockbuster success, and they seem dubious that events like Disney's Star Wars releases will repeat in future years. Yet for long-term investors, Hollywood's success has been a constant for decades, and IMAX is where it needs to be in order to take full advantage.
The article IMAX Starts 2016 Strong, But Can It Keep Up the Pace? originally appeared on Fool.com.
Dan Caplinger owns shares of Walt Disney. The Motley Fool owns shares of and recommends Imax and Walt Disney. Try any of our Foolish newsletter services free for 30 days. We Fools may not all hold the same opinions, but we all believe that considering a diverse range of insights makes us better investors. The Motley Fool has a disclosure policy.
Copyright 1995 - 2016 The Motley Fool, LLC. All rights reserved. The Motley Fool has a disclosure policy.