IMAX Earnings: VR, Theater Signings, and New Numbers for Investors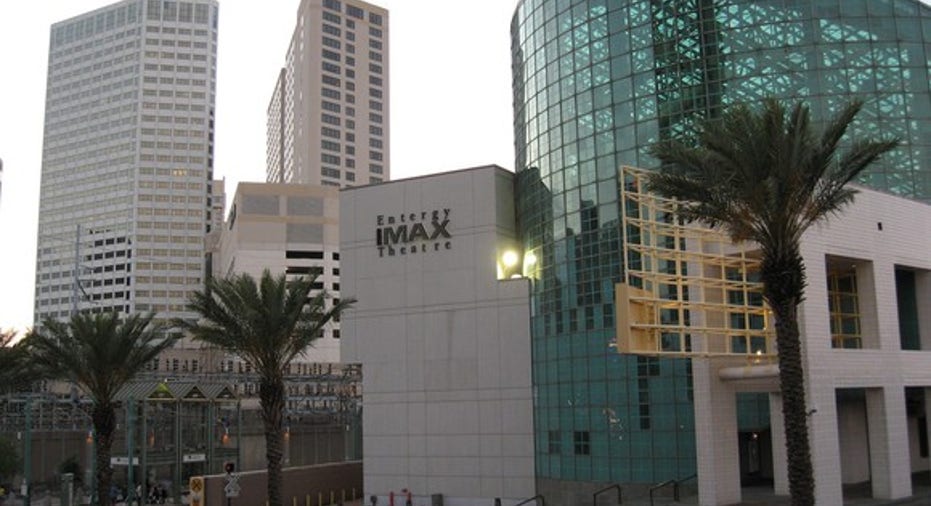 When IMAX Corporation (NYSE: IMAX) reported earnings in the first quarter, investors must surely have known that the results would be weak compared with last year. Early 2016 saw the continued success of The Walt Disney Company's (NYSE: DIS) Star Wars: The Force Awakens, which achieved over $2 billion in worldwide box office. This quarter's comparative offering Rogue One: A Star Wars Story was still a box office smash but garnered just over $1 billion less in total ticket sales.
Those expectations were prudent, as the company reported results that were considerably lower than the comparable period last year. IMAX reported quarterly revenue of $68.7 million, compared with $92.1 million in the prior-year period. Earnings were similarly affected, with $750,000 compared to $11.3 million in the comparable period. Still, the company focused on the positives, revealed a new look and pointed out several catalysts that could benefit shareholders going forward.
IMAX financial results looked bad, but looks can be deceiving. Image source: Pixabay.
New presentation
IMAX reported its results for the first time using its recently revised presentation, which more accurately illustrates how the company views the business. The biggest change was to group recurring revenue together in the newly created Network Business segment and move one-time payments into the theater-business segment. This move will provide investors with more clarity going forward.
The company reported 38 new theater signings compared with 35 in the year-ago quarter and 14 theater installations, compared with 10 in the same period last year. This performance resulted in a record 1,226 theaters in the network, compared with 1,066 last year and a record 524 theaters waiting to be built, compared with only 388 in the prior year quarter.
More on theater signings
IMAX announced earlier this week that it had expanded its partnership with Omnijoi Cinemas in China that added 40 new theaters, more than doubling the current total of 32. This move would make Omnijoi Cinemas the third largest IMAX exhibitor in China and the fifth largest worldwide. China continues to be a growth area and is the company's largest market. Omnijoi Cinemas is one of the top 10 theater chains in China.
Earlier this month, IMAX signed an agreement with AMC Entertainment Holdings(NYSE: AMC) recently acquired Odeon Cinemas Group and Nordic Cinema Group for an additional 25 IMAX theater systems in key markets in the UK, Germany, Scandinavia, Spain, and Italy. Many of these markets are considered underpenetrated areas for premium-format theaters and this deal more than doubles the existing agreement to a total of 43 theaters.
IMAX opens pilot VR center with more to come. Image source: Getty Images.
Update on virtual reality
Last month, IMAX and Time Warner Inc.'s (NYSE: TWX) Warner Bros. Home Entertainment revealed that the companies would collaborate on three premium original virtual reality (VR) content experience based on upcoming Warner Bros. Pictures movies Justice League, Aquaman, and a third as yet undetermined piece. These VR experiences would be available for an exclusive window in IMAX VR arcades, before being available to the home market.
The company reported in its earnings conference call that the pilot location in Los Angeles had over 20,000 unique visitors since it opened in early January and was recently producing $15,000 in weekly revenue. The company plans to open additional pilot locations in Los Angeles, New York, Manchester, Shanghai, and Tokyo in the coming months.
Hollywood Partnership
Greg Foster, the CEO of IMAX Entertainment addressed the company's excitement about the upcoming release of Marvel's Guardians of the Galaxy Vol. 2next month and extensive use of IMAX technology throughout the film. He quoted Guardians director James Gunn, who stated:
What the future holds
In the end, the fate of IMAX is inexorably linked to the slate of movies available. The first quarter is historically a slow one for moviegoers, and this was no different. The comparison with last year's stellar first quarter was difficult, but Foolish investors look beyond the quarterly results. IMAX has a number of initiatives focused on the future and a number of big-budget movies that will hit theaters in the coming months. My money's on IMAX.
10 stocks we like better than IMAXWhen investing geniuses David and Tom Gardner have a stock tip, it can pay to listen. After all, the newsletter they have run for over a decade, Motley Fool Stock Advisor, has tripled the market.*
David and Tom just revealed what they believe are the 10 best stocks for investors to buy right now... and IMAX wasn't one of them! That's right -- they think these 10 stocks are even better buys.
Click here to learn about these picks!
*Stock Advisor returns as of April 3, 2017
Danny Vena owns shares of AMC Entertainment Holdings, IMAX, and Walt Disney. Danny Vena has the following options: long January 2018 $80 calls on Walt Disney and short July 2017 $115 calls on Walt Disney. The Motley Fool owns shares of and recommends IMAX and Walt Disney. The Motley Fool recommends Time Warner. The Motley Fool has a disclosure policy.