Illinois House leader: Revenue vote now set for weekend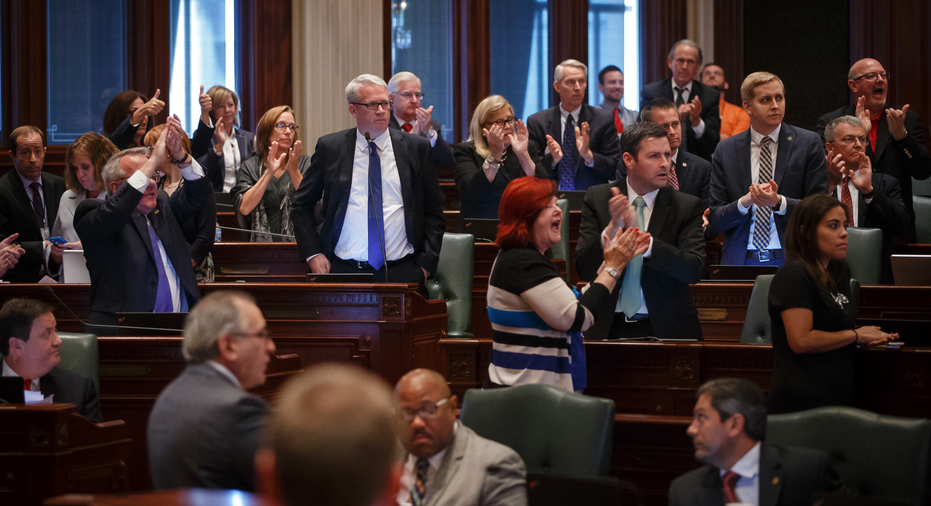 The speaker of the Illinois House on Saturday scheduled a key vote on a multibillion-dollar revenue package that would finance an end to the longest state budget crisis since at least the Great Depression, ending a day that turned acrimonious at times.
Democratic Speaker Michael Madigan of Chicago issued a statement saying a headcount would occur Sunday afternoon on a financial measure "modeled on the bill supported by" Republican Gov. Bruce Rauner. It reversed his pronouncement earlier in the day that there would be no budget votes before Monday, a statement which prompted a momentary shouting match in the chamber between the GOP and Democrats.
There was no word on what specific legislation would be called, but the reference to "support" by Rauner and legislative Republicans indicated it would include a 32 percent increase in the personal income tax rate to raise about $5 billion, a provision the GOP has in the past indicated it would accept if it gets the "structural" business and political changes Rauner demands.
House Republican Leader Jim Durkin seemed befuddled by the change of heart, issuing a statement that there is "no agreement on a comprehensive budget package" and urged leaders to keep negotiating.
Saturday marked the third consecutive fiscal year Illinois has begun without an annual budget in place, and the state has already accumulated a $6.2 billion deficit and $14.7 billion in past-due bills. Without a budget soon, the state comptroller will be unable to cover basic services ordered by courts and road construction shuts down. Powerball and Mega Millions ticket sales have halted, and Illinois' credit rating could be downgraded to "junk."
Madigan's decision came after the Senate, which came in Saturday to await House budget action, adjourned until Monday.
It capped a perplexing day that started with great promise.
Lawmakers arrived at the Capitol energized by Friday, when the House overwhelmingly approved a $36.5 billion spending plan on a preliminary vote. Some House leaders expected after meetings Friday night and Saturday morning that the chamber would proceed with a final vote and a revenue roll call. Republicans reacted angrily to the unexpected development.
"Our side of the aisle is very concerned about what the nation and what will people be thinking about this state," Durkin said. "We had great momentum yesterday in this chamber. ... I still contend that these matters could be resolved very quickly. I want this done today."
His caucus stood with cheers and jeers, chanting support for continued work as Madigan left the floor to one GOP member's rebuke of the nation's longest-serving House leader as "Speaker Junk!" The floor exploded, with one Democrat shouting down the Republican and the GOP floor leader, Rep. Steven Andersson of Geneva, intervening, "Knock it off. Both of you, knock it off!"
Madigan sent messages Friday to the major credit agencies, which promised a downgrade of Illinois' creditworthiness if the state didn't have a deal by the new fiscal year. Credit agencies typically don't publish analyses on weekends or during holiday periods, so the timing might be in Illinois' favor.
___
The bills are SB6 and SB9 .
___
Contact Political Writer John O'Connor at https://twitter.com/apoconnor . His work can be found at https://apnews.com/search/john%20o'connor .