Ignore McDonald's, Buy These Two Restaurant Stocks Instead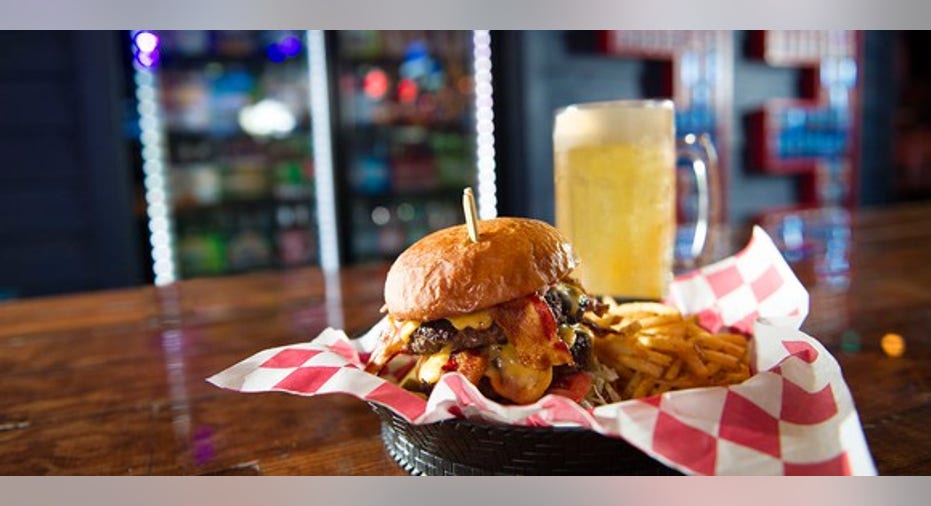 In the last five years, the world's largest fast food chain,McDonald's ,has had falling sales and profit. International growth has been offset by weakness in the U.S. as consumers' preferences change. Attempts to revamp the menu with all-day breakfast and the 5-for-$2 deal have helped woo back some customers, but the effort hasthus far been unsuccessful in getting revenue to turn higher.With a myriad of problems dragging on the business, one could expect share prices to fall in tandem, right? Wrong!
McDonald's stock has soared more than 30% in the last year on continued corporate share buybacks and dividend hikes, hopes that a menu turnaround strategy is starting to take hold, and expectations that sales and profit have bottomed.Some investors may be tempted to pile on the hamburger train out of short-term optimism, but I think those looking for growth in their portfolios have better restaurant options to choose from.
Buffalo Wild Wings: a strong track record of growth at a discount
Shares of this casual bar and eatery have been wildly up and down and now sit some 15% lower than the price a year ago. This comes in despite the fact that quarterly sales and profit have grown consistently in the double digits for years, and company management has given guidance indicating the trend will continue in 2016. So why the 15% drop in the stock? Even though the company has had solid growth, Wall Street was expecting a bit more.
I believe this scenario presents an excellent buying opportunity into Buffalo Wild Wings . The market has been unfair to the sports-themed wing restaurant, and the year ahead should be a strong one for the company. After 2015 presented challenges arising from sharply higher wing costs, food costs overall are expected to slightly fall for 2016. There is also a strong pipeline of expansion, with a planned 80 to 90 total restaurants slated to open this year in the U.S. and abroad.
Also look for the development of the company's R Taco fast-casual Mexican food brand. There are currently only ten locations, but that number is expected to double this year. Buffalo Wild Wings also owns an interest in the upstart PizzaRev chain. Expect statements later this year on the status of that developing project and how the company plans to proceed with it.
With the recent pullback in share price despite solid business performance and strong growth prospects going forward, a value appears to be had. Right now Buffalo Wild Wings has a price/earnings-to-growth ratio of 1.0. The PEG ratio measures the relative amount an investor would pay for expected future growth, and a PEG ratio of 1.0 indicates fair value. Considering the rest of the restaurant industry has an average PEG ratio of 2.1, indicating a higher price paid for the overall expected growth of restaurants in general, Buffalo Wild Wings looks even more compelling.
Buffalo Wild Wings in Spokane, WA. Image source: Nicholas Rossolillo.
Texas Roadhouse: a themed family restaurant riding momentum
Casual full-service restaurants have seen a resurgence in popularity in recent years, and this steak house is a prime example. The company has been growing profits an average of nearly 11% in each of the last five years as it has steadily increased its number of locations by almost 40% since 2011. Share prices have followed suit, and show no signs of letting up anytime soon, with further plans to keep expanding the company footprint.
With strong momentum pushing the business forward, I think Texas Roadhouse has potential to be a great growth story for investors. The slow and steady expansion is set to continue this year with another 30 planned openings to be added to the current restaurant count of 495. This will include seven new openings of the company's Bubba's 33 family friendly sports restaurant concept, effectively doubling the current location count.
Texas Roadhouse has been experiencing low-single-digit same-restaurant sales as the themed restaurant concept has been catching on with young families. This year is off to a good start, with first-quarter 2016 same-restaurant sales increasing over 5%. The trend is expected to moderate a bit, but still finish positive on the year. Like Buffalo Wild Wings, Texas Roadhouse sees a slight decrease in food costs this year. Between new openings, growing traffic at current locations, and falling costs, 2016 is expected to see another profit increase for shareholders. Average analyst forecasts see profits increasing as much as 30% over 2015.
Texas Roadhouse shares have increased nearly 30% in the last year. Despite that increase, the PEG ratio currently sits at just over 1.3, far below the restaurant industry average of 2.1 mentioned earlier. While some future growth may be priced in, the company is a relative value to many of its competitors. With several irons in the fire, between its flagship location expansion domestically and internationally, and a developing new concept in Bubba's 33, the slow and steady momentum the Texas-style brand has been building looks like it could continue beyond the next year.
Image source: Bubba's 33.
Time to give up on McDonald's
It may be tempting to bet on a McDonald's turnaround, especially with the market doing so and running the stock higher as of late. For some perspective, though, the fast-food juggernaut has a PEG ratio of 2.2. This is not only higher than the restaurant industry average of 2.1, but substantially higher than both Buffalo Wild Wings' and Texas Roadhouse's ratios of 1.0 and 1.3, respectively.Adding weight to this farcical scenario is that McDonald's is hoping for a rebound, compared with the real growth experienced by the smaller restaurant chains. Investors looking for long-term returns should ignore the world's biggest burger joint and consider Buffalo Wild Wings and Texas Roadhouse instead.
The article Ignore McDonald's, Buy These Two Restaurant Stocks Instead originally appeared on Fool.com.
Nicholas Rossolillo owns shares of Buffalo Wild Wings. The Motley Fool owns shares of and recommends Buffalo Wild Wings. The Motley Fool recommends Texas Roadhouse. Try any of our Foolish newsletter services free for 30 days. We Fools may not all hold the same opinions, but we all believe that considering a diverse range of insights makes us better investors. The Motley Fool has a disclosure policy.
Copyright 1995 - 2016 The Motley Fool, LLC. All rights reserved. The Motley Fool has a disclosure policy.