If You Love Intuitive Surgical's Stock, Should You Love TransEnterix's, Too?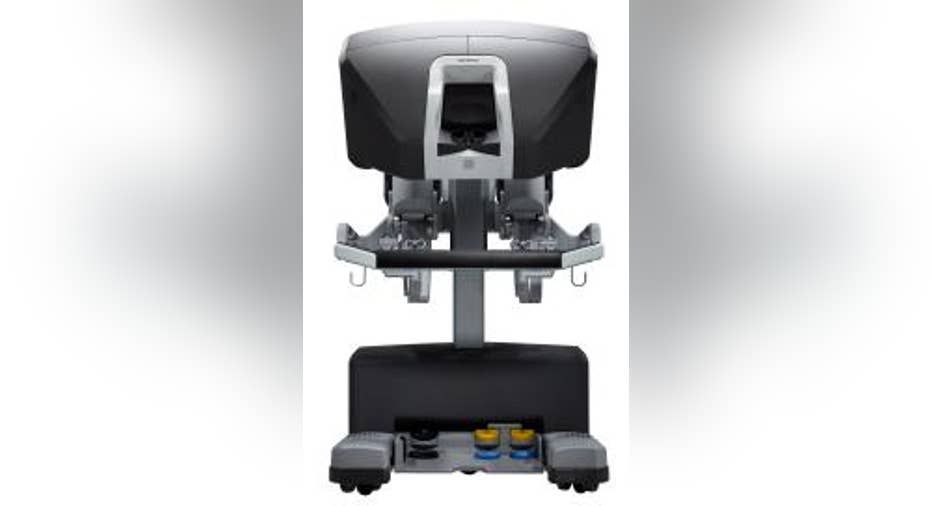 IMAGE SOURCE: TRANSENTERIX.
Intuitive Surgical's da Vinci robotic surgery system is revolutionizing how surgeons perform minimally invasive operations, but da Vinci's success is spawning competitors, includingTransEnterix , an upstart without any revenue that hopes to launch two robotic surgery systems this year. Can this little company become a big winner like Intuitive Surgical?
First, a bit of backgroundIntuitive Surgical launched its first commercial system in 1999 and after winning Food and Drug Administration approval in 2000, it sold 28 da Vinci systems, generating $26.6 million in sales. By the end of 2001, it had sold twice as many of its systems, generating revenue of $51.7 million and launching the company on a path that has turned it into one of healthcare's brightest shining stars.
Today, Intuitive Surgical's installed base consists of of 3,597 da Vinci systems, including 158 systems that were shipped in the last quarter alone, and Intuitive Surgical's sales are running at an annualized $2.7 billion pace.
Given the massive growth it has enjoyed over the past decade and a half, it's easy to understand why Intuitive Surgical's shares have returned an eye-popping 3,011% since its IPO in 2000.
IMAGE SOURCE: INTUITIVE SURGICAL.
Mounting threatsIntuitive Surgical has mostly had the market for robotic surgery to itself. However, that could change because of Verb Surgical and TransEnterix.
Medtech powerhouse Johnson & Johnson teamed up with Alphabet's tech-savvy Google Life Sciences (now known as Verily) last year to create Verb Surgical, a company that plans to develop robotic systems that could compete against Intuitive Surgical.
Johnson & Johnson is contributing its vast experience with developing and marketing surgical devices to Verb, and Verily is contributing its deep understanding of machine learning and image processing.
So far, Verb has hired at least 100 people, including CEO Scott Huennekens, the former CEO of the heart imaging company Volcano, and Pablo E. Garcia Kilroy, a veteran of SRI International, the renowned research institutethat pioneered robotic surgery under U.S. Army contracts in the 1980s and that later licensed its research to Intuitive Surgical.
Verb Surgical may have an impressive pedigree, but it's TransEnterix's that could challenge Intuitive Surgical for market share this year.
TransEnterix plans to launch two robotic surgery systems in 2016, the first of which is the ALF-X. TransEnterix acquired the ALF-X from SOFAR S.p.A in a cash and stock deal last year, and while the ALF-X is similar to the da Vinci system, it offers features like eye-tracking and haptic feedback that surgeons may prefer.
ALF-X won the CE Mark of approval for sale in Europe in 2011, but its previous owner failed to establish it in the marketplace. Currently, TransEnterix is conducting a roadshow in Europe to build interest in it.
SurgiBot is the second system TransEnterix hopes to start selling this year. The FDA could approve SurgiBot as soon as this month, and if it does, then former Intuitive Surgical sales leaders hired by TransEnterix will begin pitching it in the U.S. as a lower-cost and more flexible alternative to the da Vinci system.
TransEnterix is pricing SurgiBot at around $500,000, or about a third of the cost of the average system sold by Intuitive Surgical, and SurgiBot's features include an ability to move it from operating room to operating room, an articulating camera, and haptic feedback. SurgiBot's mobility and small footprint also allow surgeons to perform surgery bedside, rather than from behind a console, like they have to with the da Vinci system.
IMAGE SOURCE: TRANSENTERIX, INC.
Tackling a big jobBefore assuming that TransEnterix is on track to become the next Intuitive Surgical, know that the former faces a lot of headwinds that could sink it. The ALF-X gained little traction in the past, and there's no guarantee that SurgiBot will get the FDA go-ahead or that, if it does, hospitals will buy it.
Intuitive Surgical's decade-plus head start means that it's deeply ingrained within large surgical centers, and those centers may be unwilling to walk away from Intuitive Surgical because of the big investments in money and training they've made. If that's true, then SurgiBot's best shot at success would be with smaller hospitals that can't justify da Vinci's cost. However, those same tight purse strings could mean that they balk at SurgiBot, too.
TransEnterix is also arguablytight on cash. Last year, management spent $46.4 million, and supporting the launch of these two systems means that spending will increase this year. Given TransEnterix has $47.1 million in cash on hand as of Feb. 29, it appears the company's cash-strapped.
Management said as much in its recent annual filing with the Securities and Exchange Commission, noting that the company's cash stockpile "will not be sufficient to meet our anticipated cash needs for the next 12 months." That admission means that it is going to have to tap equity markets or lenders for financing soon.
Currently, it has roughly $69 million potentially available to it via stock offerings through an existing shelf registration that it amended on March 8.
Those monies, however, depend on willing equity markets, and since there's no guarantee that investors will continue to gobble up shares that are offered, and those offerings mean current investors will be diluted, there's reason for investors to be cautious.
Looking forwardThe market for robotic surgery is expected to grow from $3 billion in 2014 to $20 billion by 2021, but the majority of that growth is likely to still be captured by Intuitive Surgical.
There's no telling when Verb Surgical will have a product ready for prime time, but with Johnson & Johnson and Verily supporting it, they've got the talent, know-how, and deep pockets necessary to (ultimately) pose the biggest threat to Intuitive Surgical. In the meantime, TransEnterix will need to establish a foothold -- something that may or may not happen. Therefore, most investors should probably wait and see if ALF-X and SurgiBot demand exists before falling in love with this company's stock.
The article If You Love Intuitive Surgical's Stock, Should You Love TransEnterix's, Too? originally appeared on Fool.com.
Suzanne Frey, an executive at Alphabet, is a member of The Motley Fool's board of directors. Todd Campbell has no position in any stocks mentioned. The Motley Fool owns shares of and recommends Alphabet (A shares), Alphabet (C shares), and Intuitive Surgical. The Motley Fool recommends Johnson & Johnson. Try any of our Foolish newsletter services free for 30 days. We Fools may not all hold the same opinions, but we all believe that considering a diverse range of insights makes us better investors. The Motley Fool has a disclosure policy.
Copyright 1995 - 2016 The Motley Fool, LLC. All rights reserved. The Motley Fool has a disclosure policy.