If Disney Wanted Netflix, It Would've Bought It By Now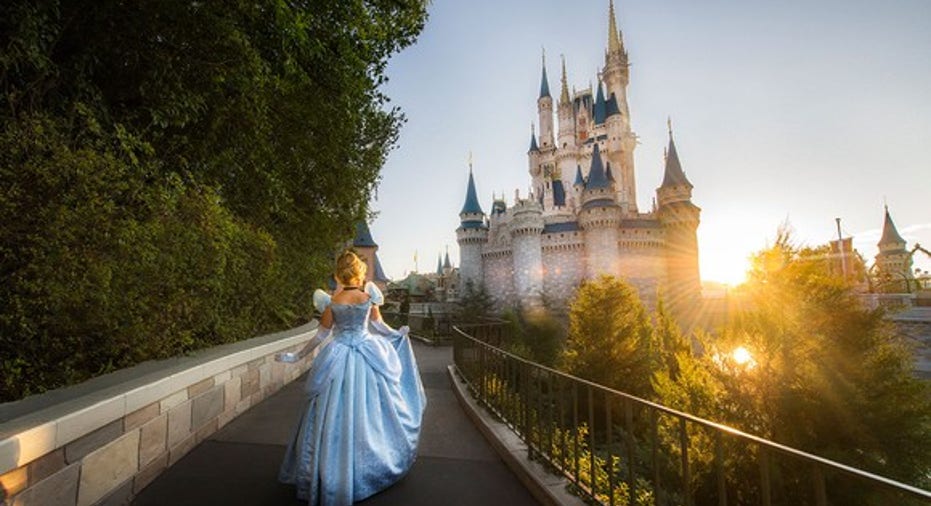 Image source: Walt Disney.
One of the biggest buyout rumors of 2016 -- Disney (NYSE: DIS)snapping upNetflix (NASDAQ: NFLX)-- is apparently not going to die in 2017. The New York Times' DealBook column waxed over the possibilities of a Disflix pairing over the weekend.
Jennifer Saba's column offers a decent amount of skepticism. She singles out Netflix's lofty forward earnings multiple -- the streaming giant is trading at 130 times this new year's projected profitability and a still-steep 64 times next year's target versus Disney's forward earnings multiple in the mid-teens -- as a possible roadblock. It would result in an "inadequate financial return" for Disney, Saba argues.
However, she concludes that it's still a potential purchase that Disney should consider. Saba points out that Netflix would allow Disney to leapfrog into market leadership of an important technology. It would also provide Disney with a clear heir apparent to CEO Bob Iger, who will be stepping down next year. She's not the first to suggest that Netflix's Reed Hastings would be a logical replacement for Iger, making this the mother of all acquihires.
She won't be the last. Everyone seems so fascinated with hooking Disney and Netflix up, romanticizing the pairing as if shareholder dilution and conflicts of interest can fade away with a blast of pixie dust. It's not that easy. It never is.
Disney makes the impossible work
It's hard to question Disney's judgment when it comes to meaty acquisitions. It acquired Pixar when it was trading at a much higher multiple than Disney, and that was clearly $7.4 billion well spent. Disney stock initially took a hit when it announced that it would be buying Marvel in a $4 billion deal, but that has also paid off. Good luck dissing the more recent Lucasfilm buy with Rogue One: A Star Wars Story wrapping up its third straight week as the top box office draw.
These have been great deals, but Netflix would set Disney back closer to $70 billion -- and that's if Netflix shareholders would be willing to accept a mere 30% premium. Netflix has soared ninefold over the past four years, making it the biggest gainer among S&P 500 companies. If it does bow out, it won't come cheap. Saba suggests that Disney can help offset some of those costs by shaving how much Netflix spends on content, but wouldn't that be a recipe for disaster? Netflix keeps padding its lead -- it likely topped 90 million global subscribers last month -- by being the only platform that can spend billions a year on content. Why would a buyer trash that unheralded moat?
Then we get to the thorny issues that could make Netflix weaker under Disney's watch. Netflix is thriving because it's studio-agnostic. Would rival studios be as quick to license movies and TV shows to a Disney-owned Netflix? Would Disney peers fear that the media giant is favoring its own catalog over theirs? Pixar, Marvel, and Lucasfilm were winning acquisitions because Disney expanded the earnings potential of their properties as a result of Disney's unique ecosystem. It would be a different story with Netflix.
Disney has overcome initial objections before. The stock took a hit after announcing the Marvel deal because investors were concerned about Marvel's character rights tied to rival studios and theme park operators. Disney overcame many of those obstacles over time, but there are no assurances that it would happen this time with Netflix. Buyout chatter will never die, but neither should the logic against the two companies joining forces.
10 stocks we like better than Walt Disney When investing geniuses David and Tom Gardner have a stock tip, it can pay to listen. After all, the newsletter they have run for over a decade, Motley Fool Stock Advisor, has tripled the market.*
David and Tom just revealed what they believe are the 10 best stocks for investors to buy right now... and Walt Disney wasn't one of them! That's right -- they think these 10 stocks are even better buys.
Click here to learn about these picks!
*Stock Advisor returns as of Nov. 7, 2016
Rick Munarriz owns shares of Netflix and Walt Disney. The Motley Fool owns shares of and recommends Netflix and Walt Disney. The Motley Fool has a disclosure policy.