IDEXX Laboratories, Inc. Sees More Growth Ahead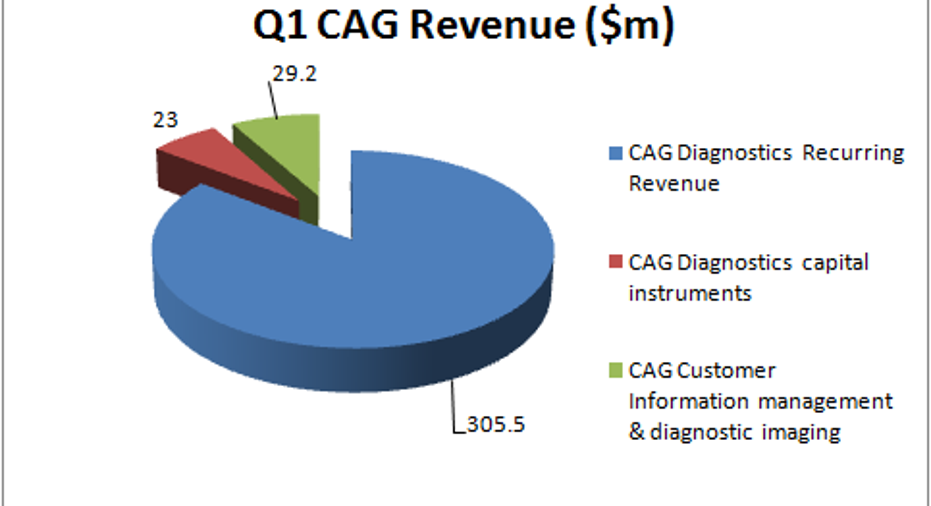 and its management cheered the market by doing something few companies have done in the current earnings season: raise full-year guidance, generate double-digit organic revenue growth, and talk of more favorable end markets. In a moderately growing economy, the stock stands out for its growth prospects. Let's look at the highlights from the veterinary health specialist's recent first quarter to see what's going on.
IDEXX Laboratories first-quarter results: The raw numbers The headline figures:
First-quarter organic revenue growth of 10.6% compared to previous guidance of 8% to 9%
First-quarter EPS of $0.51 representing 14% growth on a constant currency basis
IDEXX had a good quarter, and the better-than-expected operational performance plus less unfavorable exchange rates gave management cause to raise full-year guidance. It's useful to break out organic guidance and constant currency adjusted revenue growth, in order to better attribute where the increase in guidance is coming from:
Full-year organic revenue growth expectations upgraded to 9% to 10% compared to a previous guidance range of 8% to 9%
Full-year reported revenue growth expected to be $1.73 billion to $1.75 billion compared to a previous estimate of $1.69 billion to $1.71 billion
Full-year EPS guidance updated to $2.18 to $2.25 compared to previous guidance for $2.10 to $2.17
Updated EPS guidance implies constant currency adjusted growth of 13% to 17% compared to a previous estimate for 12% to 15%
The hike in organic revenue expectations is obviously a testimony to better operational execution --more on that in a moment, but less unfavorable exchange rates also played a big part. For example, $27 million of the $40 million increase in revenue guidance is purely due to the updated foreign exchange outlook.
Whichever way you cut it, IDEXX had a good quarter.
What happened in the first quarter IDEXX generated 84% of its gross profit from its companion animal group (CAG) segment in the first quarter. Wven though the water (quality testing solutions) and livestock, poultry, and dairy (LPD) segments produced organic revenue growth of 11.2% and 3.5%, respectively, the CAG is the key to IDEXX's growth prospects.
Indeed, the company went into the quarter focusing on generating CAG instrument placements in the U.S. and duly delivered by generating 18% growth in premium instrument placements. While instrument sales aren't the key to current revenue or profits, they are the spur for future growth in CAG diagnostics' recurring revenue growth.
A break out of CAG revenue in the quarter shows the importance of recurring revenue, and in turn, the need to generate instrument placements.
IMAGE SOURCE: IDEXX LABORATORIES PRESENTATIONS.
Overall, CAG organic revenue growth increased 11.2% in the quarter, and as you can see in the chart below, IDEXX kept up its record of strong growth in placements and recurring revenue growth.
IMAGE SOURCE: IDEXX LABORATORIES PRESENTATIONS.
What management said Listening in on the earnings call, it's clear management believes IDEXX has significant growth opportunities ahead. Moreover, its success in recent quarters is a vindication of management's decision to shift to a direct sales model in 2014.
CEO Jonathan Ayers discussed the benefits of the move:
More field visits by vets, with 63,000 visits in the first quarter representing a 31% increase on the same period last year -- the majority of the increase being due to more visits per representative
IDEXX representatives have expertise in their products, which should help spur customer adoption
The company has new diagnosis and analysis products, such as the SediVue urine analyzer and the SDMA kidney disease test, plus more products in the pipeline
Increasing use of technology such as Internet of things should encourage better client relationships
In short, the direct sales model shift appears to be working and accelerating growth for IDEXX.
Looking ahead Investors will be hoping for more of the same in future from IDEXX. The company needs to continue generating productivity improvements out of its direct sales force, and in doing so, grow its placement sales. Its end markets look favorable -- not something you can say about many companies in the current environment -- so now it's down to execution.
The article IDEXX Laboratories, Inc. Sees More Growth Ahead originally appeared on Fool.com.
Lee Samaha has no position in any stocks mentioned. The Motley Fool recommends IDEXX Laboratories. Try any of our Foolish newsletter services free for 30 days. We Fools may not all hold the same opinions, but we all believe that considering a diverse range of insights makes us better investors. The Motley Fool has a disclosure policy.
Copyright 1995 - 2016 The Motley Fool, LLC. All rights reserved. The Motley Fool has a disclosure policy.