IBM, P&G Yank Dow Higher, While H-P Shares Tumble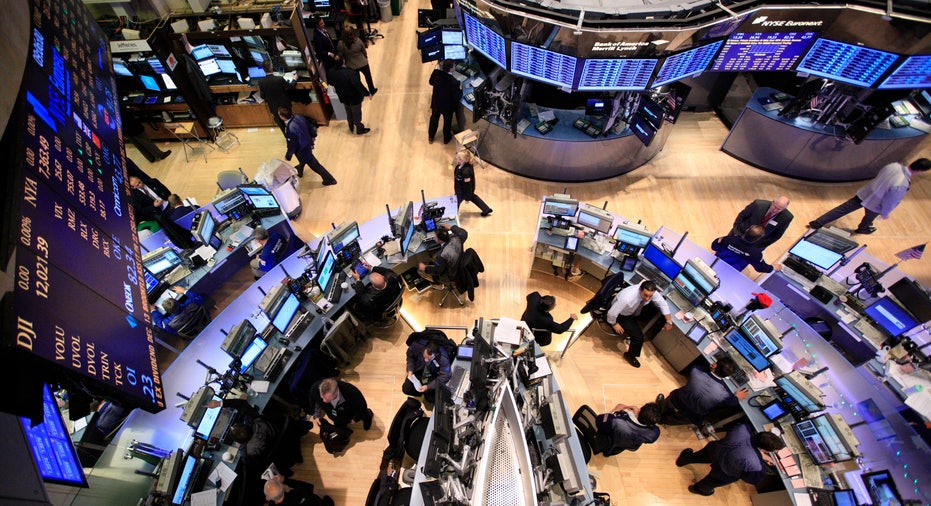 FOX Business: The Power to Prosper
IBM and Procter & Gamble zoomed higher on Thursday, offsetting stumbling shares of Hewlett-Packard and pushing the Dow within striking range of the 13000 mark it briefly surpassed earlier in the week.
Today's Markets
The Dow Jones Industrial Average rose 46 points, or 0.36%, to 12985, the S&P 500 climbed 5.8 points, or 0.43%, to 1363 and the Nasdaq Composite gained 23.8 points, or 0.81%, to 2957.
The Dow is now sitting at a 52-week high, only 8.3% off of its record close in October 2007. The broader S&P 500 and Nasdaq are both within 0.1% of hitting their highest levels in a year as well.
Taken together, P&G (NYSE:PG), the consumer products maker, and technology behemoth IBM (NYSE:IBM) contributed 43.3 points to the Dow's overall performance on the day. Indeed, Big Blue hit an all-time high on the day. Other strong Dow performers were JPMorgan Chase (NYSE:JPM) and Bank of America (NYSE:BAC), America's two biggest banks by assets.
H-P posted fiscal-second quarter profits after the closing bell on Wednesday that missed analysts' expectations and an outlook for the quarter ending in April that also came in short. Shares were off more than 6%, pulling 14.3 points from the Dow, as market participants wondered how the computing giant would adapt to the burgeoning tablet market.
The broader markets in many ways echoed the Dow's performance, with financials, consumer staples and energy companies performing the best. Utilities were the biggest laggard as a sector as shares of American Electric Power (NYSE:AEP) tumbled after regulators denied its Ohio subsidiary's request to raise prices.
Also on the earnings front, Target (NYSE:TGT) posted adjusted fourth-quarter profits of $1.49 a share on sales of $21.29 billion, beating analysts' estimates of $1.40 on $21.21 billion. The retailer also revealed a strong profit forecast for the first quarter of 2012. Sears Holdings (NASDAQ:SHLD), on the contrary, unveiled fourth-quarter bottom-line results that were well short of estimates. Fellow retailer Kohl's (NYSE:KSS) also reported a weaker-than-expected quarterly profit and outlook.
Wall Street has struggled to define a direction during this holiday-shortened trading week. After European Union leaders finally agreed to a second bailout package for Greece late Monday, attention has turned to the global economy.
German business confidence grew more than economists expected in February. The Ifo Institute's closely-watched gauge hit 109.6 in February from 108.3 in January, its highest level since July. Economists were looking for a reading of 108.8 for the month.
The number of Americans filing for first-time unemployment benefits was unchanged last week at 351,000, lower than the 354,000 economists estimated. However, the four-week-moving average, which helps smooth volatility in the weekly report, fell to 359,000 from 366,000, its lowest level since March 2008. The labor market has continued showing improvement in recent weeks. According to analysts at Nomura, this week's numbers cover the survey week for the all-important monthly employment report, so they may prove particularly important.
Oil and gasoline prices have raced higher this week as tension has mounted between Western countries and Iran. At the center of the instability has been fresh saber rattling from the country as the U.S. and European Union have stepped up pressure on Iran to become more transparent about its nuclear ambitions.
The benchmark crude oil price traded in New York rose $1.55, or 1.5%, to $107.83 a barrel, the highest level since early May 2011. Wholesale New York Harbor RBOB gasoline climbed 0.84% to $3.114 a gallon.
In metals, gold gained $10.60, or 0.6%, to $1,782 a troy ounce. Treasury yields were higher on the day, with the 10-year note yielding 2.035%.
Foreign Markets
European blue chips fell 0.7%, the English FTSE 100 rose 0.28% to 5933 and the German DAX slipped 1% to 6776.
In Asia, the Japanese Nikkei 225 climbed 0.44% to 9596 and the Chinese Hang Seng slid 0.78% to 21381.