Hybrids, Windows 10 May Finally Push Tablet Sales to Microsoft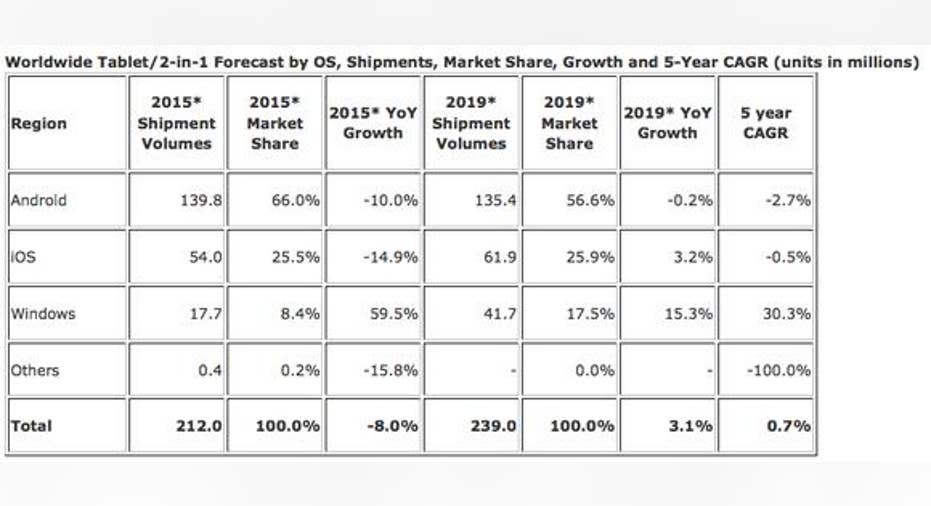 Microsoft came very late to the tablet game.
By the time the company made a major push into the space, Apple had already claimed the top of the market with iPad, while Android, made by a slew of companies, took the middle and low-end customer.
By the time Microsoft really turned its attention to tablets in 2012, when it launched the Surface hybrid, people had already learned that, at least on keyboard-free devices, they didn't need Windows. In addition to Surface, Microsoft has worked with its OEM partners in recent years to introduce a strong lineup of tablets at all price ranges.
In addition to high-end hybrids designed to compete both with iPad and Samsung's top-of-the-line models, Microsoft's partners also went after the sub-$100 models, releasing a few well-received devices for the Christmas 2014 season.
But even though Windows 8 was actually an operating system that was essentially designed for tablets, Microsoft has struggled to become a player. The company still projects itself to hold under 10% market share by the end of 2015, but the launch of Windows 10 could change that number.
Two research firms -- IDC and Strategy Analytics -- predict that Windows-based PCs will more than double their share of the market by 2019.
iOS and Android have a large lead over Windows-based tablets. Source: IDC.
Why does this matter?Though there were tablets on the market that ran Windows 7, Microsoft really entered the tablet business with the launch of Windows 8. Since then the company has gained some ground with Surface and sub-$100 devices, but it only reached a projected 8.4% market share, according to IDC.
Apple's iOS and Android still dominated, and Microsoft's place in the market was shaky and heavily tied to continued adoption of hybrids. That appears to be happening, according to IDC, which is good news for the Windows maker, as is the fact that Windows 10 has replaced the not-well-liked Windows 8.
"Commercial segments will play a crucial role in the future of 2-in-1s," said IDC Tablets Research Director Jean Philippe Bouchard. "It will take some time, but we expect that once IT departments are done evaluating Windows 10 and the awaited iPad Pro, they will start migrating some [of] their portable PC and tablet installed base toward 2-in-1s, which will accelerate the adoption of the form factor."
Microsoft was late with tablets, but it was early with hybrids. This category should also offer large growth opportunities with enterprise customers -- a traditional strength for Windows -- which explains partly why IDC forecasts that Microsoft will climb to 17.5% of the market by 2019.
Strategy Analytics has a similar forecast, predicting that "Android will continue its domination of the global tablet market in 2015, but Windows tablet market share will grow to 10% in 2015, nearly doubling by 2019." SA expects an 18% slice of the pie for Windows by 2019, driven by the availability of "functional Windows tablets at all price tiers" as they "become available for consumers and enterprise alike."
This won't hurt AppleBoth research firms expect Microsoft's increased market share to come from Android, not iOS. This outlook makes sense, because Apple tends to have a devoted audience, while the success of Android tablets wasn't driven by a love of the OS, but by price.
Microsoft can compete on price, and its willingness to throw in a free year of Office on cheap and expensive devices alike makes Windows machines very attractive compared with Android ones. It also helps Microsoft's argument that it now has Windows 10, which integrates well across tablets, PCs, and even phones. That's an easier case to make against Android, given that people are used to using PC desktops and laptops in conjunctions with iPads and iPhones.
Windows 10 devices will also lure in users who want hybrids -- a category that Android manufacturers mostly ignore and that Apple only recently embraced with its expensive iPad Pro. This avenue should help Microsoft add enterprise users as well as casual customers, as people and corporations adopt Windows 10. That will certainly happen widely by 2019, because many people avoided Windows 8 and won't be able to hold on to 7, Vista, or XP forever.
Microsoft won't win the tablet war, but it will remain a player and become a well-entrenched No. 3 with growing share. That's a huge victory from where the company was in 2012 and it's something to build on going forward.
The article Hybrids, Windows 10 May Finally Push Tablet Sales to Microsoft originally appeared on Fool.com.
Daniel Kline owns shares of Apple and Microsoft. He really wants a Surface Book, but not at the price it costs. The Motley Fool owns shares of and recommends Apple. Try any of our Foolish newsletter services free for 30 days. We Fools may not all hold the same opinions, but we all believe that considering a diverse range of insights makes us better investors. The Motley Fool has a disclosure policy.
Copyright 1995 - 2015 The Motley Fool, LLC. All rights reserved. The Motley Fool has a disclosure policy.