Hurricane Harvey: Homes destroyed, owners left with few options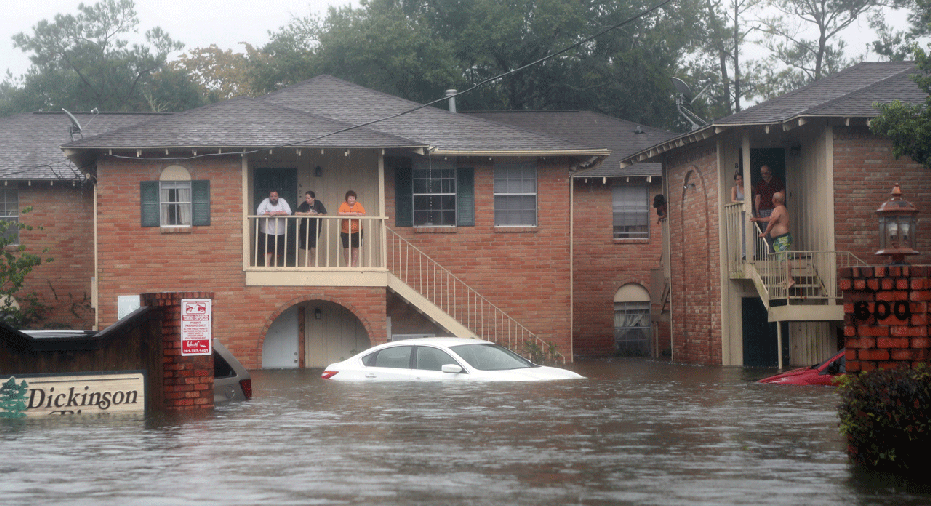 As the gulf coast of Texas and parts of Louisiana reeled from the escalating damage brought on by Harvey on Tuesday, millions of commercial and residential damage has been done by not only flooding, but also high winds that slammed the area over the past few days.
FEMA estimates that the cost of damage from just one inch of water can exceed $20,000. In the coastal areas of Texas, rainfall was expected to reach up to 50 inches before the storm completely cleared out of the region.
Still, a natural disaster does not guarantee mortgage or other financial relief, which is often taken on a case by case basis.
Mortgage
In the wake of a declared natural disaster, the Federal Housing Administration may issue a 90-day moratorium on foreclosures. The agency announced on Tuesday it would make mortgage insurance available to its 200,000 insured homeowners.
Additionally, a mortgage servicer may temporarily suspend or reduce a homeowner's dues for up to 90 days if the servicer believes the value of the property has been affected or the disaster has impeded the owner's ability to make payments. Other relief efforts are generally specific to the servicer.
Specific relief options
A Wells Fargo (NYSE:WFC) representative said the bank – one of the largest banks by asset value in the region – has "immediately suspended all negative credit bureau reporting, late fees, collection calls, and foreclosure referrals and sales for all home loan customers with homes in the counties that were under hurricane warnings when Harvey made landfall." The suspension will remain in place through at least the end of September.
Wells Fargo home loan customers can contact the bank regarding 60-day relief, with 90-day relief available for customers whose homes reside in FEMA-designated disaster areas. In some cases, customers can have their payments postponed for up to 90 days without a negative effect on their credit.
"After the initial disaster relief period (60 or 90 days) expires, home loan customers who are still unable to make payments will be evaluated for further assistance options based on their situation," the Wells Fargo representative added.
JPMorgan Chase (NYSE:JPM) said it would waive late fees on mortgage, credit card, business banking and auto loans through Sept. 10 for "customers in the Houston metro area and other areas severely affected by the hurricane." The bank also pledged to donate $1 million to relief efforts by the American Red Cross and other organizations, and to match further donations by its employees.
Fannie Mae, which guarantees more than 36,000 homes in the affected area with about $5.1 billion in unpaid balances, said on Tuesday it will implement a 90-day foreclosure sale suspension and eviction suspension for borrowers in the affected areas. Borrowers could also qualify for a temporary suspension or reduction of their mortgage payments for up to six months.
Bank of America (NYSE:BAC), one of the other large banks in the area, said it will automatically refund fees for customers and business owners in areas affected by Harvey, including late fees on credit cards and mortgage and home equity payments. In addition, the bank has pledged $1 million toward recovery efforts and manages an emergency relief fund for its employees who live in the storm zone.
Once the grace periods are over, individuals who still need help can turn to their lenders for customized assistance, but it is important for borrowers to contact their loan servicers in order to notify them of their situations.
Insurance
Another big issue for Harvey victims could be insurance claims. Fifty-two percent of Houston's residential and commercial properties are located outside of FEMA-designated Special Flood Hazard Areas, according to global property analytics firm CoreLogic. Only individuals with properties located within flood hazard areas are required to purchase flood insurance. This could leave many people in the area with serious financial challenges after the storm clears out.
"If you don't have flood insurance, good luck," Burl Daniel, an insurance expert witness from Texas, told FOX Business. Since extreme winds also caused damage, Daniel says property owners may try to argue either wind or rain was principally responsible for the damage, depending on their coverage. State law in Texas stipulates that a loss triggered by a combination of covered and excluded causes will not be covered – known as anti-concurrent causation – which could make things difficult for people who suffered complete storm damage.
Nevertheless, Daniel said it is important for people to notify their insurance carriers, noting that it should not be expected that everything will be covered.
This story has been updated.