Huntington Ingalls Launches USS Tripoli 13 Weeks Ahead of Schedule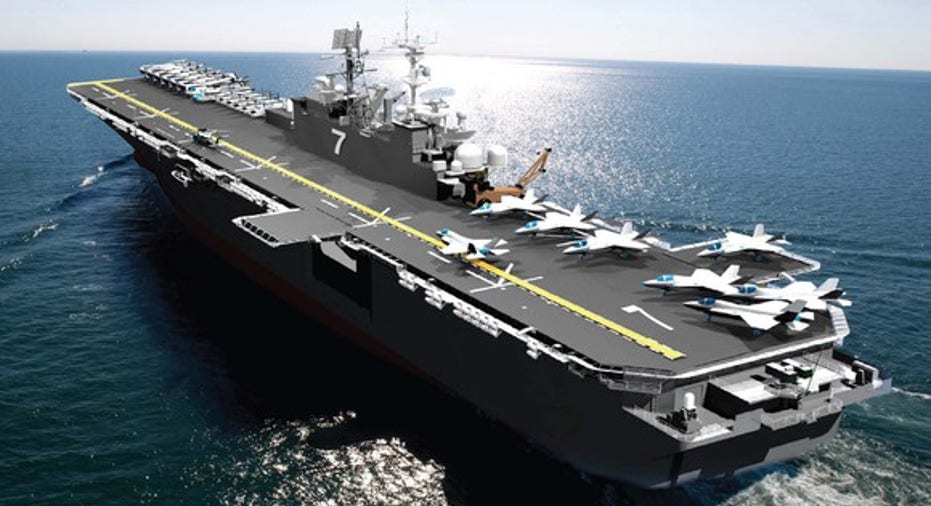 At $12.5 billion per ship, Ford-class supercarriers are the most expensive warships built for the U.S. Navy -- but not all aircraft carriers have to be that big.
The America-class small aircraft carriers that transport Marines on amphibious assault missions, for example, carry only a fraction of the firepower (no more than 20 F-35B fighters) of a full-size supercarrier (carrying up to 90 aircraft). But at just $3.3 billion, they also cost a lot less. Military shipbuilder Huntington Ingalls (NYSE: HII) builds both types of warship, and is more than happy to spend the Pentagon's money building whatever size carrier the Navy wants. In fact, Huntington Ingalls just finished building one of the America-class vessels well ahead of schedule.
Computer-generated image of how USS Tripoli (LHA 7) will look once fully outfitted. Image source: U.S. Navy.
From the shore with Tripoli
Hearkening back to the Marines' Hymn, the Navy's newest small aircraft carrier is named USS Tripoli (LHA 7). The Pentagon awardedHuntington Ingalls the contract to build Tripoli on May 31, 2012, requesting delivery in fiscal 2018. Less than five years later, she's already in the water.
Second in line after USS America (LHA 6), Tripoli closely resembles America in design, although Tripoli does incorporate significant strengthening of the flight deck to better accommodate launches and landings by Lockheed Martin (NYSE: LMT) F-35B stealth jump jets.
Like America, Tripoli is an LHA-type warship that has been "optimized for aviation capabilities," according to the Navy's press release. Both vessels were built with the primary purpose of carrying and launching F-35B fighter jets, and so were outfitted with enlarged hangarsand more room for storing aviation fuel. To permit this, Huntington Ingalls removed from the vessels the stern "well deck," which, in previous LHAs, permitted the vessels to launch and receive waterborne landing craft for Marine beach assaults.
Post-Tripoli, the Navy plans to reincorporate well decks into its LHA designs, so that LHA 8 (to be named USS Bougainville) and subsequent LHAs will all be able to launch landing craft. Construction on Bougainville will begin next year, and should be complete by 2024.
What the America class means to Huntington Ingalls
Huntington Ingalls launched Tripoli on Saturday, May 1, 2017-- 13 weeks ahead of schedule.Ingalls ShipbuildingPresident Brian Cuccias credited Huntington's "vast knowledge and experience in the design and construction of these great ships" since the 1970s for its ability to get Tripoli built so quickly. (Final delivery is still expected to take place next year.)
Current plans call for the Navy to buy nine more America-class LHAs, modeled along the lines of Bougainville. At the current estimated $3.3 billion cost (a bargain -- because America herself cost $3.4 billion), that means Huntington can probably expect another $29.7 billion in revenue coming down the pike from building this one ship class alone.
And what it means to investors
More important for investors, it's key to remember that this revenue will be generated from Huntington's all-important Ingalls Shipbuilding division,which earns operating profit margins nearly twice as rich as those of Huntington's larger, but less profitable, Newport News Shipbuilding unit.Up until last quarter, at least, Ingalls was booking profit margin as high as 14%, versus barely 8% at Newport News. The faster Huntington Ingalls builds these ships, the faster it can book those profits.
Investors should cheer, therefore, to hear that Huntington Ingalls is building them just as fast as it possibly can.
10 stocks we like better than Huntington Ingalls IndustriesWhen investing geniuses David and Tom Gardner have a stock tip, it can pay to listen. After all, the newsletter they have run for over a decade, Motley Fool Stock Advisor, has tripled the market.*
David and Tom just revealed what they believe are the 10 best stocks for investors to buy right now... and Huntington Ingalls Industries wasn't one of them! That's right -- they think these 10 stocks are even better buys.
Click here to learn about these picks!
*Stock Advisor returns as of May 1, 2017
Rich Smith has no position in any stocks mentioned. The Motley Fool has no position in any of the stocks mentioned. The Motley Fool has a disclosure policy.