Huge pro-government media conglomerate formed in Hungary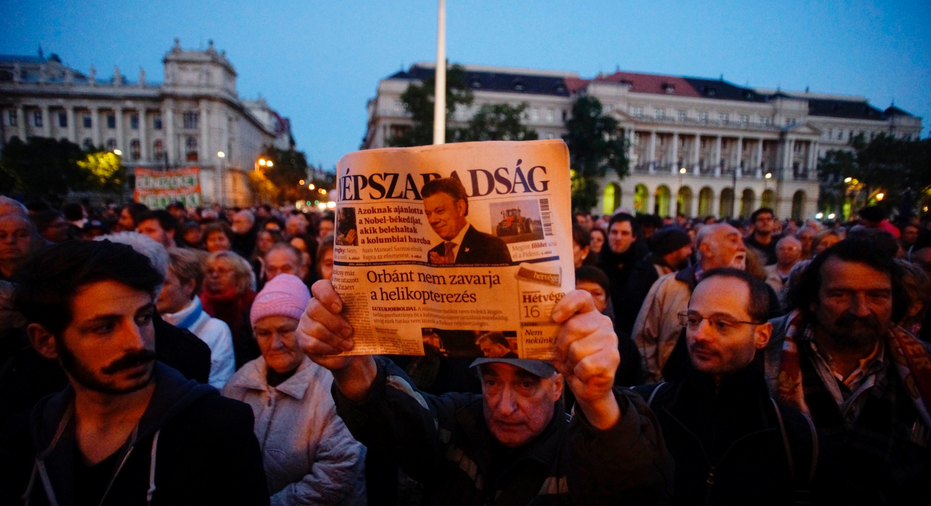 The owners of a vast majority of Hungary's pro-government media outlets said Wednesday they are donating their companies to a foundation, creating a huge right-wing media conglomerate.
The Central European Press and Media Foundation's assets will include cable news channels, internet news portals, tabloid and sports newspapers and all of Hungary's county newspapers, several radio stations and numerous magazines, among others. Among the brands to be under its control are Hir TV, Echo TV, Origo.hu, Nemzeti Sport, Bors, Magyar Idok and Figyelo.
Most of the publications donated to the foundation were acquired or founded by allies of Prime Minister Viktor Orban in the past few years. Some of them turned from relatively independent outlets into unabashed supporters of the government, with copious state and government advertising. Since Orban's return to power in 2010, international studies consider media freedoms to have steadily declined in Hungary.
Agnes Urban, a media analyst at Budapest's Mertek Media Monitor, said that after the "unprecedented" move "it makes little sense to speak about freedom of the press in Hungary" because of the power the conglomerate will have.
"From now on, there will be total control over the right wing media close the government," Urban said. "These companies were competing with each other for state advertising ... but now the system will be much more centralized and it will be much cheaper to operate."
"The few remaining independent media companies will also find it much, much harder to operate, since they will be up against a single, huge competitor," Urban concluded.
Attila Toth-Szenesi, editor-in-chief of index.hu, which has seen it access to public information and state officials drastically reduced in recent years by the Orban government, said the consolidation of the right-wing media may help advertisers see more clearly where each media outlet belongs.
At the same time, he said, it would simplify having the same centrally-edited content in all the publications controlled by the foundation.
"We already saw this happen a couple of years ago when Lorinc Meszaros took over most of the county newspapers," Toth-Szenesi said. Meszaros, an Orban friend and former gas fitter who is now considered one of Hungary's richest people, was among those who donated their media portfolios.
The foundation, or CEMPF, said that one of its goals is the "help the survival of the Hungarian written press culture."
"In our conviction, this simultaneously serves the interest of readers and the representation of civic values," the foundation said.
The foundation's media operations will be led by Gabor Liszkay, a newspaper publisher known for his loyalty to Orban.
In surveys on media freedom published annually by Freedom House, a Washington-based think tank, Hungary's score was 23 in 2010 and 44 this year, with zero the best score and 100 the worst. Since 2012, Freedom House has described Hungary's media status as "partly free."
The 10 companies which joined the foundation donated their media outlets and publications for free, even though their joint estimated value was possibly $100 million (88 million euros) or more.
"The fact that such valuable firms were practically gifted to the foundation at the same time and in such an obviously coordinated way shows very well how the Orban system works," said Daniel Pal Renyi, a journalist specializing in media matters at Hungary's 444.hu news portal. "This demonstrates that the owners did not have real ownership rights, but were carrying out political tasks ... and ultimately it's the political will that gets its way."