How Worried Should Intuitive Surgical, Inc. Shareholders Be About Brexit?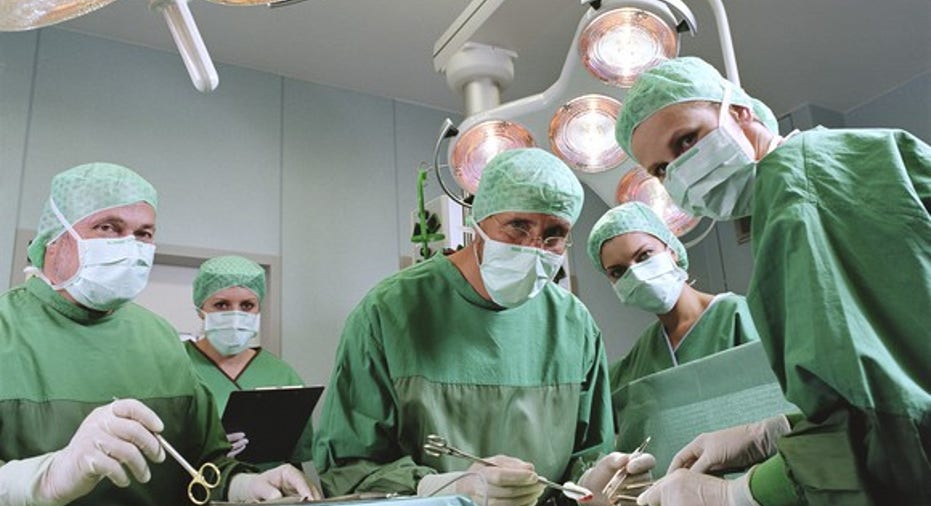 Image source: Getty Images.
In the wake of the United Kingdom's announcement that it had voted to leave the European Union -- a decision dubbed "Brexit" -- shares of Intuitive Surgical have lost about 3% of their value. While that's actually a hair better than the broader S&P 500 performed, it's worth asking: How badly could Brexit hurt Intuitive Surgical?
How does Europe figure into Intuitive's business today?
For the doomsdayers, the worst-case scenario for the global economyfollowing Brexit would look like this: After seeing the U.K. exit the EU, voters in other countries want similar referendums. This would eventually lead to the dissolution of the EU. With labor, goods, and services no longer allowed to travel freely between the borders of former member countries, economic productivity would slow markedly.
If the worst-case scenario played out, no stock would be safe from at least some damage. To understand the potential ramifications, let's consider how important Europe is to Intuitive Surgical's business today.
If we look at the total base of installed daVinci robotic-surgery systems, along with sales trends for the daVinci over the past year, we see that Europe is a relatively small part of Intuitive's empire.
In total, only about 17% of the company's machines are located in Europe, and the continent has accounted for only 18% of sales over the past 12 months. Clearly, a slowdown here would hurt, but it wouldn't affect the underlying business as much as, say, a slowdown in the United States.
But it's also worth investigating procedure growth. While Intuitive doesn't break down procedures in a country-by-country fashion, it did note that international procedures grew by 26% in 2015 -- outpacing overall procedure growth of 14%.
Nonetheless, international procedures only accounted for 23% of all procedures. And the growth observed in 2015 was largely attributable to "higher Asian procedure volumes, most notably in China, Japan, and South Korea."
A lost opportunity for growth in 2016 and beyond?
When Intuitive held its fourth-quarter conference call in January, CEO Dr. Gary Guthart said one of the company's three priorities for 2016 was international growth: "We will drive our organizational capabilities in markets in Europe and Asia." Clearly, Brexit could affect this.
Furthermore, when first quarter earnings were reported, strength in Great Britain in particular was singled out. In the company's 10-Q, it said, "Procedure growth was variable by country in Europe, with solid performance in the United Kingdom and Germany offsetting slower growth in the Nordic countries."
One of the rallying cries for those seeking to leave the EU was the fact that the U.K. sent $470 million to the EU every week. The "Leave" lobbyers argued that the country could instead devote that money to the National Health Service (NHS). But in truth, that figure seems to be inflated, and it's unclear how much money, if any, can be diverted to the NHS in the wake of Brexit.
That could lead U.K. hospitals to take a cautious stance with their budgets, leading to a slowdown in daVinci system purchases. That's essentially what happened in the U.S. with the onset of the Affordable Care Act in 2013. Since then, it's worth noting, system sales have stabilized as hospitals grow more comfortable with the new healthcare landscape.
Intuitive is exposed to some Brexit downside, but not more than any other global company
Let's put the entire scenario in perspective. Europe represents the smallest geographic portion of Intuitive's business. While some growth was predicated on solid performance in the continent during 2016, that was in tandem with Asian growth.
Ripple effects from Brexit could eventually lead to a slowdown in system purchases and operations worldwide, but that's the type of contagion that no global company is immune to. The market seems to realize this, as Intuitive's post-Brexit share-price drop has been in line with the rest of the market.
The article How Worried Should Intuitive Surgical, Inc. Shareholders Be About Brexit? originally appeared on Fool.com.
Brian Stoffel owns shares of Intuitive Surgical. The Motley Fool owns shares of and recommends Intuitive Surgical. Try any of our Foolish newsletter services free for 30 days. We Fools may not all hold the same opinions, but we all believe that considering a diverse range of insights makes us better investors. The Motley Fool has a disclosure policy.
Copyright 1995 - 2016 The Motley Fool, LLC. All rights reserved. The Motley Fool has a disclosure policy.