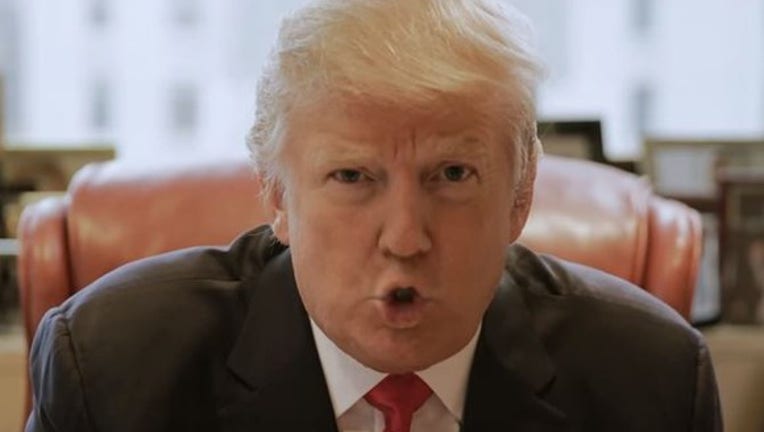 Has it only been nine months since I last wrote about Donald Trump and his defense policy ... should he ever become president ... which didn't seem at all likely at the time?
But now that the speculation has become fact, it's time to get specific. What do we actuallyknowabout President-elect Donald Trump? What has he said forcertainabout defense policy? And what does all of this mean for defense stocks?
Image source: Donald J. Trump for President.
Defining moment
A lot of these questions got answered on Sept. 7, when then-candidate Trump made perhaps his defining public statement on defense matters at the Union League of Philadelphia. In three words, Trump summed up his policy as "peace through strength."
Harking back to President Reagan (and before that to Emperor Hadrian), this concept argues that by building a strong enough military, America can ensure it need not fight wars at all -- or that, if pressed to fight, it will win. But how exactly will President-elect Trump achieve said "strength" in the first place, and what does this imply for investors?
I've identified three key themes.
More money
First and foremost, the overarching theme of President-elect Trump's administration will be one of more military spending. In Philadelphia, Trump blasted Congress and the Obama administration for cutting 10% from the defense budget "even though it makes up only one-sixth of the budget."
That "only" suggests Trump thinks one-sixth of the budget is a proportion that should be bigger. As for how much bigger, well, as a first step, Trump says he will "ask Congress to fully eliminate the defense sequester," which implies increasing defense spending by roughly 10% right off the bat.
More efficiency
At the same time, this money will not come with strings unattached. Trump has gone on record blasting Lockheed Martin's (NYSE: LMT) F-35 stealth fighter jet as "not very good," suggesting that if the plane "cannot perform as well as the planes we already have," then he might not buy it at all.
This and similar "common-sense reforms," as he calls them, suggest that despite spending more money on defense in aggregate, individual defense programs that benefit specific defense stocks might still suffer as Trump moves to "eliminate government waste."
More troops and equipment
Citing statistics that he says show the U.S. has (a) "the smallest Army since 1940," (b) the smallest Navy "since 1915," and (c) "the smallest Air Force since 1947," President-elect Trump promised to grow the Air Force roughly 8% in size, to "at least 1,200 fighter aircraft," the Army 10% in size, to "around 540,000" troops, and the Navy 27%, to a fleet of "350 surface ships and submarines." Such moves promise to be heavily hardware intensive and lucrative to companies such as Boeing (NYSE: BA), which build F-15 and F/A-18 fighter jets for the Air Force; to General Dynamics (NYSE: GD) and Huntington Ingalls (NYSE: HII), the nation's largest builders of military warships; and to Lockheed Martin, which builds both fighter jets and warships.
The U.S. Marine Corps, and companies such as General Dynamics that supply it, could benefit most of all from a Trump administration. The President-elect says he will grow it by more than 50% to "36 battalions."
At the same time, lower-profile branches of the Defense Department, such as the U.S. Missile Defense Agency and its key contractors, Raytheon (NYSE: RTN) and Lockheed, stand to benefit from Trump promises "to rebuild the key tools of missile defense." Thus, while Lockheed Martin might lose business if the President-elect decides to cut the F-35 program short (and even that is not certain), there's still the potential for Lockheed to make up such revenues in other programs such as missile defense, as defense spending continues to grow in the aggregate.
The upshot for investors
Incidentally, this latter promise also offers the potential to benefit naval shipbuilders General Dynamics and Huntington Ingalls, as Trump singled out these companies'Ticonderoga-class cruisersas key elements of the U.S. missile defense system. At a cost of $220 million to modernize each cruiser, and there are 22 of them, Trump admits this single project could cost taxpayers nearly $5 billion. And it's just one element of one program that Trump aims to expand. So to sum up, there's going to be a lot of military investment on the table under a Trump administration, and a lot of money to be made by investors who buy these stocks early enough.
Will the investment be worth it? Ultimately, Trump says his goal is to "make our military so big, so strong, and so great, so powerful that we're never going to have to use it." So maybe, just maybe, it really will be worth it.
10 stocks we like better than Lockheed Martin When investing geniuses David and Tom Gardner have a stock tip, it can pay to listen. After all, the newsletter they have run for over a decade, Motley Fool Stock Advisor, has tripled the market.*
David and Tom just revealed what they believe are the ten best stocks for investors to buy right now... and Lockheed Martin wasn't one of them! That's right -- they think these 10 stocks are even better buys.
Click here to learn about these picks!
*Stock Advisor returns as of November 7, 2016
Fool contributorRich Smithdoes not own shares of, nor is he short, any company named above. You can find him onMotley Fool CAPS, publicly pontificating under the handleTMFDitty, where he's currently ranked No. 336 out of more than 75,000 rated members.
The Motley Fool has no position in any of the stocks mentioned. Try any of our Foolish newsletter services free for 30 days. We Fools may not all hold the same opinions, but we all believe that considering a diverse range of insights makes us better investors. The Motley Fool has a disclosure policy.