How Warcraft Obliterated Disney's Star Wars at the Chinese Box Office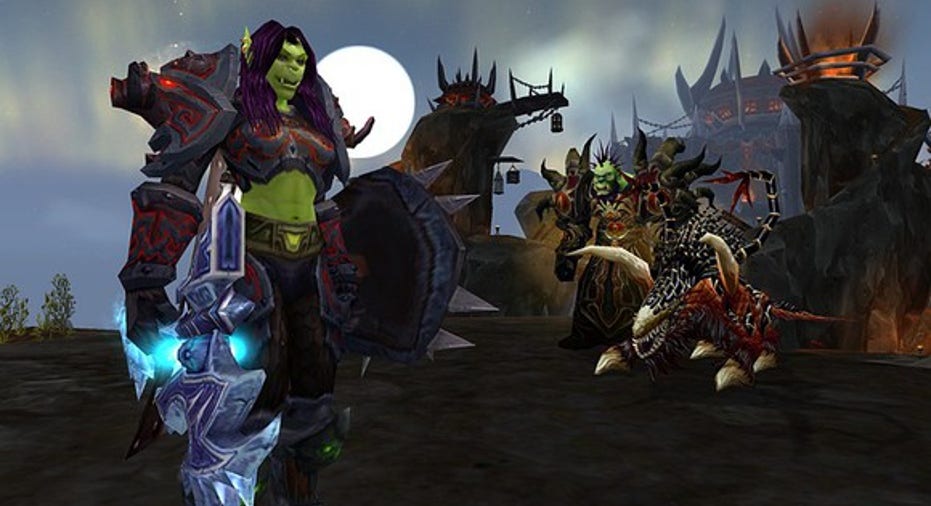 Warcraft , the new Legendary Pictures film based on Activision Blizzard 's popular video game franchise, grossed just $26 million domestically during its opening weekend and suffered a poor critical reception. With a production budget of $160 million, that might seem like a huge flop , but the film has grossed a whopping $280 million overseas, pushing its total ticket sales past $306 million.
Image source: Legendary Pictures
In China, Warcraft opened a week earlier than in the U.S., and the film raked in $156 million during its opening five-day weekend, which included the Dragon Boat holiday. That made it the sixth biggest film of the year, eclipsingDisney's Star Wars: The Force Awakens, which grossed $124 million during its opening run in January. The film also fared better with critics in China, scoring 7.9 out of 10 onreview aggregator site Mtime, compared to a 27% critics score on Rotten Tomatoes.
So how did a poorly received film based on an aging franchise become such a big hit in China? The answer might be more complicated than you think.
A console ban and the rise of PC gaming
China banned all gaming consoles in 2000 due to concerns that video games impacted the mental and physical development of children. But the ban, which ended last year, merely caused PCs to become the country's dominant gaming platform.
The localized version of World of Warcraft, which was launched by Chinese licensee The9in 2006, quickly became one of the top PC games in the country. The9 lost that license to NetEasein 2009, and the impact is easy to see -- The9 shares have plunged 65% over the past five years, while NetEase shares soared over 260%.
For many Chinese gamers growing up playing World of Warcraft, the new film was more appealing than an older franchise like Star Wars. To make matters worse, thepoorly received Star Wars prequels are generally more well-known in China than the original trilogy.
World of Warcraft. Image source: Activision Blizzard
A massive marketing blitz
Last December, Chinese conglomerate Dalian Wanda,the world's largest theater operator, acquired Legendary Pictures. That move gave it a huge foothold in Hollywood to complement its purchase oftheater chain AMC Entertainment in 2012. Prior to that acquisition, Legendary had produced well-received films like Christopher Nolan's Dark Knight trilogy, Pacific Rim, and Jurassic World.
In late 2014, Legendary's wholly owned subsidiary Legendary East launched a huge investment and marketing blitz to unlock the box office potential of a Warcraft film. It first allowed four Chinese firms to invest in the film's $160 million budget. These investors included the state-owned China Film Group, which Legendary had already forged a distribution relationship with, Internet giant Tencent, distributor Taihe, and private sector studio Huayi Brothers Media.
Those investors then launched their own promotions and secured a roster of 26 co-marketing sponsors, including Lenovo, Intel, Fiat Chrysler'sJeep, and brewer Tsingtao. Those sponsors contributed an estimated $20 million to the marketing push, which took some of the weight off of the film's initial investors. Legendary then used its in-house marketing teams in Beijing and London to localize trailers for Chinese viewers. Lastly, Wanda heavily promoted the film across its entire Wanda Cinema Line circuit, which covers over two-thirds of all movie screens in China.
What does this mean for Comcast and Disney?
The clockwork-like coordination between Legendary, Wanda, its investors, and sponsors has likely stunned Comcast'sUniversal, which only distributed Warcraft to the indifferent domestic market. Last September, Universal reportedly considered Warcraft tobe a "problem movie" due to its limited appeal. But things might have played out differently if it had been as committed to the project as Wanda and Legendary.
Warcraft's success probably also frustrates Disney, which is trying to build a new Marvel-like cinematic universe for Star Wars with its new trilogy and spin-off films. Looking ahead, Wanda will likely highlight Warcraft's success as proof that it can challenge Disney on multiple fronts, including films and theme parks.
The key takeaway
The success of Warcraft proves that a well-oiled investment, marketing, and distribution system can turn promising films into big blockbusters in China. It also reveals how quickly China's influence is growing in the film industry and why U.S. studios should be mindful of the special challenges within that market. However, investors should note that Warcraft captured a perfect cultural niche that Star Wars just didn't fill in that market -- something that won't be easily replicated in future films.
The article How Warcraft Obliterated Disney's Star Wars at the Chinese Box Office originally appeared on Fool.com.
Leo Sun owns shares of Walt Disney. The Motley Fool owns shares of and recommends Activision Blizzard and Walt Disney. The Motley Fool recommends Intel and NetEase. Try any of our Foolish newsletter services free for 30 days. We Fools may not all hold the same opinions, but we all believe that considering a diverse range of insights makes us better investors. The Motley Fool has a disclosure policy.
Copyright 1995 - 2016 The Motley Fool, LLC. All rights reserved. The Motley Fool has a disclosure policy.