How Walt Disney Co. Has Changed in the Last 10 Years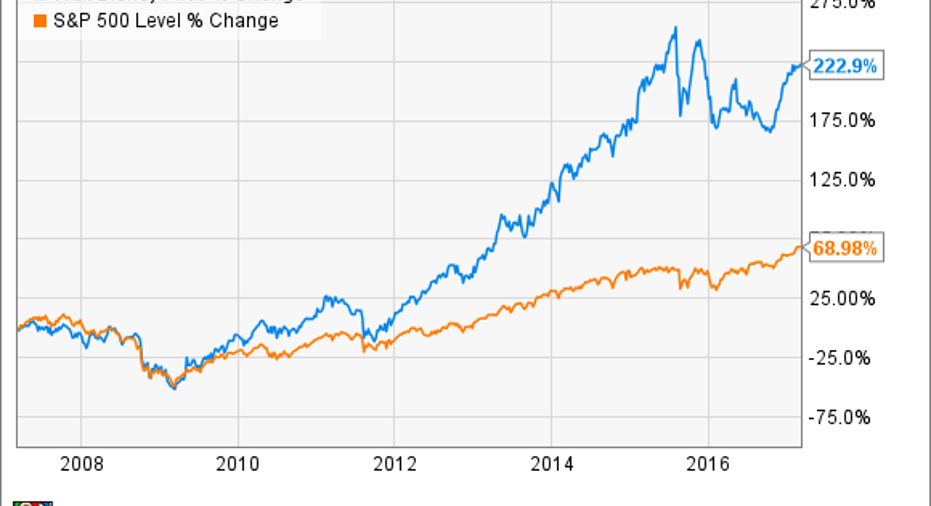 Walt Disney (NYSE: DIS) is the exact opposite of a Mickey Mouse stock these days. Share prices have quadrupled in the last 10 years, including a 160% five-year return. The decennial gains were built on a 59% increase in annual sales, while free cash flows rose 45% higher.
These are elite figures, no matter how you slice it. Disney is turning steady sales growth into bottom-line green, and investors (including yours truly) are reaping the rewards.
The Disney you see today has made a few dramatic changes since 2007, but was already building the foundation of today's greatest successes 10 years ago.
Disney was a very different beast in 2007. The company had only just absorbed rival cartoon studio Pixar in a blockbuster $7 billion deal. Marvel was still an independent business, two years away from its own $4 billion Disney deal.
The Pixar and Marvel deals turned out to be game-changers. Marvel had already started building the foundation for the multibillion-dollar Avengers franchise on the capable shoulders of Iron Manand The Incredible Hulk. The Pixar crew never took their pedal off the metal and continued churning out box-office smashes like Ratatouille and Inside Out. Both Pixar and Marvel have become reliable cash machines under Disney's wing.
Pixar CEO John Lasseter now also serves as the head of Disney's animation studios, adding more than a touch of Pixar flavor to the company's overall movie-making efforts. Under new leadership, the non-Pixar half of Disney's animation studios has refocused itself on strong storytelling and franchise-worthy characters -- kind of like the Disney Renaissance era. Forgettable titles like Treasure Planet and Meet the Robinsons were followed by instant classics such as Tangled, Frozen, and Zootopia, breathing new life into a stalling studio.
None of this would have been possible without the creative geniuses Disney brought in with the Marvel and Pixar deals.
Image source: Disney.
Is it really all about the movies?
I have focused on the cinematic side of Disney so far, as if it were the only business operation that matters.
That's completely true -- but not in any traditional sense.
The so-called studio division accounted for just 17% of Disney's revenue and operating profits last year. Ten years ago, the same business segment stood for 21% of the company's total revenue and only 15% of its operating income. In both cases, the studio content operation was dwarfed by the sales and profits generated by media networks and parks and resorts. And if there's a rising star among Disney's divisions, it would be consumer products more than doubling its sales and tripling operating profits since 2007.
DIS Revenue (TTM) data by YCharts.
All of that being said, silver screen stories are still the beating heart behind everything that Disney does.
Without a constantly evolving catalog of both fresh and classic stories, the Disney brand would mean nothing. The cruises and hotels, the T-shirts and lunch boxes, the made-for-TV or direct-to-video follow-ups, and the theme park attractions would all crumble to forgettable dust. That's why the studio division leads the way for Disney, even if its financial figures look small.
Management has not always stuck to its creative guns. The Renaissance era lifted Disney's share prices to market-crushing sixfold returns between 1988 and 1998. Then, a plethora of creative misfires led to unhappy shareholders for the next 10 years. Disney did a lot of things right in those dark days, such as kicking off a successful cruise line and expanding the Walt Disney World parks into a sprawling cluster of resort hotels. But the cinematic special sauce was largely missing, causing the entire entertainment empire to sputter.
Grand opening of the Shanghai Disney Resort. Image source: Disney.
Disney's present and future
The Disney machine is humming again, as seen in the charts above. Marvel and Pixar have been joined by another big-name buyout target, as the Lucasfilm studios brought the Star Wars saga under Disney's control for a mere $4 billion. The company has built a new theme park in Shanghai, ordered up two more cruise ships, and started building Star Wars attractions at Disney World and Disneyland.
In short, the Disney you see today is a lot like the Disney you knew 25 years ago -- with the addition of even more storytelling oomph. The dark ages at the end of the Michael Eisner era are fading into a bad memory, and we Disney shareholders are a bunch of happy campers nowadays.
The one issue that has me worried about Disney's future right now is the lack of a clear successor when CEO Bob Iger retires in 2018. The company does have a deep bench including John Lasseter from Pixar, Kathleen Kennedy from the Lucasfilm crew, and Marvel president Kevin Feige. On top of that, Disney is a multinational powerhouse with the ability to attract serious third-party star power, if necessary.
But Iger's shoes will be tough to fill. I'll be chewing on my nails every now and then until this CEO succession issue is settled.
10 stocks we like better than Walt DisneyWhen investing geniuses David and Tom Gardner have a stock tip, it can pay to listen. After all, the newsletter they have run for over a decade, Motley Fool Stock Advisor, has tripled the market.*
David and Tom just revealed what they believe are the 10 best stocks for investors to buy right now... and Walt Disney wasn't one of them! That's right -- they think these 10 stocks are even better buys.
Click here to learn about these picks!
*Stock Advisor returns as of February 6, 2017
Anders Bylund owns shares of Walt Disney. The Motley Fool owns shares of and recommends Walt Disney. The Motley Fool has a disclosure policy.