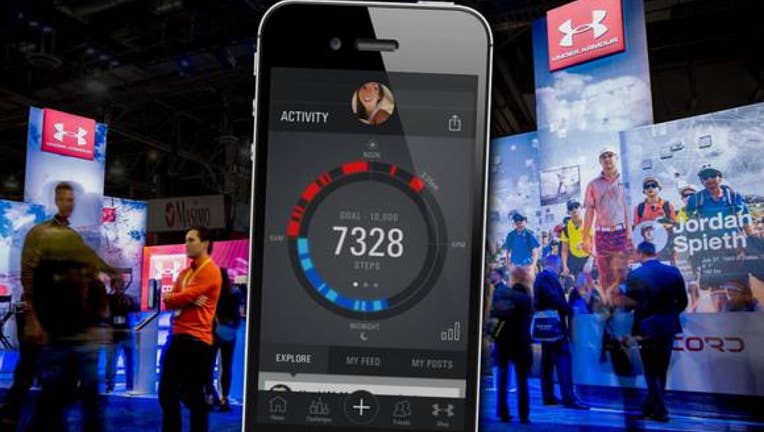 Credit: Under Armour.
Under Armour just unveiled a slew of high-tech Connected Fitness productsat CES 2016 this week, including a smart scale, a new fitness chest strap, heart-rate tracking ear buds, and even a smartshoethat accurately relays workout information to its mobile apps. But arguably, Under Armour's most important digital innovation wasn't detailed at CES.
In short, it's a recommendation engine. Or as Under Armour management calls it, a "consumer insight engine."
"What we can do with these insights is extraordinary."Speaking during Under Armour's most-recent quarterly conference call in October, CEO Kevin Plank likened the company's plans to something for which online retail juggernaut Amazon.com is already well known:
Plank then hinted at Under Armour's impending (and now complete) "large announcement" at CES, calling the company's new approach "an incredibly exciting space that is just partially contemplated as we look forward." Of course, Under Armour's product focus is comparatively narrow to that of Amazon.com, so it might seem overzealous at first to think Under Armour might ultimately be able to credit nearly as much revenue (40%!?) to its own recommendation engine.
But perspective is in order here. First, the size of Under Armour's Connected Fitness community is unrivaled, with 150 million registered users between its various fitness apps. According to Plank, as of late October, those users had already logged more than 6.5 billion foods, and more than 1.5 billion workouts in 2015.
What's more, Plank says that Under Armour knows "exactly how far they go, what they do, and 600,000 to 700,000 of them in our gear tracker are telling us what shoe they are wearing and when the shoe breaks down. What we can do with these insights are extraordinary."
A matter of timeAs it stands, Under Armour is already working to make the most of its already vast troves of data. But that raises the question: When will Under Armour be able to enjoy the full fruits of this project?
According to management during the company's investor day in September, the insight engine will be created as part of Under Armour's ongoing work with enterprise software specialistSAP during the next three years. Specifically, Under Armour is investing to implement a single global instance of SAP's market-leading platform across all lines of its business -- a prudent move in these early stages of its global growth.
"Building this powerful Insight engine allows us to combine multi-channel commercial data with connected fitness lifestyle and behavioral information," explainedUnder Armour CIO Paul Fipps at the time. "This will add holistically to our relationship with our athletes and, more importantly, make them better."
While Under Armour won't technically enjoy its full-fledged consumer insight engine for some time yet, it seems clear it could have an enormous impact on both Under Armour's growth and rapport with consumers going forward.
The article How Under Armour Is Taking a Page From Amazon.com's Playbook originally appeared on Fool.com.
Steve Symington owns shares of Under Armour. The Motley Fool owns shares of and recommends Amazon.com and Under Armour. Try any of our Foolish newsletter services free for 30 days. We Fools may not all hold the same opinions, but we all believe that considering a diverse range of insights makes us better investors. The Motley Fool has a disclosure policy.
Copyright 1995 - 2016 The Motley Fool, LLC. All rights reserved. The Motley Fool has a disclosure policy.