How Trump & Co. have moved to quash tighter financial rules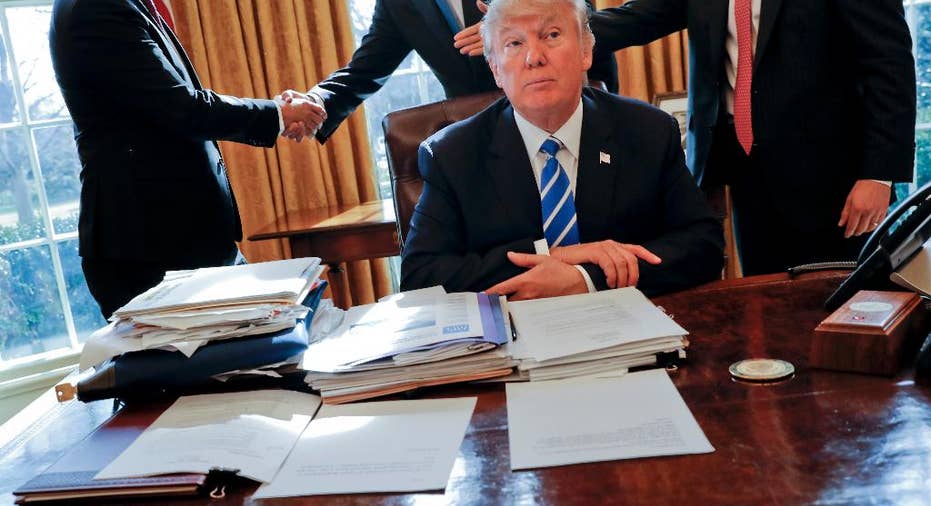 Just three weeks into his administration, President Donald Trump and his allies are moving quickly to dismantle the web of regulations the government passed after the 2008 financial crisis to tighten oversight of banks and protect consumers and taxpayers.
Trump has branded the 2010 Dodd-Frank law — which imposed many of the rules — a "disaster." Financial firms, too, have chafed against it, and Republican lawmakers have longed to dismember it. Now, they see a chance to succeed.
The drive to repeal the rules has come in a multi-pronged attack — from the White House, on Capitol Hill and at the Securities and Exchange Commission.
Trump and the team around him "want to have this dramatic beginning, looking like he's moving as quickly as he can to fulfill all his campaign promises," says Norman Ornstein of the American Enterprise Institute, a seasoned observer of Washington politics.
Here's how the whirlwind activity is playing out:
___
ATTACKING DODD-FRANK
With a flourish at the White House, and after meeting with top CEOs and bank executives, Trump ordered a review of Dodd-Frank to be conducted by his Treasury secretary. (The Senate has yet to approve Trump's nominee for Treasury, Steven Mnuchin.)
Trump wants his Treasury secretary to generate a blueprint for revamping the law.
"We're going to be doing a big number on Dodd-Frank," the president promised.
Trump's push to free banks from many restraints imposed by Dodd-Frank has drawn cheers from Wall Street. They argue that the law imposed overly burdensome restrictions on lending.
In particular, critics complain about the larger financial cushions that the law required banks to hold against potential losses — a requirement that they say reduces the money banks have to lend. Opponents of Dodd-Frank say these rules have fallen especially hard on small community banks, thereby weakening their ability to make loans.
___
BULL'S EYE ON CONSUMER PROTECTION AGENCY:
Republicans last week took a first swipe at the Consumer Financial Protection Bureau. The bureau, created by Dodd-Frank, exists to protect ordinary consumers from abusive practices by banks, mortgage companies, credit card issuers, payday lenders, debt collectors and others.
The CFPB has been a prime target for Republicans, who have long accused it of regulatory overreach. But the bureau's actions have led to millions in settlements for individual victims.
The legislation the Republicans introduced would repeal a CFPB rule that strengthens protections for consumers who use prepaid debit cards, which low-income people typically acquire as an alternative to a bank account. The protections include a disclosure of fees to be attached to the unsold cards.
The legislation would invoke the Congressional Review Act to kill the rule, which had been set to take effect in October. That rarely used review law provides a temporary window for a simple majority of the House and Senate to invalidate a rule. The president must sign the action.
___
OPPOSING THE 'FIDUCIARY' RULE
Trump has told the Labor Department to delay implementing a rule requiring brokers who recommend investments for retirement savers to meet the stricter standard that applies to registered advisers: They must act as "fiduciaries" — trustees who are obliged to put their clients' best interests above all. The delay gives the administration a chance to rethink the rule and to revise or eliminate it.
The fiduciary rule is intended to prevent investment pros from steering clients toward high-commission investments that might not be in the clients' best interests. The rule had been set to take effect in April.
Trump and his allies argue that the fiduciary requirement hinders the ability of investors to make their own financial decisions. He has ordered the Labor Department to determine whether the rule would likely hurt ordinary investors by reducing their access to some retirement savings products.
___
HOW MUCH TRANSPARENCY FOR CEO PAY?
At the SEC, Michael Piwowar, a Republican who is the acting chairman, has moved against two Dodd-Frank rules.
One of the rules requires public companies to reveal the gap between their chief executives' annual compensation and the median — or midpoint — pay of their employees. Lavish executive pay is a hot-button issue with the public and in Congress. During the financial crisis, outsize pay packages were blamed for encouraging disastrous risk-taking and short-term gain at big banks at the expense of long-term performance.
Companies were required to report the pay gaps in their annual reports for their first fiscal year that begins this year.
Business groups like the U.S. Chamber of Commerce have complained that the rule imposes costly and time-consuming requirements for companies to gather pay information on their employees. They further argue that the mandate may put U.S. companies at a competitive disadvantage relative to foreign companies.
Piwowar has labeled the rule political showmanship meant to publicly shame CEOs. He says he has heard that some companies are facing trouble collecting and processing the pay data and may be unable to meet the deadlines. On Monday, he asked the SEC staff to reopen the rule to public comments and re-review it.
A week earlier, Piwowar ordered a new crack at the second rule. This rule requires companies to disclose information about their use of minerals from Congo, where militias that have been linked to atrocities have profited from mining minerals used in electronics, jewelry and other goods.
Companies that use certain minerals from Congo and neighboring countries must report annually on their efforts to trace such "conflict minerals" to their sources.
Piwowar said the SEC will rethink the rule, which he called "misguided." He contended that companies that operate legitimate mines in the Congo and other countries are facing such onerous costs to comply with the rule that they could be put out of business.