How Top Artificial Intelligence Stocks Are Performing in 2016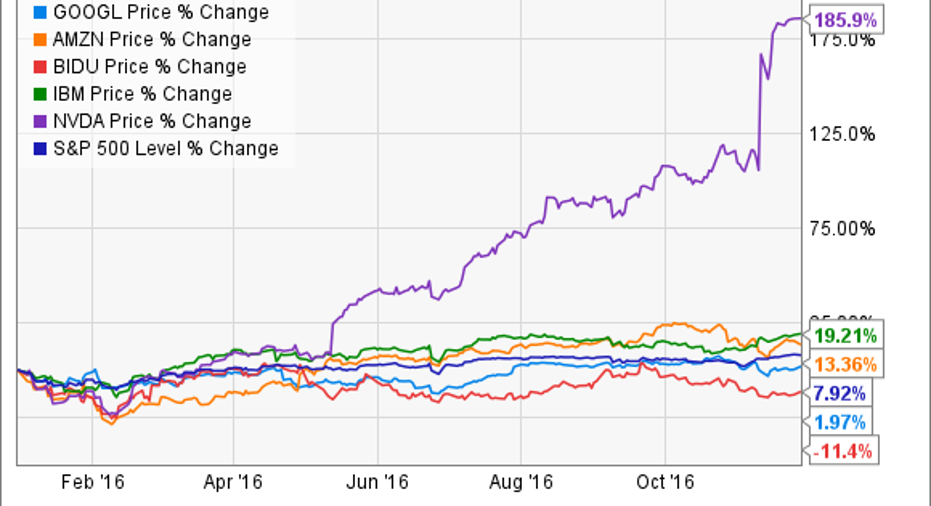 Image source: Getty Images.
The rise of artificial intelligence, or AI, services -- one of the fastest-growing markets in tech --should be a boon for consumers and investors alike. In fact, researcher IDC predictsAI and cognitive systems technology sales are primed to simply explode in the years to come, rising from an estimated $8 billion this year to $47 billion in 2020.
Though by no means the only names interested in this space, Amazon.com (NASDAQ: AMZN), IBM (NYSE: IBM), NVIDIA (NASDAQ: NVDA), Alphabet (NASDAQ: GOOG) (NASDAQ: GOOGL), and Baidu (NASDAQ: BIDU) are leading the development of a diverse mix of mass-market AI products. Here's how these particular artificial intelligence stocks have performed so far in 2016.
Importantly, each of the tech giants named above has its own strategy to tap into the growth in the artificial intelligence market. What's more, each company has its own core business model investors should understand prior to buying into the stocks. So, let's shine a light on each of these top AI companies to discover what investors need to know, starting with the worst performer.
5. Baidu: -11% YTD
China's largest search engine, Baidu, has charted a path similar to Alphabet in AI, investing heavily in areas like image recognition, speech recognition, natural language processing, robotics, and big data. This has led Baidu to gain a possible lead in emerging AI growth markets like self-driving cars, which Baidu believes it can bring to market as soon as 2018. I remain skeptical. In contrast to its admirable progress in AI, Baidu stock has struggled as the company's hefty investments in growth markets, most notably online services like restaurant delivery and much more, have weighed on profit margins. To be sure, though, better days lie ahead for one of the best long-term stocks in China -- and in artificial intelligence.
4. Alphabet: +2% YTD
Search powerhouse Alphabet's interest in AI has been apparent for some time now, It has aggressively acquired AI-focused start-ups over the past several years. And its efforts are beginning to bear fruit -- both symbolic and practical. In perhaps its most high-profile AI achievement to date, Alphabet's AlphaGo software won a series of matches in the board game Go against one of the game's top players earlier this year by a margin of 4-1. AlphaGo has since reportedly turned its attention to playing StarCraft to master more human-like reasoning skills.
However, aside from well-known areas like self-driving cars, Alphabet is already applying its AI and machine learning algorithms to its core operations to keep its profit-printing search engine at the head of the pack. According to a study from one SEO consultancy, Alphabet's new RankBrain AI search technology was able to fix 54% of instanceswhere Google's search engine initially failed to provide relevant search results. Google's search engine is already highly accurate and as a company whose basic value proposition lies in providing accurate and timely information to those seeking it, Alphabet clearly understands that AI will matter immensely to the company over the long term. As such, its flat stock price shouldn't necessarily concern AI investors today.
3. Amazon: +13% YTD
Like many of its contemporaries, e-commerce giant Amazon leverages AI technology in a number of ways. On the consumer-facing side of its business, Amazon's machine algorithms power its website recommendations and Alexa personal assistant. However, in true Amazon fashion, the company has also created an entirely new source of revenue from its own internally developed AI capabilities.
Last year, Amazon debuted its Amazon Machine Learning softwareas part of its Amazon Web Services platform. The product allows developers of all skill levels to build machine-learning algorithms into their websites and apps without incurring the kind of significant fixed infrastructure costs associated with deploying machine learning technologies. Efforts like Amazon Machine Learning have helped make AWS into an unexpected profit center for Amazon -- sporting a 26% operating marginin its most recent quarter -- and they have undoubtedly contributed to Amazon stock's strong performance in 2016.
2. IBM: +19% YTD
One of the main components of enterprise IT giant IBM's current business model transformation is cognitive systems, most notably its Watson AI platform. Like parallel offerings from other names on this list, IBM's artificial intelligence business model rests on its software's ability to transform raw digital data into actionable intelligence. Only 2 years old as a formal business unit withinIBM, Watson has been used in a range of applications, including oncology, cybersecurity, weather forecasting, and many more.
A piece of IBM's "strategic imperatives" business unit, which represents IBM's next-generation business model, Watson and its other emerging businesses have demonstrated encouraging continued growth, increasing revenues from $4 billion in last year's Q3 to $4.23 billion in its most earnings release. Especially in light of the impressive 80% collective gross margins IBM's strategic imperatives generate, investors have seen a reinvigorated sense of optimism for Big Blue this year, which I argued had become oversold several months ago.
1. NVIDIA: +185% YTD
Perhaps no other company has benefited as much from the dawn of our AI future as graphics chip dynamo NVIDIA. NVIDIA's high-end GPUs -- semiconductors designed to process imaging data -- have found applications in several massive AI-powered markets including self-driving cars, cognitive computing, big data, and more, which should make sense.
At a conceptual level, many AI technologies involve converting real-world images into digestible digital data. A self-driving car scans and renders images of its surroundings to determine how to make the right decision in traffic in real time. Oncology software must readily compare a CAT scan or x-ray against a huge database of similar medical images in order to recommend a certain treatment. Facial recognition software rests on similar image processing technology, and NVIDIA's chips have found a place in each of these growth areas. It's for precisely this reason that analysts expect NVIDIA to grow its EPS at an average annual rate of 24% over the next five years. NVIDIA's place at the epicenter of the AI market also helps explain the incredible rally its shares have undergone this year.
Just the beginning
We're still one month away from the end of the year, and more events could change how these stocks end up doing for the year. But one year's performance isn't what's most important. We're still at the dawn of the AI age, and winners and losers in this space are likely to shift in the years to come, as is the case in any competitive market. However, AI itself will remain a driving force in our increasingly tech-laden lives, and investors should indeed take note of this important trend.
10 stocks we like better than IBM When investing geniuses David and Tom Gardner have a stock tip, it can pay to listen. After all, the newsletter they have run for over a decade, Motley Fool Stock Advisor, has tripled the market.*
David and Tom just revealed what they believe are the 10 best stocks for investors to buy right now...and IBM wasn't one of them! That's right -- they think these 10 stocks are even better buys.
Click here to learn about these picks!
*Stock Advisor returns as of November 7, 2016.
Suzanne Frey, an executive at Alphabet, is a member of The Motley Fool's board of directors. Andrew Tonner owns shares of Baidu. The Motley Fool owns shares of and recommends Alphabet (A and C shares), Amazon.com, Baidu, and Nvidia. Try any of our Foolish newsletter services free for 30 days. We Fools may not all hold the same opinions, but we all believe that considering a diverse range of insights makes us better investors. The Motley Fool has a disclosure policy.