How to Sign Up for a TradeStation Online Brokerage Account: A Step-by-Step Guide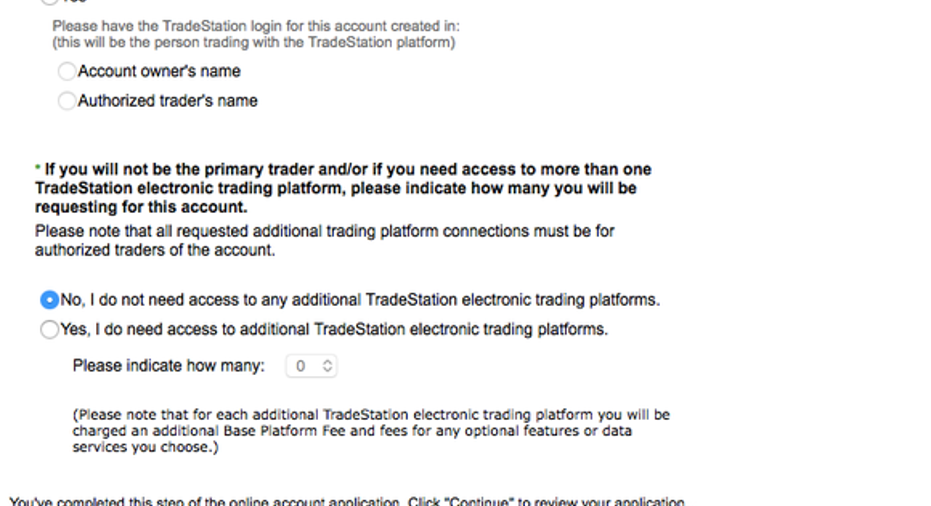 Image source: Getty Images.
Setting up an online brokerage account may seem like a daunting task, but it doesn't have to be. Most online brokerage applications are easy to understand, but if you need help with the process, The Motley Fool's got your back. We've put together a series of how-to articles for setting up an online brokerage accounts.
This article is a step-by-step guide for setting up a TradeStation account, but if you're interested in comparing other brokers, then check out ourbroker comparison page.
What you'll need to get started
Your Social Security number (or other valid U.S. tax ID number).
Your permanent address (and your mailing address if it's different)
Your U.S. driver's license number (or other form of government-issued ID).
Your employer's name and address (if applicable).
TradeStation charges a range of prices per trade, depending on how many trades you make per month. The lowest you'll pay in your equities account is $4.99 per trade (if you make 200 or more trades per month), and the most you'll pay is $8.99 per trade (for 49 or fewer trades per month). You can also pay per share, which can end up being cheaper if you're trading a large block of shares.TradeStation has a minimum $5,000 deposit when opening an individual brokerage account (you can find out more about the company's pricing here).
If you need help setting up the account, the company lists its customer service phone numbers for both U.S. and international customers on each page.
Step 1: Account setup
To set up and account, just go here and start answering the basic information questions on the page. If you're a current customer, click the customer login link and enter your information. For this article, we'll fill out all the information as if we're a new customer.
The first question asks the name of a TradeStation sales representative, if you've spoken with one. We're selecting "none" here, as we didn't speak with anyone at TradeStation. Then enter your name, country, phone number, and email address on this page.
Image source: author screen shot of TradeStation site.
Step 2:Username and account creation
On the next page, you'll create your login (username and password) for the account and set up several security questions and answers.
Once you enter that information, you'll be taken to another page that asks what you'll be trading (choose "equities") and the type of account you want (choose "individual").
When you select "equities," you'll see a new question appear asking which commission/fee plan you want. You can select a per-trade commission or per-share commission. You can learn about each optionhere and here.For this how-to, we're going to select the per-trade price.
You'll also be asked if you want to add margin to your account. This feature is typically used by advanced investors, and it isn't for beginners. If you want to find out more about trading on margin,go here.The last question is whether or not you have a promotional code. If you have one, just enter it and then click "continue."
Image source: author screen shot of TradeStationsite.
Step 3: Account requirements
On the next page you'll see a list of requirements that you need to meet to engage in pattern day trading. Don't worry if you don't meet these requirements; TradeStation says you may still be able to open an account. (And in any case, you probably shouldn't be day trading anyway.)
We already covered what you'll need to get started with the account at the beginning of this article, so just click the "continue" button to go on to the next section.
Image source: author screen shot of TradeStationsite.
Step 4: Personal information
On the next page you'll be asked how you heard about TradeStation, and then you'll fill out more personal information (Social Security number, date of birth, citizenship, drivers license, and your permanent address).
You'll also be asked for your phone number, your marital status, and the number of dependents you have.Once you've entered all of the information, head on to the next section.
Image source: author screen shot of TradeStationsite.
Step 5: Employer information
On this page you'll enter your employment information and answer a few financial regulatory questions.
Specifically, you'll be asked whether you areassociated with or employed by the NYSE, the Financial Industry Regulatory Authority (FINRA), or aregistered brokerage firm. You'll also be asked if you'rea director, 10% shareholder, or policymaking officer of a publicly owned company. The last question in this section will ask ifyou are deemed a professional subscriber by the exchanges and therefore required to pay higher exchange fees. You'll probably answer "no" to all of these questions.
After answering all of those exciting questions, you'll also enter your employer information (address, title, how many years you've been there, and so on) if applicable.
Image source: author screen shot of TradeStationsite.
Step: 6: Trading activity and financial information
The next section is a series of questions about how many years you've been trading in stocks, mutual funds, options, and futures.
You'll also be asked how many stocks you plan to trade per month (as well as futures, mutual funds, and options). You can just answer the questions that pertain to stocks and mark the other selections as "none."
TradeStation will also ask you to rate your trading activity as "limited, moderate, or extensive." Just select the option that best applies to you.
You'll also be asked what your annual income is, your nearest marginal tax bracket, your approximate total net worth, your approximate liquid net worth, and what your primary source of income is, as well as the source of assets you'll use to deposit in the account.
Just answer those questions, and you're on to the next step.
Image source: author screen shot of TradeStationsite.
Step 7: Account details
On the next page, TradeStation will ask you if you want the ability to trade options with the account. As with margin trading, this feature is typically for more experienced investors. We're going to select "no" to this question, but you can find out more about options here.
In this section you'll be given the option of adding a third-party trading authority on the account (someone else who can trade on the account), and you'll answer some questions about setting up other TradeStation platforms. Since we're only setting up an individual brokerage account, we'll answer "no" to these questions.
Image source: author screen shot of TradeStationsite.
Step 8: Review and submit
The next page is simply an application summary of all the information you've filled out. Just review your answers to ensure that they're correct and go on to the next page.
Once you do that, you'll see a page with lots of official agreements and policies for you to read through. Each document link has a box next to it that you'll need to check indicating that you've read it. Once you've gone through all of the documents, enter your name at the bottom of the page (which is an electronic signature) and click "I agree."
Image source: author screen shot of TradeStationsite.
And that's it! You've set up your TradeStation account. The next page will tell you that the account is under review, and when it's approved you'll receive an email with your TradeStation account number and a link to how to fund the account.
Remember to check out somespecial broker offers here, and if you need some tips on how to get started investing, check out these articles:
10 stocks we like better thanWal-MartWhen investing geniuses David and TomGardner have a stock tip, it can pay to listen. After all, the newsletter theyhave run for over a decade, the Motley Fool Stock Advisor, has tripled the market.*
David and Tomjust revealed what they believe are theten best stocksfor investors to buy right now... and Wal-Mart wasn't one of them! That's right -- theythink these 10 stocks are even better buys.
Click hereto learn about these picks!
*StockAdvisor returns as of December 12, 2016The author(s) may have a position in any stocks mentioned.
The Motley Fool has a disclosure policy.