How to Sign Up for a Robinhood Brokerage Account: A Step-by-Step Guide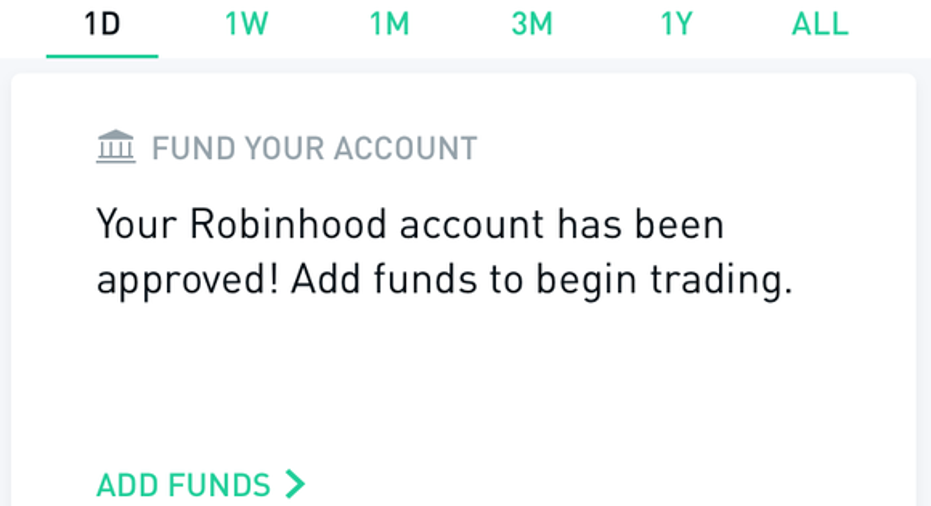 Image source: Getty Images.
As part of The Motley Fool's mission to help the world invest better, we're putting together a list of some of the top online investment brokers and giving you step-by-step guides on how to sign up for accounts. For this how-to, we're focusing on Robinhood'sonline brokerage account. If you want to view competing offers from various brokers, check out ourbroker comparison page.
What you'll need to get started
Social Security number
Bank information to fund the account (you can always set this up later)
A mobile device (you can only invest through Robinhood on a smartphone or tablet)
The company's site says it takes less than four minutes to set up an account, which I found to be pretty accurate.
There aren't any fees for opening up a Robinhood account or maintaining one, nor does the company charge you when you make your trades. It kind of sounds too good to be true, but Robinhood says it makes money from "accruing interest from customers' uninvested cash balances," just like other online brokerages do. The company also hasa Robinhood Gold service that starts at $10per month and gives customers additional features like after-hours trading, a line of credit (to trade on margin), and larger deposit amounts that are instantly available to invest.
Image source: Author screenshot of Robinhood site.
Step 1: Set up an account
First, navigate to Robinhood's sign-up page. Here you'll provide some basic information like your name and email address. You'll also create a username and password for the account. At the bottom of the page, Robinhood asks whether or not you have a mobile device running iOS or Android (Hint: If your phone or tablet isn't made by Apple,then it's pretty likely that it's an Android device).
The company asks you this question because all of the trading done on Robinhood is done on a mobile device. In short, don't sign up for a Robinhood account if you want to invest using your laptop or desktop computer, because you won't be able to do it.
You can, however, set up the account on your computer first and thenlog in to the Robinhood app on your phone to begin investing. We'll walk through setting up the account online, and then show you how to access your Robinhood account on your mobile device for this how-to.
Image source: Author screenshot of Robinhoodsite.
Step 2: Enter your contact information
This section asks you for some of your personal information like your home mailing address and phone number. You'll also be asked whether you, or a member of your immediate family, is employed by a member firm of a stock exchange or the Financial Industry Regulatory Authority (FINRA), or if you or a family member is adirector, 10% shareholder, or senior officer of apublicly traded company. You'll likely answer "no" to these two questions.
On the right-hand side of the screen you'll see answers to questions you might have about the application questions, like why Robinhood needs a customer's address (answer: Uncle Samrequires all brokerages to collect addresses for identity verification).
Once you're done with this page, just click "continue" and head on to the next step!
Image source: Author screenshot of Robinhoodsite.
Step 3: Verify your identify
In this section you'll first see a page that explains why Robinhood is about to ask for your Social Security number. All broker dealers are required by law to collect Social Security numbers, and Robinhood says, "This information is used to prevent known money launderers and terrorists from gaining access to the stock market." So if you're neither of those, then click the "continue" button to go to the next page (and if you do fall into one of those categories, please save all of us a lot of trouble and go turn yourself in!).
On the next page, you'll be asked for your Social Security number, citizenship status, marital status, number of dependents, date of birth, and employment status. Just answer those questions quickly and head on to the next step.
Image source: Author screenshot of Robinhoodsite.
Step 4: Fund your account
The company says on this page that there are no fees for putting money into, or taking money out of, your account. There are also no minimum deposit amounts.
You can choose to fund the account from a list of financial institutions. If you don't see your bank on this page (or if you want to fund the account later), you can click the "What if I don't see my bank on this list" link on the right-hand side of the page and then select the "click here" link. This will allow you to go on to the next application step and fund the account later through the Robinhood app.
Image source: Author screenshot of Robinhoodsite.
Step 5: Submit the application
You'll review the account agreement on this page (maybe grab a cup of coffee for this part) and then click "Submit Application."
Image source: Author screenshot of Robinhoodsite.
Step 6: Download the app
Once you submit the application, you'll be taken to a page that tells you to download the Robinhood app so you can start investing.
The company says it will notify you via email when your application is approved -- unless it needs more information from you first, in which case you will still be notified. There's also a link on this page for you to save your own copy of the application.
The links on this page will take you directly to the Android or iOS versions of the app to download.
Image source: Author screenshot of Robinhoodsite.
Step 7: Log in to the app
Once you've dowloaded the app to your mobile device, just log in using the account information you created in Step 1. When you do that, you'll see a screen showing that your account has been approved and a message at the bottom of the screen telling you to fund the account.
Click on the "Add Funds" link and enter your bank account information to start investing with Robinhood! Side note: You can access all the information about your account, settings, investing history, etc., by clicking on the icon in the top-left corner of the app.
Image source: Author screenshot of Robinhood app.
And that's it!Don't forget to check outspecial broker offers here,and if you need some tips on how to get started investing, check out these articles:
10 stocks we like better thanWal-MartWhen investing geniuses David and TomGardner have a stock tip, it can pay to listen. After all, the newsletter theyhave run for over a decade, the Motley Fool Stock Advisor, has tripled the market.*
David and Tomjust revealed what they believe are theten best stocksfor investors to buy right now... and Wal-Mart wasn't one of them! That's right -- theythink these 10 stocks are even better buys.
Click hereto learn about these picks!
*StockAdvisor returns as of December 12, 2016The author(s) may have a position in any stocks mentioned.
Chris Neiger has no position in any stocks mentioned. The Motley Fool owns shares of and recommends Apple. The Motley Fool has the following options: long January 2018 $90 calls on Apple and short January 2018 $95 calls on Apple. Try any of our Foolish newsletter services free for 30 days. We Fools may not all hold the same opinions, but we all believe that considering a diverse range of insights makes us better investors. The Motley Fool has a disclosure policy.