How to Excite Millennials About Investing in Railways: Internet of Things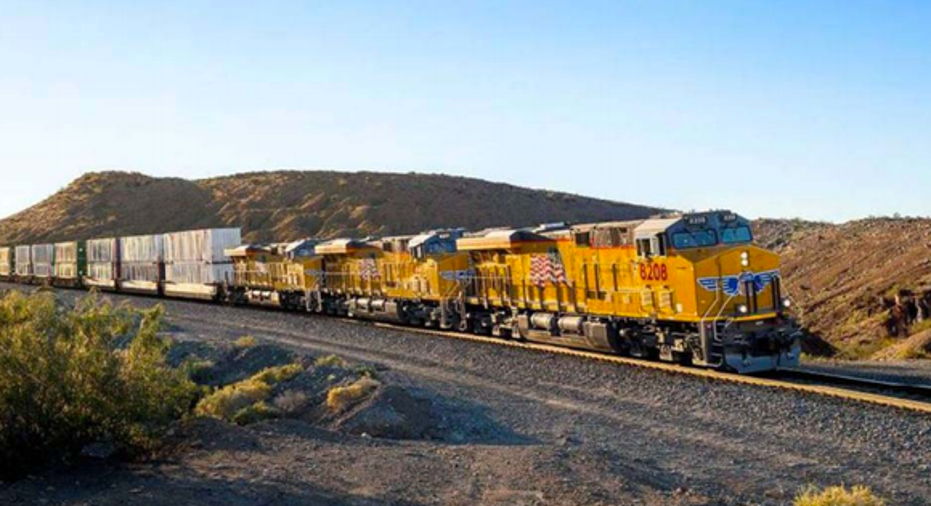 GE is keeping the rail industry on track with its RailConnect 360 suite. Image source: GE.
Know some millennials? Odds are, if you do, they're not investing in the market. A recent Bankrate Money Pulse survey found that only 26% of adults under 30 invest in stocks. And if they do invest, it's probably not in something as basic as railroads.
That's unfortunate. If Warren Buffett and Berkshire Hathawaysee value in it, picking up Burlington Northern Santa Fe for more than $26 billion, it should be good enough for twentysomethings. But maybe it's not the mention of the Oracle of Omaha that will excite the younger investors about railroads. Maybe it's bringing a high-tech angle -- the Internet of Things (IoT) --to this old-school investment that will do the trick.Keeping safety on trackProviding predictive analytics is one way in which the IoT is modernizing today's railroads. Union Pacific , one of the nation's largest rails, is an early adopter of the technology. By placing sensors underneath its rail cars, Union Pacific has been able to reduce bearing-related derailments by 75% over the past 15 years.
Union Pacific's 32,000 mile network traverses 23 states in the Western U.S. Image source: Union Pacific.
Considering that a major derailment may cost as much as $40 million, the IoT is certainly a worthy investment. But there's more to the story than just reducing derailments.IBM suggeststhat those customers who employ predictive maintenance solutions have a 20% to 25% reduction in maintenance costs and a 70% to 75% reduction in breakdowns.CSX is another rail company implementing IoT services to improve safety. Relying on a manually inputted, paper-based system to communicate theregular inspections of the company's 21,000-track-mile network, management sought to improve efficiency by turning to an automated system. But, needing to improve the automated system's reliability, management turnedto a cloud-based data management system, SQL Anywhere, provided bySAP. No stranger to the rail industry, SAP counts about89% of the railroad companies in the Forbes 2000 as customers. .In adopting SAP's platform, CSX's management foresees the ability to derive greater value as it looks to automate more of its operations. In speaking with Progressive Railroading, for example, Frank Lonegro, Vice President of Service Design, suggested that "inspections could be automated by rolling a train through a portal featuring numerous cameras and sensors." It is solutions like this, in addition to others, which can be built upon the SQL Anywhere platform -- solutions which may have helped the company achieve its goal of $200 million in cost savings by the end of 2015. We'll have to wait for the company's earnings report to see if it achieved (or surpassed) its goal.
Big data: full steam aheadWith its RailConnect 360 suite, GE is leveraging its expertise in handling Big Data to provide solutions to the rail industry. For example, the company's Movement Planner solution provides real-time traffic planning and optimization, and Trip Optimizer reduces fuel consumption based on a train's individual characteristics and its route travelled. After implementing these two solutions, Norfolk Southern Corporation reduced itsfuel usage by 6.3% and increased speed by 10% to 20%. Considering that a freight train will average somewhere between 20 to 25 mph on a long-distance trip, we're not talking about lightning-fast speeds; nonetheless, Norfolk Southern estimates thata one mph increase in average speed could add $200 million to its top line. Since its first installation on GE locomotives in 2009, GE's Trip Optimizer has piloted about 100 million auto-control miles, of which the software has saved about 56 million gallons of fuel, which translates to $197 million in fuel savings according to the company. Individually, customers have reduced their fuel costs, on average, between 3% and 17%. Beginning in 2016, Trip Optimizer software will become available on non-GE locomotives.Track records of successMany times, the most boring businesses provide the best returns. The railroads are no different. Raw materials are still chugging across the country just as they were a hundred years ago. Granted, there are near-term challenges facing the industry, but the industry isn't going away anytime soon. Unfortunately, inexperienced investors may be less likely to appreciate the requisite long-term horizons that lead to real wealth building.
CSX Total Return Price data by YCharts
The takeawayWhen it comes to investing in innovative transportation, there's no doubt that autonomous cars are all the rage. But innovation is also occurring in one of the country's oldest industries -- railroads. Whether it's solution-providing companies such as IBM, GE, and SAP, or the railroads themselves, the IoT is helping to modernize locomotives and keep the rail industry on track to succeed in the 21st century. The opportunity is significant. According to GE estimates, globally, a 1% savings on rail operations costs -- brought by IoT solutions -- would translate to savings of $27 billion over the next 15 years.
The article How to Excite Millennials About Investing in Railways: Internet of Things originally appeared on Fool.com.
Scott Levine has no position in any stocks mentioned. The Motley Fool owns shares of General Electric Company. The Motley Fool recommends CSX. Try any of our Foolish newsletter services free for 30 days. We Fools may not all hold the same opinions, but we all believe that considering a diverse range of insights makes us better investors. The Motley Fool has a disclosure policy.
Copyright 1995 - 2016 The Motley Fool, LLC. All rights reserved. The Motley Fool has a disclosure policy.