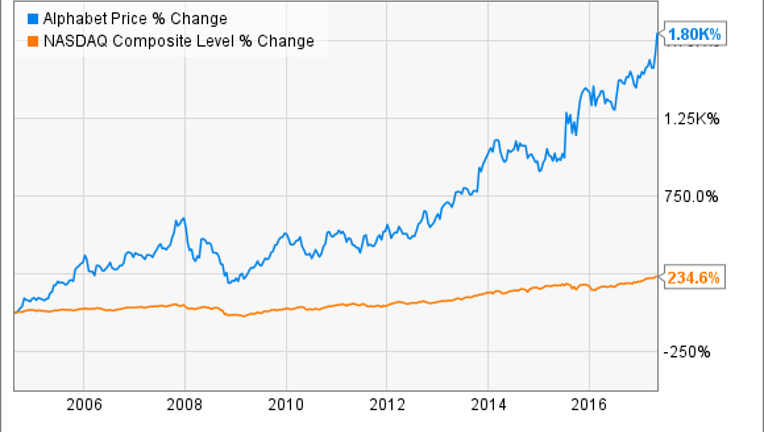 Search powerhouse Google, now under the holding company namedAlphabet (NASDAQ: GOOG) (NASDAQ: GOOGL), is arguably the most powerful company in all of technology. A few others are in the running, but having popularized the search engine and scaled it into one of the most effective mediums in online marketing, Google has trounced the benchmark Nasdaq Composite in its time as a public company.
So what does this mean for Google and Alphabet today? With a market capitalization of over $650 billion, Google has grown to become one of the largest publicly traded companies in the world. More interesting still, the company remains valued like a growth stock, sporting a 31.6 P/E ration as of writing.
So let's assume you want to buy shares of Google. How do you do it? First, make sure you understand the investing basics laid out in the Fool's guides covering how to sign up for an online brokerage account and buy your first stocks. Once you have the basics down, your priority shifts to researching Google and understanding why it remains a great stock to own for the long term.
Inside Google's business empire
Google is the dominant search engine pretty much everywhere but China, where it's been blocked since 2010,much to homegrown alternative Baidu's benefit. Yet it's difficult to pin down a number for Google's share of the global search market. The tech giant is typically estimated to control a two-thirds or greater share of the U.S. search market, andthat figure is expected to rise in the years to come.So rather than quibble about precise figures, it's fine just to understand that Google enjoys an iron grip on global search, which serves as the mainstay for its enviable financial empire. And given the trajectory of its sales and profits over the years, it's no wonder Alphabet shares have trounced the broader market's returns.
GOOGL Revenue (Annual) data by YCharts.
Alphabet's sales and net income have risen from $968.1 million and $105.6 million, respectively, in 2003 -- the year before of its IPO -- to over $90.2 billion and $19.4 billion last year.That translates into 38% and 45% average annual growth rates range per annum for sales and profits respectively. And while some of these numbers are already large, Google still enjoys significant future growth opportunities in its core businesses and its many diverse areas of interest.
Image source: Alphabet's Waymo
Why Alphabet stock remains a buy
It's important to remember that Google remains largely an advertising business, even as it has grown in size and complexity in recent years. The company generates the overwhelming amount of its sales from inserting advertisements into its many widely used products.
As for its core digital marketing business, the secular tailwind propelling this market seems almost assured to benefit Google and Facebook (NASDAQ: FB) disproportionately. As just one example, data from research firm eMarketer estimates that global digital ad-spend will increase from $550 billion in 2016 to $724 billion by 2020.
Beyond this core organic market growth, Facebook and Alphabet are both working to develop innovative solutions to expand internet coverage to the 60% of the world lacking access today.Alphabet and Facebook both steep their efforts in social and moral terms, and while their arguments hold merit, the fact is that, as the world's two most dominant Internet companies, both stand to gain immensely by bringing more people online. These often-overlooked efforts are arguably the largest growth catalyst for both Facebook and Google.
In addition, Google's founders have decided to aggressively invest in many next-generation technologies in hopes of gaining footholds in industries where technology seems likely to transform in the years to come. Its "other bets" segment includes nascent businesses in broadband cable,life sciences,smart-home appliances,driverless cars, efforts to slow human aging, and much more.
It isn't clear which of these projects, if any, will materialize into meaningful financial contributors. But successfully investing in Google doesn't require that any of these other bets turn into smash successes. With so much opportunity in its core business and a visionary leadership team with a bold eye toward the future, there can be little doubt that Google remains one of the best stocks to own in the large-cap tech space.
10 stocks we like better than Alphabet (A shares)When investing geniuses David and Tom Gardner have a stock tip, it can pay to listen. After all, the newsletter they have run for over a decade, Motley Fool Stock Advisor, has tripled the market.*
David and Tom just revealed what they believe are the 10 best stocks for investors to buy right now... and Alphabet (A shares) wasn't one of them! That's right -- they think these 10 stocks are even better buys.
Click here to learn about these picks!
*Stock Advisor returns as of May 1, 2017
Suzanne Frey, an executive at Alphabet, is a member of The Motley Fool's board of directors. Andrew Tonner owns shares of Baidu. The Motley Fool owns shares of and recommends Alphabet (A shares), Alphabet (C shares), Baidu, and Facebook. The Motley Fool has a disclosure policy.