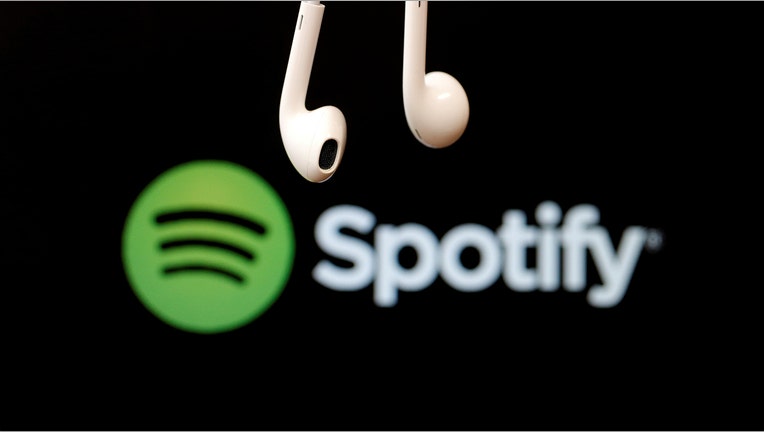 Investors in Spotify Technology could be in for a turbulent Tuesday as the company uses an unorthodox maneuver to go public on the New York Stock Exchange, without many of the protections built into a standard initial public offering.
The music-streaming company has warned the process, called a direct listing, could result in greater volatility on the first day of trading than in a typical IPO. In part, that is because there isn't any bank to act as a "stabilizing agent" and prop up the stock if it plunges. On the other hand, Spotify's stock price could surge if its well-known brand name triggers a deluge of buying interest.
In a direct listing, a company floats its existing shares and lets the market find a price, without banks serving as underwriters to set pricing or allocate shares to big investors. While the process lets existing shareholders cash out, it doesn't raise any new money for the company itself.
It is unprecedented for a company as big as Spotify -- which by mid-March was valued as high as $23.6 billion -- to go public on the NYSE via a direct listing, though the process is often used for lower-profile transactions, such as a spinoff or emerging from bankruptcy.
Spotify has said it chose a direct listing because it doesn't need to raise more money. It also says the process is fairer because it puts large and small investors on a level playing field. In a normal IPO, the underwriting banks can allocate shares to favored clients ahead of the first trade, letting them benefit from any potential "pop" in the stock price.
Spotify is also saving tens of millions of dollars in fees by bypassing the IPO process, though it has hired Goldman Sachs, Morgan Stanley and Allen & Co. as advisers. The banks will play a limited role compared with underwriters in a standard IPO, and Spotify will pay them only about EUR29 million ($36 million) in fees.
Another unusual aspect of Spotify's listing: Its executives declined to come to the NYSE Tuesday to participate in the usual rituals of an IPO, such as ringing the opening bell. At Spotify's investor day in March, Spotify Chief Executive Daniel Ek said, "For us, going public has never been about the pomp or the circumstance of it all."
Members of the NYSE's listings team voiced disappointment at Spotify's decision not to attend, a person familiar with the situation said.
An NYSE spokesman disputed that characterization, saying Spotify's debut will put the direct-listing process "on vivid display for entrepreneurs and investors considering a future public offering." The opening bell on Tuesday will be rung by EPIC Players, a theater troupe that includes performers with developmental disabilities, according to the exchange.
Two firms have the job of keeping Spotify's listing from going off the rails: adviser Morgan Stanley and Citadel Securities, which the company selected as its designated market maker. DMMs help ensure the orderly trading of NYSE-listed stocks and make money by quoting prices throughout the trading day and collecting the difference between the buying and selling price.
One of Citadel's traders on the exchange floor will determine the price of the first trade in Spotify, in consultation with Morgan Stanley. Ahead of the open, the bank will gather information about the price ranges at which investors want to buy or sell shares. The DMM will find the optimal price to balance out buying and selling interest.
That is similar to how a typical IPO works. A key difference is that Spotify's banks haven't been running a formal process to gauge demand for the company's shares, though Morgan Stanley has been working to assess interest. There also won't be a "deal price" set the night before the listing, when underwriters usually sell shares to IPO investors. Without those steps, there will be less guidance for Morgan Stanley and Citadel to figure out the opening price.
There has been a flurry of trading over the past week in Spotify's private shares, with prices as high as $137.50, up from a previous high of $132.50, according to people familiar with these trades.
It is unclear how many shares could trade on the first day. As much as 91% of Spotify's 178 million shares will be eligible for trading, but people close to the deal said they expect the actual float to be closer to two-thirds of the shares, and for co-founders Mr. Ek and Martin Lorentzon to hold on to their stakes in the company, at least initially.
Still, Spotify's anticipated float is dramatically higher than the average IPO. Since 1995, U.S.-listed companies have sold roughly 35% of their shares on average in IPOs and U.S.-listed technology companies have sold 27%, according to Dealogic.
The people close to the deal didn't expect excessive selling because there is no one huge owner seeking to cash out. They expected it would be more controlled than the market has anticipated.
In the absence of an IPO price, the NYSE will publish a so-called reference price for Spotify by early Tuesday. This placeholder figure may be used by trading systems to compute percentage moves once trading kicks off.
More important is the price range in which Spotify is expected to start trading. Spotify's range is likely to be quite wide when first announced. In a typical IPO, that happens within the first hour after the opening bell at 9:30 a.m. Eastern time.
From then on, working with Morgan Stanley, Citadel will tighten the range and eventually open the stock at a specific price. An IPO at the NYSE can take anywhere from minutes to more than two hours to reach that point, with bigger deals typically taking longer to open. With Spotify, the NYSE and others close to the deal have warned it could take an unusually long time to open, given the uncertainties of the direct-listing process.
(END) Dow Jones Newswires