How Sonus Networks, Inc. Fell 25.6% in October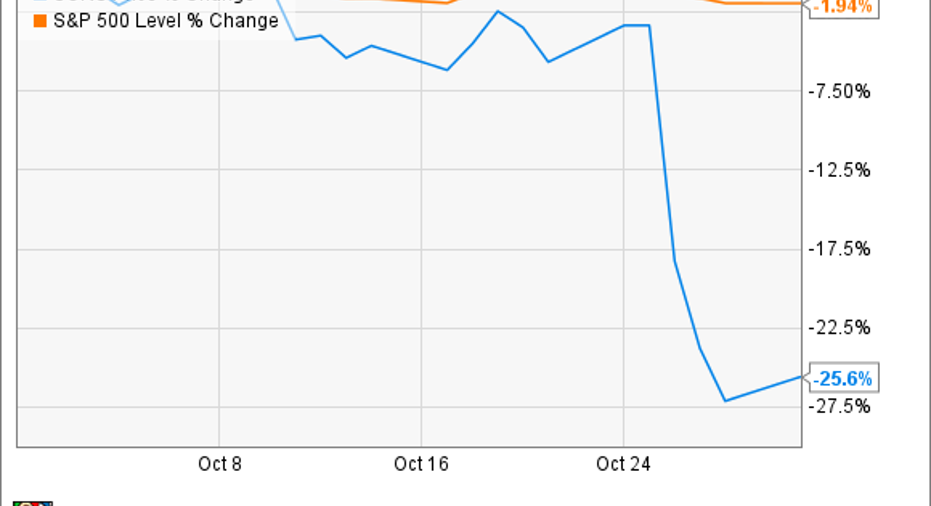 Image source: Getty Images.
What happened
Shares of Sonus Networks (NASDAQ: SONS) fell 25.6% in October 2016, according to data from S&P Global Market Intelligence. One glance at the chart below will clue you in on what happened: The cloud-based voice networking specialist paired a solid third-quarter report with downright depressing guidance for the next reporting period.
So what
In the third quarter, Sonus' sales declined 4.3% year over year to $65 million. Adjusted earnings per share increased from $0.11 to $0.12. These figures were at or above Wall Street's average estimates.
But management's earnings guidance for the fourth quarter stopped at roughly $0.10 per share, far below the Street's then-prevailing $0.16 forecast. Analyst firms have since adjusted their expectations, and now predict that Sonus will underperform its own guidance targets, with fourth-quarter earnings near $0.06 per share.
And when it comes to revenue guidance, management's former full-year targets had implied something like $76 million in fourth-quarter sales. Instead, Sonus now expects just $66 million in top-line collections for the next quarter.
Now what
The timid revenue targets rested on several customers delaying their expected voice system upgrades while other installations are running behind schedule. Sure, sales can be lumpy for a small-cap company with just $261 million in trailing sales, but a sudden 13% guidance reduction takes lumpiness to the next level.
Following that beat-and-lower performance, Sonus shares plunged 24.6% lower over the next three trading days. All told, the stock has taken a 17% haircut over the last 52 weeks. Mr. Market is not showing much confidence in this company's ability to execute on its promises these days.
10 stocks we like better than Sonus Networks When investing geniuses David and Tom Gardner have a stock tip, it can pay to listen. After all, the newsletter they have run for over a decade, Motley Fool Stock Advisor, has tripled the market.*
David and Tom just revealed what they believe are the ten best stocks for investors to buy right now... and Sonus Networks wasn't one of them! That's right -- they think these 10 stocks are even better buys.
Click here to learn about these picks!
*Stock Advisor returns as of November 7, 2016
Anders Bylund has no position in any stocks mentioned. The Motley Fool has no position in any of the stocks mentioned. Try any of our Foolish newsletter services free for 30 days. We Fools may not all hold the same opinions, but we all believe that considering a diverse range of insights makes us better investors. The Motley Fool has a disclosure policy.