How Safe Is Ford Motor Company's 4.8% Dividend?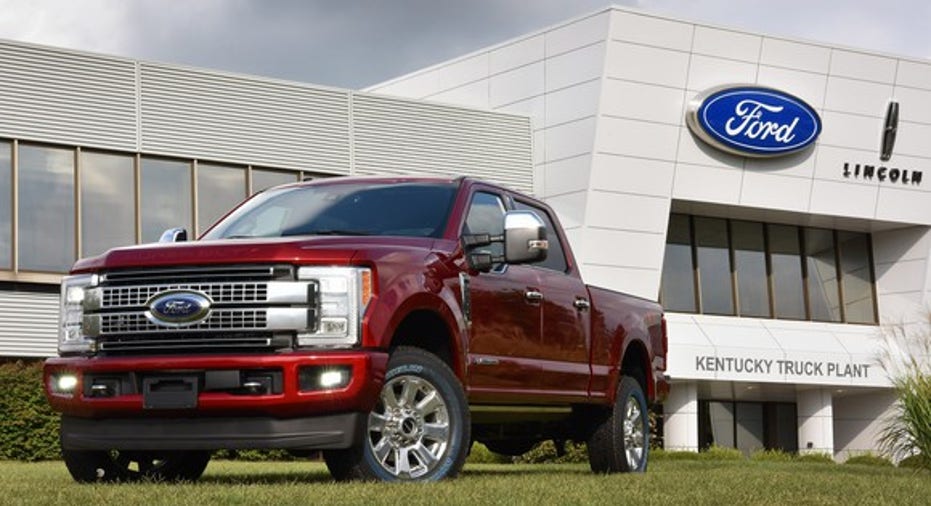 Investors of a certain age might remember Ford Motor Company (NYSE: F) as a rock-solid dividend stock. The Blue Oval paid shareholders a dividend every year from its IPO in 1956 until 2006, when then-CEO Alan Mulally cut spending as far as he dared in a last-ditch effort to save the deeply troubled automaker.
That effort was a great success, of course. Ford is once again paying a strong dividend to its shareholders. In fact, as I write this, Ford's dividend yield is hovering at a very attractive 4.8%.
But will Ford's dividend be at risk during the next recession?
Strong sales of pickups and SUVs have had Ford's profits near record levels for the last two years. But what happens when the economy turns? Image source: Ford Motor Company.
How to tell if Ford Motor Company's dividend is safe
Generally, when we look at a company's ability to pay dividends, we consider its free cash flow (FCF). That's the right thing to do. But in this case, it might be a little misleading. Ford's a complicated company, a multinational that includes among its business units a bank -- Ford Credit, its in-house financing arm.
The presence of Ford Credit complicates a lot of the numbers aggregated by financial sites. For Ford and its dividend, it's best to look at a non-GAAP number that Ford reports every quarter: automotive operating cash flow.
Ford's expression of automotive operating cash flow is pre-tax profit from its automotive businesses (excluding Ford Credit, in other words), minus capital spending, depreciation and amortization, and other changes in working capital. It's the number that Ford's own management and board of directors will look at when considering whether to cut dividend payments during hard times.
The chart below shows Ford's total cash dividend payout for each year from 2010 through 2016 as a portion of its total automotive operating cash flow.
Data source: Ford Motor Company.
A couple of notes in looking at that chart: First, 2010 and 2011 were rough years. U.S. auto sales were down sharply from the past decade's highs, and Ford was emerging from the economic crisis swamped in debt. It didn't resume paying a dividend until the first quarter of 2012.
Second, note that 2016 included a one-time supplemental dividend of $1 billion, or $0.25 per share, after reporting a record operating profit for 2015. Its base dividend payment was still $0.15 per quarter. (It declared another supplemental dividend of about $200 million, or $0.05 per share, last month.)
Why didn't Ford raise its regular dividend in 2016?
Why did Ford pay a supplemental dividend instead of raising its regular quarterly dividend in 2016 and 2017? Ford wants to ensure that its dividend payments are sustainable, even through a recession.
Here's how Ford CFO Bob Shanks put it in a presentation to investors last fall (emphasis added):
Ford has a cash reserve and lines of credit intended to ensure that it can continue to fund new-product development even if its quarterly profits swing to losses during a protracted recession. Shanks explained that Ford's plan is to continue paying its dividend as long as it still has a cash reserve (in other words, until it has to tap its lines of credit).
Ford's capital investments totaled $6.9 billion in 2016, and it expects to spend about $7 billion in 2017. It has the cash to sustain that spending for a while: As of December 31, 2016, Ford's automotive cash reserve totaled $27.5 billion.
Is Ford Motor Company's dividend safe?
Is Ford's dividend safe? It's about as safe as you can expect from an industrial company in a cyclical business. Ford's debt load is modest and well-structured, its credit rating is investment-grade, and its management team is made up of battle-tested veterans who helped lead Ford's epic turnaround.
Long story short: No company's dividend is ever 100% completely safe. But Ford shareholders need not lie awake at night worrying about theirs, even if the U.S. economy slips.
10 stocks we like better than Ford Motor CompanyWhen investing geniuses David and Tom Gardner have a stock tip, it can pay to listen. After all, the newsletter they have run for over a decade, Motley Fool Stock Advisor, has tripled the market.*
David and Tom just revealed what they believe are the 10 best stocks for investors to buy right now...and Ford wasn't one of them! That's right -- they think these 10 stocks are even better buys.
Click here to learn about these picks!
*Stock Advisor returns as of February 6, 2017.
John Rosevear owns shares of Ford. The Motley Fool owns shares of and recommends Ford. The Motley Fool has a disclosure policy.