How Safe Is Calumet Specialty Products Partners LP Stock?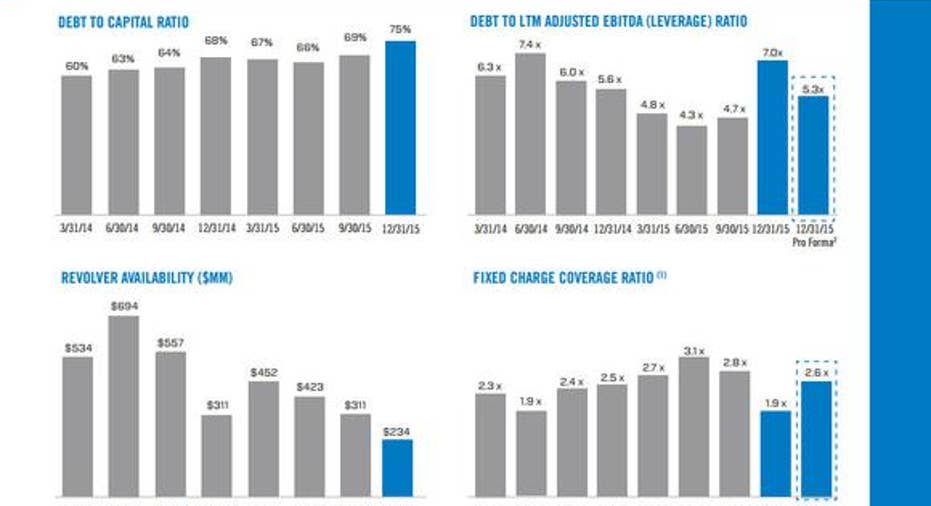 Image source: Kinder Morgan.
Investors considering a master limited partnership like Calumet Specialty Products Partners are typically looking for a safe investment that will deliver low volatility and a steady income stream. However, given the company's recent history and its financial metrics, safety is not what Calumet Specialty Products Partners offers. For starters, its unit price has been cut in half over the past year:
Driving this downdraft are worries that it won't be able to maintain its current distribution rate due to challenging industry conditions and its weakening credit metrics. Here's a closer look at why its own numbers suggest that this isn't a very safe investment right now.
The cash flow metrics are a messFor an MLP like Calumet Specialty Products Partners, there are two metrics investors tend to focus on in order to gauge the safety of the distribution. They are the percentage of revenue that's backed by fee-based assets and the company's distribution coverage ratio. Both are areas where Calumet Specialty Products Partners scores very poorly.
In terms of cash flow, Calumet doesn't own the typical midstream assets of pipelines and processing plants that are backed by fee-based contracts. Instead, it owns fuel products refineries and specialty products manufacturing facilities that are exposed to both commodity price volatility and volume impacts from market conditions. Because of that, its cash flow is a lot choppier than a company like Kinder Morgan , which is built on a foundation of fee-based assets:
KMI Cash from Operations (Quarterly) data by YCharts.
This lack of fee-based assets drives significant volatility in Calumet Specialty Products Partners distributable cash flow. Last quarter, for example, it actually reported negative $54.9 million in distributable cash flow versus a positive $39.4 million in the fourth quarter of 2014. Compare that to Kinder Morgan, which reported $1.2 billion in distributable cash flow last quarter, which was just slightly less than the $1.3 billion it reported in the fourth quarter of 2014.
Despite the fact that its cash flow has a lot of variability to it, Calumet Specialty Products Partners pays a fixed distribution. It's a payout that's not fully supported by its reported distributable cash flow as evidenced by a distribution coverage ratio that has averaged a mere 0.70 times the past two years. That said, some of that was due to some special items both years, and if those items are adjusted out of the equation, the distribution coverage ratio does improve. However, even with those adjustments, the coverage ratio was a very tight 1.0 times in 2014 and a slightly less concerning 1.1 times last year. That still leaves the company very little breathing room if industry conditions or its credit worsens.
The credit metrics are going the wrong way Speaking of credit, Calumet Specialty Products Partners already has pretty tight credit metrics. In fact, as the slide below shows, its credit metrics have been going in the wrong direction over the past few years.
Image source: Calumet Specialty Products Partners investor presentation.
Not only has its debt-to-capital ratio ballooned to 75%, but its debt-to-adjusted EBITDA was a very worrisome 7.0 times as of the end of last year. Even after making adjustments for the aforementioned special items, the leverage ratio was an elevated 5.3 times. While a leverage ratio north of 5.5 times is something that Kinder Morgan is comfortable with, that's only because it has much larger scale, an investment grade credit rating, and it derives the bulk of its cash flow from fee-based assets or via commodity hedges.
Another big safety concern for Calumet Specialty Products Partners is the shrinking availability under its revolver. The company was down to just $234 million in liquidity at the end of last year, which is a concern if industry conditions get even worse because it runs the risk of its liquidity running dry as it attempts to make ends meet. Liquidity concerns can't be overlooked because they were a driving factor behind Kinder Morgan's decision to slash its dividend 75% last last year. That's after the company needed that cash flow to fund its capex plans because liquidity in the market was drying up. While Calumet's capital spending is expected to be light in 2016 compared to the past two years, having a lower level of liquidity is still a concern given all the uncertainty in the market right now.
Investor takeawayCalumet Specialty Products Partners fails every major safety test for an MLP. Because of that, there's a very real risk that its distribution could be reduced at some point in the future, especially considering that even safer companies like Kinder Morgan had to slash their payout. Investors looking for safety should steer clear of this one until its financial metrics show real signs of improvement.
The article How Safe Is Calumet Specialty Products Partners LP Stock? originally appeared on Fool.com.
Matt DiLallo owns shares of Kinder Morgan andhas the following options: short Jan. 2018 $30 puts on Kinder Morgan and long Jan. 2018 $30 calls on Kinder Morgan. The Motley Fool owns shares of and recommends Kinder Morgan. The Motley Fool has the following options: short June 2016 $12 puts on Kinder Morgan. Try any of our Foolish newsletter services free for 30 days. We Fools may not all hold the same opinions, but we all believe that considering a diverse range of insights makes us better investors. The Motley Fool has a disclosure policy.
Copyright 1995 - 2016 The Motley Fool, LLC. All rights reserved. The Motley Fool has a disclosure policy.