How Safe Is Big Lots Inc. Stock?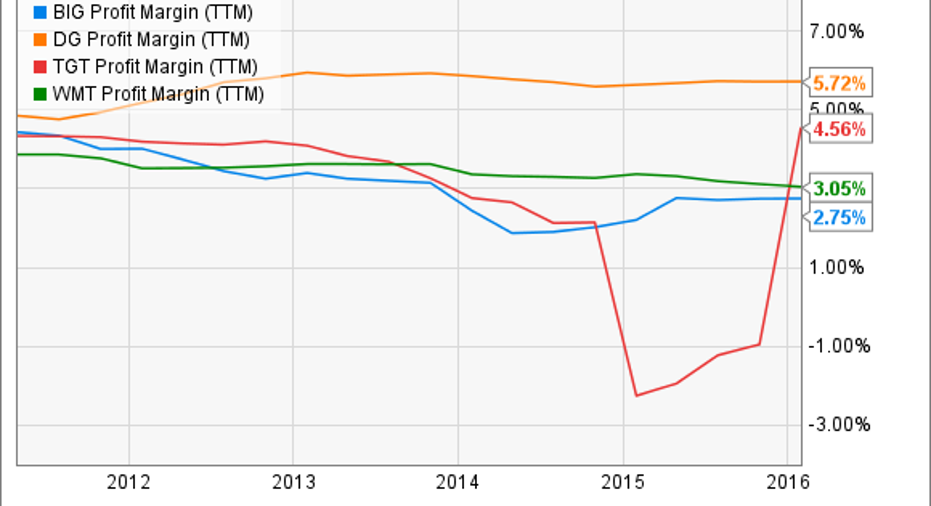 In just the last year, Big Lots' stock has swung between a low of $34 per share and a high of $51 per share -- equating to a dramatic 50% change from trough to peak. That short-term volatility tells us next to nothing about the long-term risk to investing in this closeout retailer, though.
Instead, to understand the safety of this stock, it's helpful to consider Big Lots' operating risks, its recent business trends, and its overall financial health.
Key risks In its 10-K annual report, Big Lots highlights the key risks to its business -- at least the ones that executives can identify. These include issues that apply to most national retailers. For example, the company faces intense competition from a wide range of rivals like dollar stores, big-box retailers, and furniture shops.
Source: Big Lots.
Big Lots also competes against e-commerce giants that may or may not have any physical presence, which can confer a pricing advantage over its own operations.
Here are a few other risks outlined in the annual report:
The business is sensitive to the health of the U.S economy, and to the local economies in the four states of Ohio, Texas, California, and Florida that account for roughly one-third of revenue. Slumping economic growth could spell a prolonged period of low profits.
Operating results depend on Big Lots being able to accurately gauge demand without over buying or under buying products. "We must maintain sufficient inventory levels to successfully operate our business," the company warns, "However, we also must seek to avoid accumulating excess inventory to maintain appropriate in-stock levels."
Ironically, the nature of the closeout retailing model means that Big Lots' business suffers when other retailers do a better job of controlling their own inventories. "To the extent that certain of our vendors are better able to manage their inventory levels and reduce the amount of their excess inventory, the amount of closeout merchandise available to us could be materially reduced," executives explain.
Seasonality is very pronounced in Big Lots' business as nearly 70% of its profits are generated over the final three months of the year. That's why a poor fourth-quarter can have an outsized effect on operating results.
Operating and financial trendsAfter two years of declining sales, the retailer has lately managed steady, but not especially strong growth. Comparable-store sales rose by 1.8% in 2015, which was below Target's 2.1% and Dollar General's 2.8% gain.
The same trend applies to earnings as Big Lots' profit margin improved to 2.8% of sales last year after declining for two straight years. That puts the company slightly below other national discount retailers it comes to profitability:
BIG Profit Margin (TTM) data by YCharts
Big Lots has remained profitable through its declining sales growth period, even though that overall profit level has fallen significantly. The retailer endured four straight years of lower earnings before rebounding in 2015.
Big Lots' income by fiscal year. Source: Company financial filings.
Meanwhile, its debt level is minimal: Interest expense amounted to less than $4 million last year, or 0.1% of sales.
With little debt and a decent track record of positive cash flow, Big Lots' risk of getting into dire financial straits seems small. Instead, the biggest concerns for investors revolve around the management team -- specifically that they keep a lid on costs, accurately gauge demand, and expand the business at a prudent pace. If the company can succeed on those factors, then it's likely that Big Lots' operations will continue to improve, even if the stock price swings significantly within a given year.
The article How Safe Is Big Lots Inc. Stock? originally appeared on Fool.com.
Demitrios Kalogeropoulos has no position in any stocks mentioned. The Motley Fool recommends Big Lots. Try any of our Foolish newsletter services free for 30 days. We Fools may not all hold the same opinions, but we all believe that considering a diverse range of insights makes us better investors. The Motley Fool has a disclosure policy.
Copyright 1995 - 2016 The Motley Fool, LLC. All rights reserved. The Motley Fool has a disclosure policy.