How Rogers Corp. Stock Rose 20% in April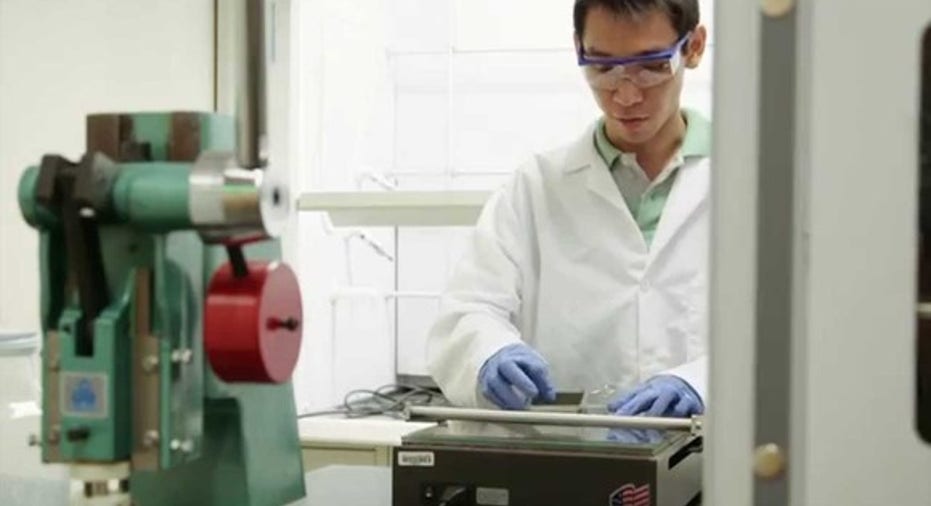 What happened
Shares of Rogers Corp. (NYSE: ROG) gained 19.9% in April 2017, according to data from S&P Global Market Intelligence.
So what
The company reported first-quarter results on April 26, sending share prices nearly 12% higher the next day. Rogers saw 27% year-over-year sales growth and 79% higher earnings, leaving analyst estimates far behind in both cases.
A Rogers engineer, hard at work on next-generation battery materials. Image source: Rogers.
Now what
Rogers shares have now gained 72% over the last 52 weeks, trading steadily near all-time highs. The maker of specialized materials used in battery systems and wireless antennas has consistently delivered solid earnings surprises over the last three years, often coupled with equally strong revenue wins.
This company is poised to continue making a killing in several emerging markets, including the Internet of Things and automotive computing. Best of all, Rogers is winning competitive contracts without resorting to pricing discounts. Trailing operating margins have increased from 12.4% to 14.2% over the last four quarters. In other words, clients are choosing Rogers over rival materials providers for other reasons than low prices, such as product quality and dependable ordering and delivery processes.
Investors celebrated Rogers' quarterly report for all the right reasons. This company is going places, as long as batteries and antennas stay in high demand.
10 stocks we like better than RogersWhen investing geniuses David and Tom Gardner have a stock tip, it can pay to listen. After all, the newsletter they have run for over a decade, Motley Fool Stock Advisor, has tripled the market.*
David and Tom just revealed what they believe are the 10 best stocks for investors to buy right now... and Rogers wasn't one of them! That's right -- they think these 10 stocks are even better buys.
Click here to learn about these picks!
*Stock Advisor returns as of May 1, 2017
Anders Bylund has no position in any stocks mentioned. The Motley Fool has no position in any of the stocks mentioned. The Motley Fool has a disclosure policy.