How Risky Is TerraForm Power Stock?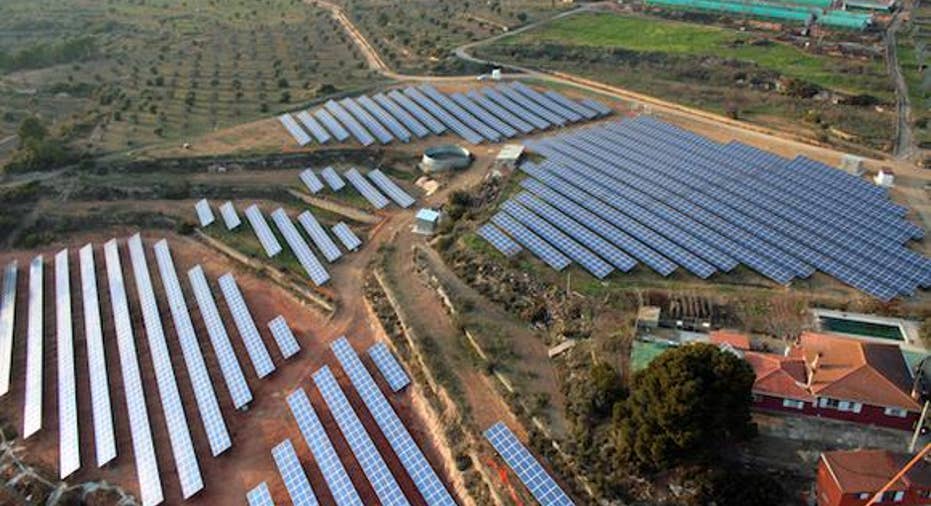 Image source: SunEdison.
Shares of TerraForm Power Inc. have been on a nice run since sponsor SunEdison filed for bankruptcy. Ironically, the bankruptcy will clarify a lot of the questions investors have about TerraForm's future, for better or worse. Here are the risks investors need to watch for.
The unknown risk facing TerraForm Power If anything truly catastrophic is going to happen to TerraForm Power, it'll happen in the next few months. When a yieldco's parent or sponsor company goes bankrupt, it can lead to cross default on debt or changes to power purchase agreements. The problem is, many of these details are confidential until they're disclosed to investors, usually after its too late.
Moody's VP and Senior Credit Office said this after downgrading the company's debt:
That may sound cryptic, but that's intentional. There may be risks hidden in TerraForm Power that we don't know about yet.
Unlike TerraForm Global , TerraForm Power hasn't warned investors about any potential debt repayment accelerations or power purchase agreement changes, so there's no big warning sign yet. But we also haven't gotten a full financial filing since the end of the third quarter 2015.
The risks of default or contract changes are unknowns because they lie in contract details that aren't fully disclosed to investors. And that should keep the market guessing as SunEdison goes through bankruptcy.
Image source: SunEdison.
Debt costs If there's one thing that can kill a renewable energy company, it is rising debt costs. TerraForm Power had $2.5 billion in debt at the end of the third quarter of 2015. Since then, the company has added $1.22 billion in debt and spent $733 million in cash on hand to buy wind assets from Invenergy. So, this is a highly leveraged company.
As part of its most recent financing package, TerraForm Power took on debt with a variable interest rate of 6.5% or more. That's a much higher rate than the 4% or so it received when refinancing projects late last year. Factor in the Moody's downgrade I mentioned above, and it could see the interest rates it can find go even higher.
If debt costs rise, it'll eat into the cash generated by renewable energy projects, forcing TerraForm Power to either take on more debt to make its dividend payments, or reduce dividends.
Confidence is keyFor TerraForm Power, the most important thing long-term is to give the market reason to regain confidence in the company. The confidence level around a company affects the interest rates it must pay and the price of its stock, both of which are important for its long-term survival.
I think the best strategy for the company now would be to cut its dividend and pay down debt. That would reduce risk and potentially help lower borrowing rates long-term.
TerraForm Power has a lot of risk, but with long-term contracts and very real assets, the company could have a tremendous amount of value for shareholders. However, it hasn't made a financial filing in nearly seven months, and there could be contractual risks hidden where investors can't see them. Until both problems are corrected, the risks are too high for me to be a buyer.
The article How Risky Is TerraForm Power Stock? originally appeared on Fool.com.
Travis Hoium has no position in any stocks mentioned. The Motley Fool has no position in any of the stocks mentioned. Try any of our Foolish newsletter services free for 30 days. We Fools may not all hold the same opinions, but we all believe that considering a diverse range of insights makes us better investors. The Motley Fool has a disclosure policy.
Copyright 1995 - 2016 The Motley Fool, LLC. All rights reserved. The Motley Fool has a disclosure policy.