How Risky Is Smith & Wesson Holding Corp?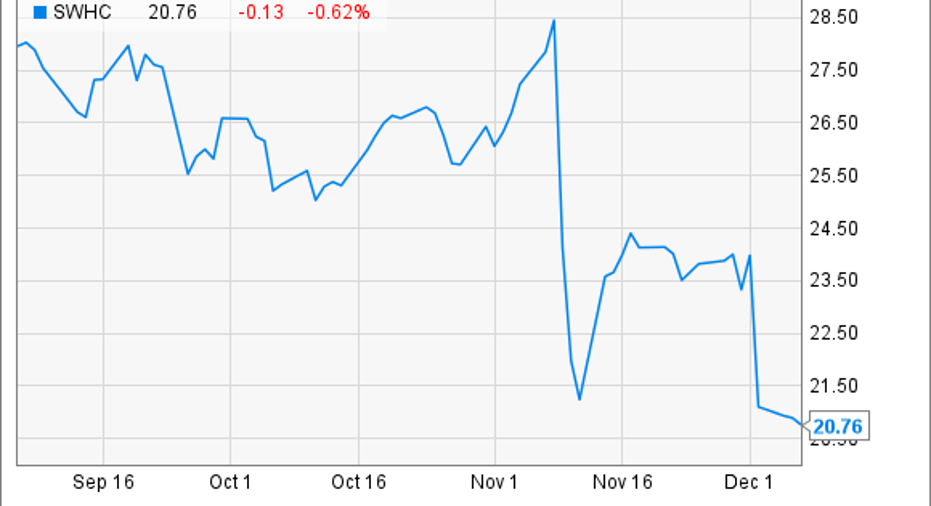 Smith & Wesson has enjoyed outsized demand for its guns and accessories, but there may be hurdles that it finds difficult to surmount. Image source: Kyle Post, via Flickr.
Gunmaker Smith & Wesson Holding (NASDAQ: SWHC) has lost 27% of its value since the November elections, as concerns about demand have grown. But now that Smith & Wesson trades at a 33% discount to the all-time high price of $31 a share it hit this summer, is its stock too risky to touch? Here's a look at the risks the gunslinger faces, and whether it can be a safe play over the long run.
Gun-buyer demand risk
Obviously the biggest risk Smith & Wesson faces is whether demand for its firearms can maintain its torrid pace. It can't be overstated just how hot gun sales have been over the past few years. Even if FBI background checks on gun buyers remain flat in December -- a highly unlikely event since there's only been one time that December checks weren't higher than November's -- the total for all of 2016 will surpass last year's record number by 18%. Let's just say it's a good bet the growth rate is going to be even higher than that.
Yet the election of Donald Trump to the presidency last month also hit a pressure-release valve on the gun market. It's long been argued the threat of more gun control under President Obama (and the potential for it under a President Clinton) kept the accelerator pinned to the floor on gun sales.
While other equally plausible reasons for robust gun sales have been put forward, the drop in value that Smith & Wesson's stock suffered after the election suggests the market puts more credence in the former rationale than in arguments about rising fears for personal safety.
Despite both Smith & Wesson and industry peer Sturm, Ruger (NYSE: RGR) saying they see no letup in demand for firearms, until they're proven right, doubts about demand sustainability will serve as a lid on their shares.
Image source: Vlad Butsky via Flickr.
Regulation risk
The November election removed what could have been a severe threat to Smith & Wesson's future. With a Supreme Court vacancy to be filled, a different candidate could have appointed a justice who might have undermined gun-ownership rights. The late Justice Antonin Scalia was a firm believer in private gun ownership, and one of his most important decisions was District of Columbia v. Heller, which enshrined the Constitution's protection of the right to own a firearm. Trump campaigned on appointing someone to the court who would continue to uphold those values, so there seems little worry the Supreme Court will overturn those laws.
Moreover, Republican control of both houses of Congress indicates that no legislation will be enacted at the federal level to infringe on Second Amendment rights, either. From a regulatory standpoint, then, there seems little risk, though states could still individually try to limit access.
Diversification risk
Unlike Sturm, Ruger -- essentially a firearms pure play -- Smith & Wesson has branched out into extreme outdoors gear and equipment through its purchase of Battenfeld Technologies. The gunmaker has used the acquisition to scoop up a handful of small suppliers this year that play into that field, including knife maker Taylor Brands and survival-gear maker Ultimate Survival Technologies. Smith & Wesson has said it will be making even more acquisitions in this direction, and that introduces some uncertainty for investors.
Brand extensions, or even going vertically as Smith & Wesson did with its acquisition of laser-sight maker Crimson Trace, are always viable options to pursue. But Smith & Wesson is veering off into a new field with its attempt to become a big player in the extreme outdoors market.
Sporting goods is a $60 billion industry that's four times larger than the firearms market, so there is room for the gun manufacturer to grow, and others are doing it too: Vista Outdoors (NYSE: VSTO) is both a sporting-goods company and a maker of rifles and shotguns through its Savage Arms division. But because this will be a wholly new kind of business for Smith & Wesson, it could encounter problems as it feels its way along.
Image source: Getty Images.
Consumer confusion risk
In conjunction with its push into sporting goods and to reflect that new focus, Smith & Wesson has proposed changing its name to American Outdoor Brands. While it will continue to manufacture its firearms under the Smith & Wesson brand, it wants to hide behind a broader, blander corporate umbrella. After all, when you hear the name "Vista Outdoors" you don't think of the guns it makes, so when Trump won the presidency, Vista's stock hardly budged. By changing its name, Smith & Wesson might be able to remove some of the volatility that surrounds its stock, but it also risks burying a storied and well-respected brand that is also one of its strongest selling points. I think it's ultimately a bad decision, but let's call this one a toss-up.
So how risky is Smith & Wesson?
Although the gunmaker has had some of the risks it's faced doused by external events, others, including the biggest hurdle, remain before it. It's likely Smith & Wesson's stock will remain depressed until the company can demonstrate the demand it believes is still present, and people buy its guns.
And that could be good news for investors. The depressed stock trades at just 10 times trailing earnings as well as forward estimates. It goes for just a fraction of its earnings growth prospects. And when you compare its enterprise value to its ability to generate free cash flow, Smith & Wesson Holding is in the bargain-basement bin. It might be some time before it's elevated out of that holding pen, but the potential long-term returns to be earned from buying it at these levels will be that much greater.
10 stocks we like better than Smith and Wesson Holding When investing geniuses David and Tom Gardner have a stock tip, it can pay to listen. After all, the newsletter they have run for over a decade, Motley Fool Stock Advisor, has tripled the market.*
David and Tom just revealed what they believe are the 10 best stocks for investors to buy right now... and Smith and Wesson Holding wasn't one of them! That's right -- they think these 10 stocks are even better buys.
Click here to learn about these picks!
*Stock Advisor returns as of Nov. 7, 2016
Rich Duprey has no position in any stocks mentioned. The Motley Fool has no position in any of the stocks mentioned. Try any of our Foolish newsletter services free for 30 days. We Fools may not all hold the same opinions, but we all believe that considering a diverse range of insights makes us better investors. The Motley Fool has a disclosure policy.