How Risky Is Myriad Genetics Stock?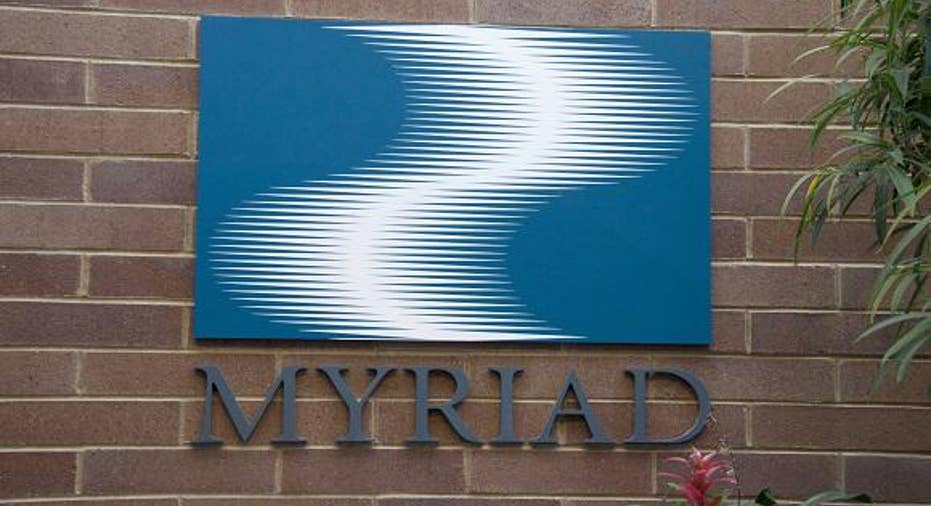 Image source: Myriad Genetics.
April showers bring myriad flowers.
That's not really how the old adage goes, but the changed wording just might be applicable toMyriad Genetics . Shares of the molecular diagnostics testing company took a beating during the first few months of 2016, losing over 20% of its market value. However, Myriad's stock began a rebound in late March that seems to be sustaining momentum into April.
But is buying Myriad Genetics a risky proposition? There are a couple of threats that investors should consider.
Reimbursement riskMyriad can make great cancer tests (which it does), physicians and patients can want them (and many do), and yet it can still encounter financial challenges. That's because the company's revenue stream depends heavily on payers' reimbursement policies. The risk for Myriad is that those payers tighten the purse strings. That happened a couple of years ago when Medicare slashed reimbursement, causing Myriad to absorb a 40% price reduction.
The challenge isn't limited only to how much a payer is willing to pay. Other restrictions can potentially hurt Myriad. For example, in January,United Healthcare began requiring independent genetic counseling prior to approving payment for breast cancer (BRCA) mutation testing for hereditary breast and ovarian cancer.While this change isn't likely to cause a major financial blip for Myriad, the company has had to adapt quickly to keep it from doing so.
Even technical issues can be problematic when it comes to reimbursement. Myriad could potentially see its revenue fall short of expectations in 2016 because of a new billing code. Private payers must set up their systems to accept this new code and reimburse for it correctly. That's been a problem in the past -- and while it's only a temporary issue, Myriad could still feel the sting.
Rivals riskMyriad isn't the only player in the molecular diagnostic testing market. The company faces stiff competition from several rivals.
Foundation Medicine offers its own cancer tests under the FoundationOne brand. But while Myriad chalked up revenue of over $723 million in its last fiscal year, Foundation made a much lower $93.2 million. Despite its smaller size, Foundation goes head-to-head against Myriad. In the fourth quarter of 2015, Foundation signed a national agreement with United Healthcare to allow access to the FoundationOnemetastatic non-small cell lung cancer test.
With revenue of $287.4 millionlast year, Genomic Health stands as an even bigger competitor. Like Myriad, Genomic Health provides genetic tests for breast cancer, colon cancer, and prostate cancer.The company isn't stopping there, though. Genomic Health plans to launch its first liquid biopsy test for several forms of cancer in mid-2016.
Myriad claims at least one distinct advantage over these two rivals, however. Foundation Medicine and Genomic Health still aren't profitable. Actually, both companies have lost more money each year for the last three years.Although Myriad's profits have slipped some as well, it still has a lot more ability to invest in research and development. That could be critical over the long run.
There's one potential challenger, on the other hand, that could give Myriad a real run for its money. Illumina formed a new company this year, Grail, that will focus on development of pan-cancer screening using a simple blood test. The good news for Myriad is that Grail doesn't expect to have the test ready until 2019 -- and that estimate could still prove to be overly optimistic. The bad news is that Illumina has the technology, expertise, and deep pockets (along with other major investors in Grail) to pose a real threat to Myriad in the future.
How risky?For now, the reimbursement risk for Myriad doesn't seem to be too worrisome. The company does face a couple of nagging issues related to Medicare reimbursement for prostate cancer test Prolaris and the new billing code mentioned earlier. However, the reimbursement climate appears to be relatively calm for 2016.
Myriad will definitely continue to battle challenges from current competitors, including Foundation Medicine and Genomic Health. Although over 60% of Myriad's revenue stems from three-year contracts, those contracts aren't exclusive.That means rivals can encroach on Myriad's territory. Expect the competition to remain intense, but Myriad's broad lineup of products and established relationships should give it an edge.
Perhaps the greatest long-term risk for Myriad comes from Illumina's Grail initiative. If Grail succeeds, the landscape for cancer screening could change dramatically. That possibility is still down the road, though.
Myriad Genetics does have risks. However, the market opportunity for its new product pipeline is significant. My view is that, like flowers in spring, this is a stock that could continue to bloom.
The article How Risky Is Myriad Genetics Stock? originally appeared on Fool.com.
Keith Speights has no position in any stocks mentioned. The Motley Fool owns shares of and recommends Genomic Health. The Motley Fool recommends Illumina and UnitedHealth Group. Try any of our Foolish newsletter services free for 30 days. We Fools may not all hold the same opinions, but we all believe that considering a diverse range of insights makes us better investors. The Motley Fool has a disclosure policy.
Copyright 1995 - 2016 The Motley Fool, LLC. All rights reserved. The Motley Fool has a disclosure policy.